You may not have recovered from the last festive holiday yet, but now's the time to start thinking about the holiday season and Christmas in Mexico for 2019.
Mexico is a dream destination to spend the holidays, but hotels get snapped up quickly.
To make sure you don't miss out on your Mexico Christmas, start planning today. Here are nine gorgeous places you should consider.
Where to spend Christmas in Mexico
Four Seasons Mexico City
Where: Mexico City
Inspired by tradition, blessed with luxury: the Four Seasons Mexico City is the ideal hotel for the holiday season. Its plush yet modern rooms are set around an inner courtyard with a decadent fountain at its center. All come with the latest conveniences but are designed with subtle nods to Mexico's rich history. Each year, the gorgeous hotel puts on a packed diary of events, which starts with Thanksgiving entertainment and lasts right through until after New Year's Eve. Holiday season treats include a joyous lighting of the Christmas tree celebration, exquisitely crafted special menus, and a themed party (2018 saw inspiration from The Great Gatsby).  Furthermore, the hotel's spot on the famous Reforma Avenue makes it ideal for a cultural excursion. Dive into the capital's deep history or indulge your senses with a trip to its many food markets or world-beating restaurants. Named one of the world's best destinations for 2019, Mexico City is a magical place to take your family holiday season.

Chablé Resort Yucatan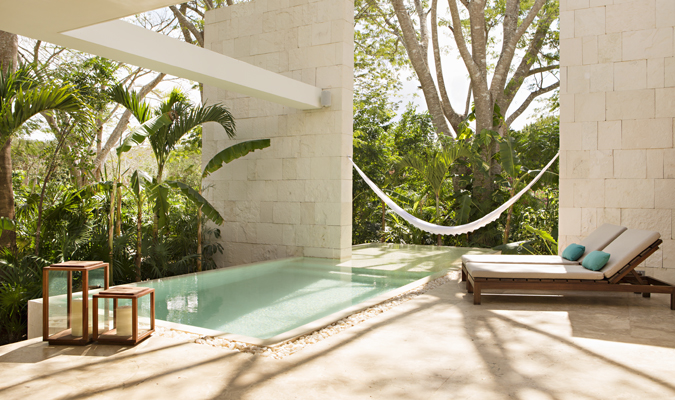 Where: Yucatan Peninsula
The ultimate setting for a health and well-being holiday, Chablé Resort Yucatan offers the chance to reset yourself as you head into the New Year. Spread across 750 acres on the Yucatan Peninsula, this beautiful resort is the perfect place to reconnect with nature in a truly stunning location. There's no end to the adventures you can have: explore the resort's Maya architecture, take a morning yoga session by its very own cenote, or simply relax in your gorgeous casita. As always, Chablé will be elegantly bejeweled with decorations this holiday season to get you and your family in the spirit. Furthermore, Christmas and New Year's Eve bring two exciting gourmet set menus, live entertainment, and a packed diary of activities for both young and old.

Chablé Resort Maroma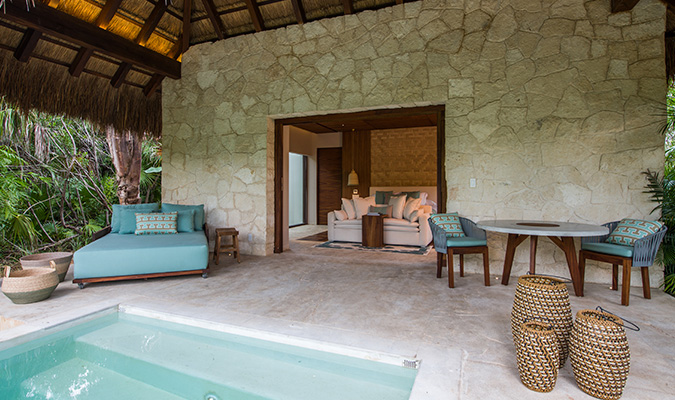 Where: Riviera Maya
Reset your body, mind, and soul this winter with a stay at Chablé Resort Maroma. This gorgeous beach-front getaway is nestled right into the jungle, providing a unique connection between guests and nature. Spend your days relaxing on the soft, white sands listening to the ocean waves lazily drifting in. A visit to the spa, in which ancient Maya restorative rituals form part of the offering, is about as much movement as you need to make. However, if you would prefer a more active holiday, the crystal-clear seas offer the perfect opportunities for stand-up paddle boarding and snorkeling. This holiday season, Chablé Resort Maroma are putting on quite the treat for their guests. Their festive program includes a special Christmas Eve posada and a Christmas dinner on the day itself. Throughout the period there are also tons of activities taking place including cheese and wine tasting sessions, agave spirit tasting, and temezcal ceremonies.

Hotel Cartesiano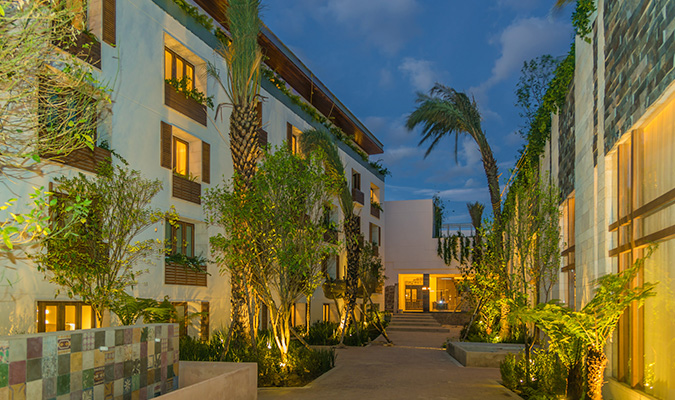 Where: Puebla
A five-star luxury resort in the heart of the historic city of Puebla, Hotel Cartesiano offers an unforgettable experience in one of Mexico's most glorious cities. The resort has 78 rooms spread across two magnificently-restored Colonial mansions. Its old-world architecture is supported by a raft of modern-day conveniences to make every stay luxurious. Furthermore, each room is decorated differently to provide a unique visit for every guest. The hotel's ideal location makes it perfect for an exploration of the city, which will be throwing a number of traditional Mexican Christmas events and holiday season fiestas. Last year, the luxury hotel put on an extra special New Year's Eve dinner which included six-courses, live music, and a firework spectacular. Their Christmas menu was a superb four-course treat which included rib-eye covered in a Christmas chestnut sauce with wild cherries.

Mukan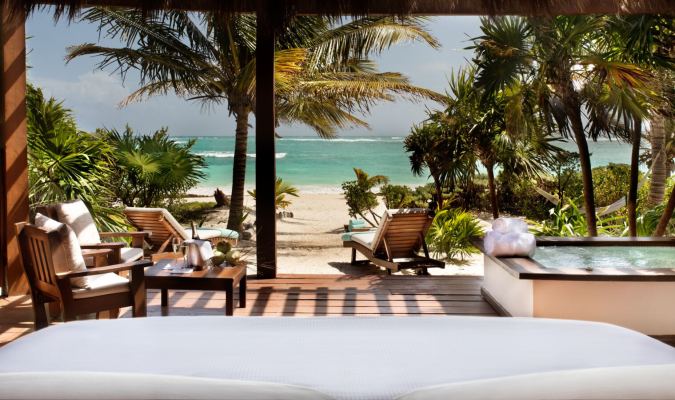 Where: Sian Ka'an Biosphere Reserve
An intimate, boutique resort in the Sian Ka'an Biosphere reserve, Mukan is the ultimate private getaway for a peaceful festive vacation. Guests can choose between the main villa, three ocean bungalows, and one premium bungalow with a private garden. Each offers a heady blend of the latest modern conveniences and breath-taking landscapes. Its spot in a UNESCO World Heritage Site also offers the opportunity for a number of exciting adventures including explorations both onto the sea and through the biosphere's rich ecosystem.

Nizuc Resort & Spa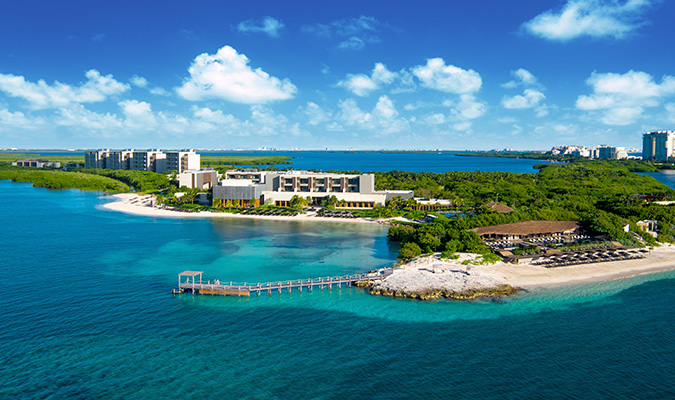 Where: Cancun
What was once a station for Maya astronomers and a retreat for world leaders has been transformed into one of the most luxurious beach-front escapes in Cancun. The luxurious Nizuc Resort & Spa offers a refined elegance in Cancun. Enjoy the glorious December weather in the warm Caribbean Sea or cool off in one of three on-site infinity pools. Switch off with a trip to the 30,000 square foot spa or spend some time with your loved ones at one of the hotel's six gourmet restaurants. As always, Nizuc will be running an extra special set of events to celebrate the holiday season. Last year's activities included pop-up barbeque nights, a taco and margarita fair, and pop up bars. Nizuc Beach held a special NYE party while there was a special Christmas menu on both Christmas Eve and Christmas Day. You can expect more of the same fun this year.

Banyan Tree Mayakoba
Where: Riviera Maya
A magnificent blend of Asian-style hospitality and Mexican design, Banyan Tree Mayakoba is a truly breathtaking place to spend your holiday season. As the only all-pool villa resort in the Riviera Maya, this elegant destination sparkles at every turn. Plus, if you're looking for a tranquil and peaceful break, this is the place to come. Each villa comes with its own large pool, plus the resort itself is circled by mangroves, freshwater lagoons, and delicate coral reefs. Adventure can be found with a boat trip on the lagoon where you can while away the time spotting local birds and other exotic animals.

Esencia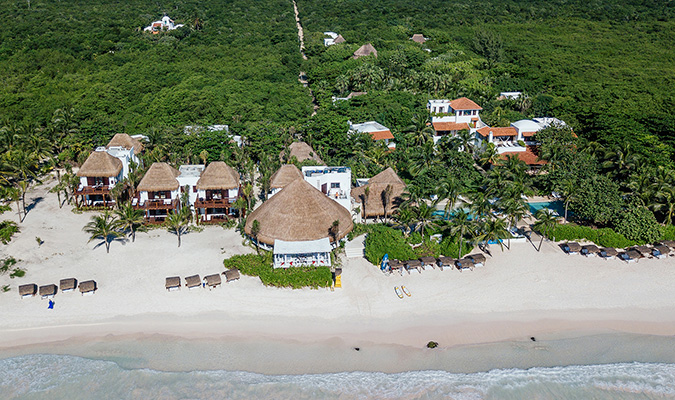 Where: Riviera Maya
Constructed as a winter retreat for an Italian duchess, Hotel Esencia is the place to go if you want to be treated like royalty this December. Sitting on a 50-acre private estate on the white sands of Xpu-Ha, this gorgeous resort is ideal for a private beach getaway. Relax by the crystal-clear Caribbean Sea taking refuge under the shade of thatched roofed loungers. The resort's heated pools and organic spa are great places to decompress as you see 2019 out, while each suite comes with a wealth of modern conveniences.

The Resort at Pedregal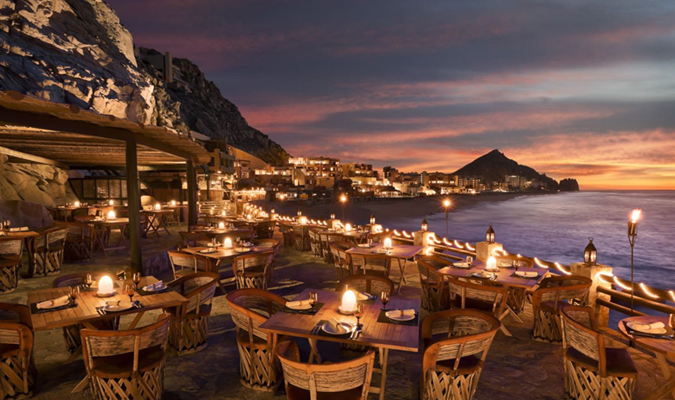 Where: Los Cabos
If your holiday season is all about spending time with your family, then there is no better place to go than The Resort at Pedregal. Carved into the mountainside and only accessible through Mexico's only privately-owned tunnel, you're guaranteed privacy and seclusion. All the rooms and suites come with a private terrace, plunge pool, and sweeping ocean views. Plus, if the temperature gets a little cooler, head inside and relax by one of the fireplaces. If you are bringing the family along, then you will be pleased to hear there are a wealth of activities to take part in including a sunrise paddleboard experience, plus a fitness center and tennis facilities. Last year, The Resort threw a huge Christmas and New Year's celebration which included everything from cigar-and-spirit sessions to circus-inspired acrobatic performances. Like any great festive treat, food featured heavily with carefully curated five-course tasting menus and traditional family-style Christmas dinners. You can expect more of the same in 2019.

How to spend Christmas in Mexico…
Make this holiday season the best ever. Speak to our Mexico travel experts today and start organizing the adventure of a lifetime.