As a Mexico-based company constantly monitoring the safety of travel and tourism in Mexico, we aim to provide current and unbiased information on safety in Mexico.
Below is our latest on travel safety in Mexico plus up-to-date advice on staying safe in Mexico.
Updated: October 02, 2023
Is Mexico Safe?
Mexico continues to experience conflicts between rival criminal organizations in various areas within the country. Though these conflicts can be unpredictable, they are almost always among and between organized crime groups. There has been no evidence the organizations have targeted or are targeting holiday travelers or civilians that are not related to illicit activity, and incidents of concern are virtually non-existent in and around tourist areas.
With proper preparation and information, we feel confident that travel to and within Mexico continues to be a great option. We are confident that those who honor us with the opportunity to serve them will enjoy a secure and memorable travel experience. There is never a guaranty of complete safety when traveling anywhere, even within the US and Europe, yet by working with a trusted and professional destination specialist, like Journey Mexico, travelers minimize risk by relying on experts to keep them in the right places. Living in the destination and ensuring the enjoyable experiences of guests on a daily basis, we understand the environment and monitor the situation constantly.
Our primary goal is client, staff, and partner safety. Furthermore, we are unwilling to operate in environments where we perceive elevated risk and are committed to vigilantly monitoring the local situations throughout the Mexican Republic. Finally, in the unlikely event of an incident, we have well-developed contingency and risk management plans in place.
For those looking to travel to Mexico, we advise only working with reputable, experienced travel professionals with close relationships in the specific destinations they will visit to ensure the best travel experience possible.
Please note: Conditions can change rapidly in a country at any time; we are updating our travel safety information in accordance with the most recent US Department of State Travel Warning for Mexico.
Mexico Travel Safety Map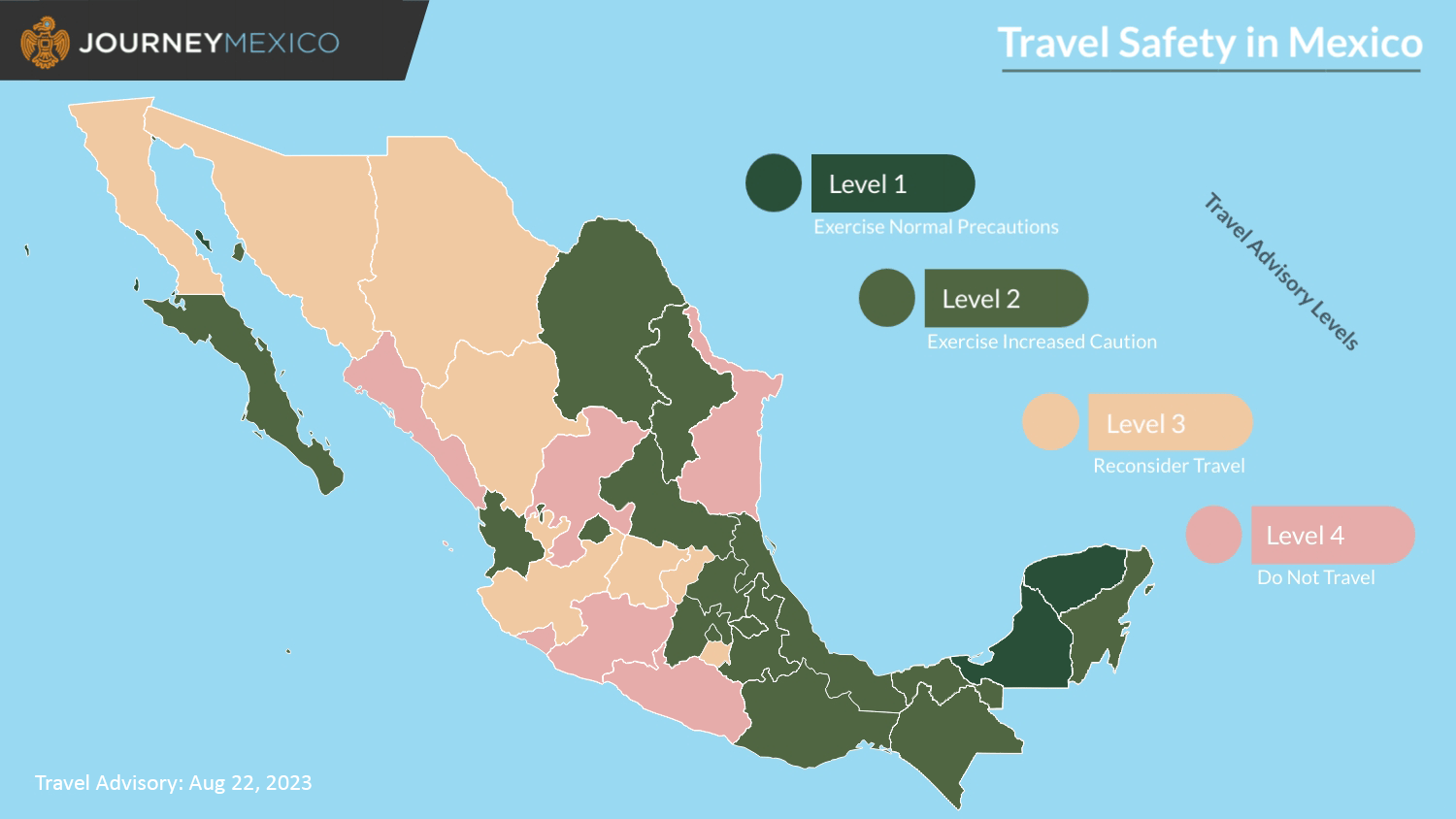 Mexico travel warning map: This Mexico travel safety map will be updated with changes to Mexico's travel safety advice
Safety in Mexico by State
Looking for safe places to travel in Mexico? Check the latest State Department Travel Warnings for each Mexican state below. The US State Department Travel Warning was last updated for safety in August 2023.

Pickpocketing and Theft in Mexico
As in all tourist destinations, travelers should be vigilant of pickpocketing and theft in Mexico, particularly in crowded areas and major cities.
While the majority of tourists experience no problems when traveling in Mexico, incidents do occur. Reduce the risk of becoming a victim of pickpocketing, theft, and robbery by following these tips:
Avoid displaying expensive items in public – Expensive items or items with high value should be left at home. Avoid wearing expensive watches and jewelry in public and keep smartphones, wallets, passports, and laptops hidden from view where possible.
Limit the amount of cash you carry – Only take out a relatively small amount of cash and avoid display your cash in public.
Keep an eye on your luggage/bags at all times – Keep bags and handbags by your side at all times, never leaving them unattended. If you need to put your bag down, place it between your legs, and make sure to keep an eye on it.
Use ATMs in more secure locations – Avoid using ATMs in unlit and deserted areas. Stick to using ATMs in areas where there are plenty of people, but always be vigilant.
Use private transportation – If possible, hire private transportation from a reputable company. If you're traveling with Journey Mexico, that comes as standard. However, if you're going to use public transportation, be extra vigilant and try to travel first class where possible.
Avoid unlit and deserted areas – Avoid walking in unlit and deserted areas, where possible.
Trust your instincts – Finally, trust your instincts. If you feel uncomfortable in an area, then it's wise to remove yourself from that situation.
Natural Disasters in Mexico
Mexico enjoys an extremely diverse landscape and climate, which is part of the attraction for many tourists. However, natural disasters in Mexico do occur on an irregular basis. While the vast majority of travelers will completely avoid any form of disaster, it is wise to acquaint yourself with the issues.
Earthquakes
Mexico does experience seismic activity from time to time with tremors occurring more regularly in the states of Oaxaca and Guerrero, according to the UK government. While earthquakes shouldn't put you off visiting Mexico, make sure you acquaint yourself with the US government's practical advice on being caught in an earthquake.
When you come to Mexico, you should also follow the Mexican Seismic Alert System on Twitter, which gives regular updates on earthquakes and drills.
Hurricanes
Hurricane season in Mexico runs from June to November and can hit both the Pacific and Caribbean coasts. While the vast majority of tourists are completely safe, make sure to follow local safety advice. Weather updates can be found on the US National Hurricane Center website.
Tsunamis
Tsunamis in Mexico are rare – there have only been 24 tidal waves since 1732, according to WorldData.info. However, if you're heading to a coastal region in Mexico it's worth reading through the US government's tsunami safety advice before you go.

Mexico Safety Advice from Your Government
For US citizens: www.travel.state.gov
For Canadian citizens: www.travel.gc.ca
For UK citizens: www.gov.uk
For Australian citizens:www.smartraveller.gov.au
For New Zealand citizens: www.safetravel.govt.nz
Please note: Tourists should always check and follow the safety advice of their national government before going to Mexico. While we aim to update the information on this page at the beginning of each month, it may be that the information currently displayed is not the latest information available. For that reason, always check with your national government before traveling to Mexico.