OVERVIEW
AMENITIES
HEALTH & SAFETY
The iconic Four Seasons Mexico City boasts an idyllic spot on one of the capital's most famous streets, Reforma Avenue. Chapultepec Park and the neighborhoods of Polanco and Condesa are nearby, making it easy to enjoy some of the city´s best museums, galleries, and restaurants.
Wrapped around a verdant inner courtyard with arches and a large fountain centerpiece, the Four Seasons is an urban oasis that pays tribute to Mexico's historic haciendas. Innovative eateries, a heated rooftop pool, barbershop, and on-site boutiques add modern amenities.
The luxurious guest rooms offer comfort and privacy with clean lines, dark wood furniture, and plush beds that invite you to dive under the covers. The spacious ensuites come with deep baths that are perfect for sinking into after a day of exploring the city.
Savor flavors from the Pacific Coast at Zanaya restaurant or head to Il Becco for Italian fine dining. Sipping a drink at the hotel´s 50 Mils is a must while in town: this cool yet classic bar has won over city-goers with its casual ambience and inventive signature cocktails.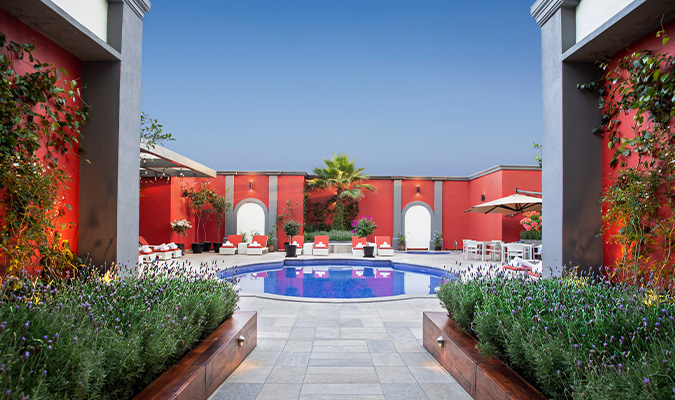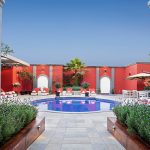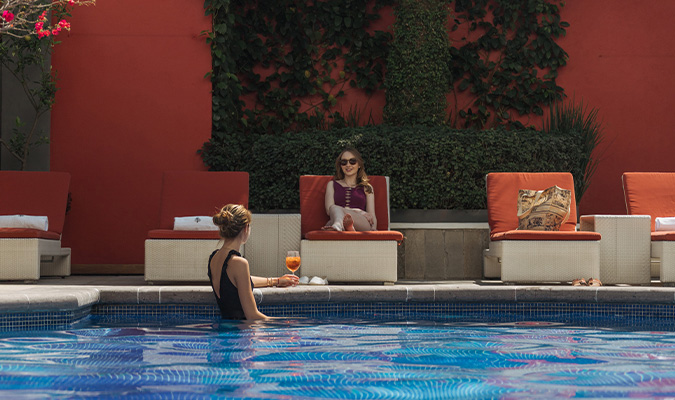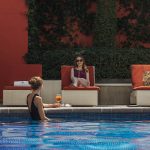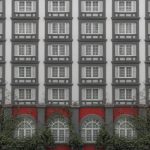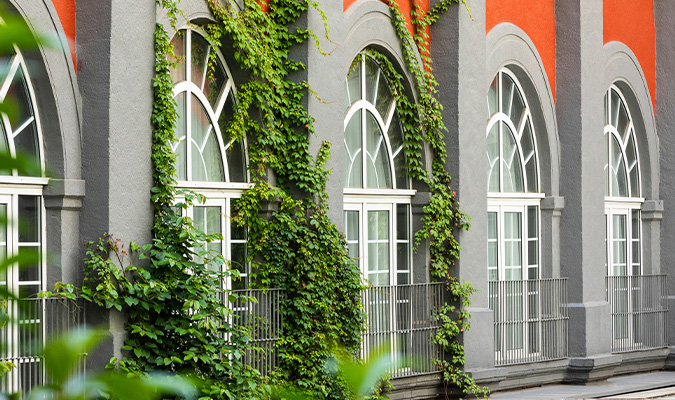 JM TIP
The executive suites have a TV screen in the bathroom mirror so you can enjoy a film or catch up on the news from the comfort of a warm bath.

Business center
Complimentary bottled water and newspaper
Minibar
Restaurant on site
Health club and swimming pool
24 hour room service
OUR COMMITMENT TO YOU
At Four Seasons, the health and safety of our employees, guests and residents has always been our first priority -and now more than ever in the current COVID-19 environment.
Our global Lead With Care program introduces full-scale enhancements to our already stringent health and safety procedures, reviewed by a cross-functional global response team.
This new program is about offering genuine care and the highest levels of service, enhancing procedures to protect our guests, residents and employees, while also ensuring that they feel safe and reassured.
LEAD WITH CARE
Grounded in health care expertise and enabled by access to leading technologies and tools, the Lead With Care program is focused on providing care, confidence and comfort to all Four Seasons guests, partners, employees and residents within the new COVID-19 environment.
Lead With Careprogram will be implemented by dedicated teams at Four Seasons properties around the world, including a dedicated COVID-19 Advisory Board to inform health and safety decisions based on the latest scientific knowledge.
ENHANCED CLEANLINESS
Each Four Seasons property appointing a Hygiene Officer focused on implementing enhancements to already stringent procedures;
Rooms disinfected daily with EPA approved products and will have blacklight inspection by room attendants;
Focused re-training programs for Housekeeping teams on all cleaning protocols are being implemented across the portfolio;
Public areas cleaned hourly with extra attention to frequented areas including front desk counters and public restrooms;
The COVID-19 Advisory Board exploring options to equip properties with the latest tools and technology, including electrostatic spraying, ozone technology for air purification and/or UV technology for HVAC systems.
HEIGHTENED GUEST SAFETY AND COMFORT
Lead With Care kits placed in each guest room providing masks, hand sanitizer and sanitization wipes, with additional masks supplied on demand;
Social distancing measures embedded in all services for guest protection, including appropriately spaced fitness equipment, modified spa menu and services, contactless check-in and housekeeping services;
Restaurants and bars may operate with reduced capacity to ensure adequate space and socially distant set-up;
Nearly all restaurants providing a-la-carte service with digital menus wherever possible;
In Room Dining offering contactless delivery outside guestrooms along with sustainable, single-use packaging.
EMPOWERED EMPLOYEES
Lead With Care training building on Four Seasons legendary service model and diligent attention to detail, ensuring Lead With Care procedures are delivered in a thoughtful, attentive manner that balances guest safety with personal reassurance and comfort;
The COVID-19 Advisory Board advising on the global training program for all employees including: ensuring employees have a well-informed understanding of the disease and its transmission, providing guidance on appropriate social distancing and use of personal protective equipment, as well as physical and mental health monitoring and support;
Grounded in emotional intelligence, employees are undergoing behaviouraltraining, ensuring empathetic, personalisedcare and connection are not lost in the absence of close contact and limited face to face interaction.
HIGHEST LEVELS OF CONTACTLESS PERSONAL SERVICE
Four Seasons continues to invest in its award-winning App and Chat that further allows guests to control how they engage with others –limiting face-to-face interactions while maintaining the highest levels of personal service.
Supported by actual employees on property, versus chatbots, Four Seasons Chathas received 10+ million messages and averages approximately 580,000 messages a month. Features include the ability to make and manage reservations, request luggage pickup, airport transfers, room service, restaurant and spa reservations, and much more. Wait-free check-in and check-out is also offered, while Four Seasons Chat integration offers instant translation of 100+ languages giving guests the flexibility for contactless engagement throughout their stay.
GUEST EXPERIENCE
While the Four Seasons experience may look different in this new environment, it will ultimately feel the same –our dedicated people will continue to deliver the same intuitive service and personalisedcare for which Four Seasons is known and trusted.And with properties in key cities around the globe, our clients can trust that they will receive this same level of service excellence no matter where they stay with us.
Pre-Arrival
Pre-arrival communication will advise on screening procedures.
Private transportation is recommended.
Download FS App for mobile check in and Chat.
Arrival
Screening procedure for all guests.
Digital check in options through the FS App will be encouraged.
Lead With Care kits in each guest room with masks, hand sanitizer and sanitization wipes.
Departure
Encourage digital check out through FS App or Chat.
Housekeeping
New cleaning protocols
Rooms disinfected daily with EPA approved products with blacklight inspection.
Turndown upon request only.
Public areas cleaned often with extra attention to frequented areas including front desk counters and public restrooms.
Guests may use FS Chat to make any laundry requests.
Dining
Restaurants and bars operating with reduced capacity to ensure adequate space and socially distant set-up.
A-la-carte service, with digital menus where possible.
At Your Door Service -offering contactless in room dining delivery outside guestrooms along with sustainable, single-use packaging.
Spa & Fitness
Spa services temporarily closed.
Fitness center will have social distancing measures in place such as spacing between equipment.
Limited hours of operation.
Meetings
Socially distant setup for all meetings and events.
All group meals will be served a-la-carte.
Open air venues where possible.
Considerationfor enhanced technological requirements:Wifi, A/V and streaming capacity.
Buyouts available for greater exclusivity and privacy.