After years of writing off Mexico as "too dangerous to visit", people are finally doing their homework and realizing that you cannot categorize a whole country for isolated incidents in isolated areas. The state of Michoacán unfortunately has been one of the states often in the negative headlines, but overall things have quieted down here in Mexico and people are starting to visit again. Is Michoacan safe? While Michoacan does remain under travel advisory by the U.S. State Department, there are cities and towns that generally do not see the same turbulent levels as other parts of the state. Assessing the current situations, Journey Mexico felt confident enough to  recently lead  a #MexicoJourney trip that included 11 travel professionals from five different countries on a tour through Michoacan; together with our local expert guide, our visit throughout the different pueblos of Michoacán seemed to be the highlight for many participants.
A little about the state of Michoacán; it is located in western Mexico and is bordered by the states of Colima, Jalisco, Guanajuato, Queretaro, Mexico State, Guerrero and a  stretch of coastline on the Pacific Ocean. It is one of Mexico's most  culturally attractive  states and its highlights, history, and legends can be seen through its several UNESCO Heritage Patrimonies, eight Pueblos Magicos (Magic Towns), unique archaeological sites, delicious gastronomic offerings and  the natural phenomenon of the Monarch Butterflies. With that said, it would be a big mistake to write off Michoacan as a potential destination during your next trip to Mexico! Without discovering Michaocan you are missing out on a land full of vibrant traditions and life–just check out the list of highlights below!
What You're Missing Out On By Not Visiting Michoacán
Dia de los Muertos (Day of the Dead) at Isla Janitzio
In the middle of Lake Pátzcuaro is the small Island of Janitzio where there remains a community of the indigenous Purepecha (Tarascan) group. Every year on November 1st and 2nd the lake becomes filled with candle light as processions lead to the island's main church and cemetery. The whole isla becomes enveloped in mysticism and spirituality while pre-Hispanic customs and offerings take place throughout the night. Read more about the Day of the Dead in Michoacan on our blog here.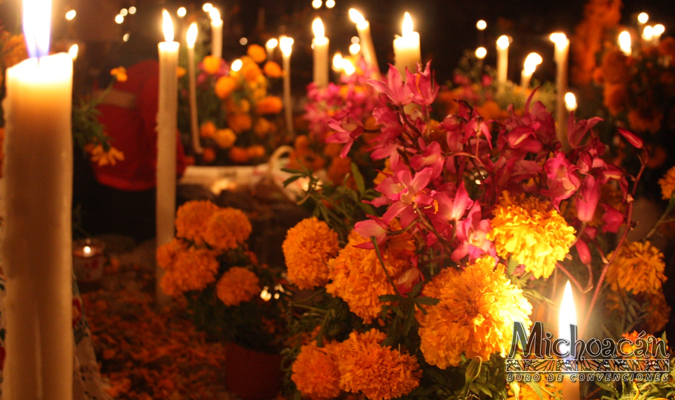 Morelia
Morelia is the capital of the state of Michoacan and its Historic Centre has been designated a UNESCO World Heritage Site thanks to its 200+ historic buildings characterized in the region's pink stone. The style of the buildings reflect the deep architectural history revealing ideas of Spanish Renaissance with Mesoamerica. For excitement, Morelia also has a cosmopolitan side with array of cultural activity.
Monarch Butterfly Migration
Every October through March, the Monarch Butterflies of North America embark on an annual migration to Mexico that is unmatched by any other butterfly in the world.  Amazingly, the butterflies arrive in the masses to the exact same trees year after year, transforming them into a fluttering, vibrant-orange spectacular. In 2008, UNESCO recognized The Monarch Butterfly Biosphere Reserve to be of universal value  and it is now an important tourist attraction. The areas of Michocan where the butterflies are most concentrated are Zitácuaro, Ocampo  and Angangueo. Read More about the Monarch Butterfly Migration in Michoacan  on our blog here.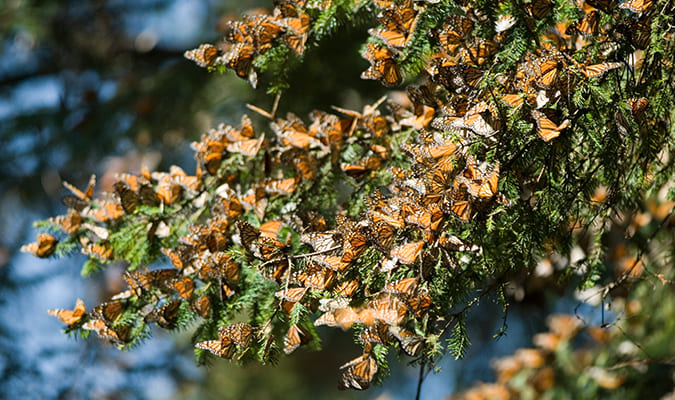 Pátzcuaro
Pátzcuaro is one of Michocan's Pueblos Magicos  and perhaps the most charming.  Proud of their indigenous heritage behind facades of  the Spanish-colonial era, it is a place where  visitors are transported back to times much simpler. The city has two central plazas and to many people's surprise, there is no religious building at its focal point. In Pátzcuaro  there is an exceptional mural that tells the history of Michoacan and also a dazzling handicraft market.
Archaeological Ruins of Tzintzuntzan
The town of Tzintzuntzan, in addition to being a Pueblo Magico,  is the heartland of Michoacan's indigenous culture as it once served as the ceremonial center  and capital of the P'urhepecha empire (Tarascan). The ceremonial center now is an outstanding archaeological site that contains five temples, called yacatas, which date back to the 13th century. Tzintzuntzan's indigenous customs, traditions, and language are still very much present today.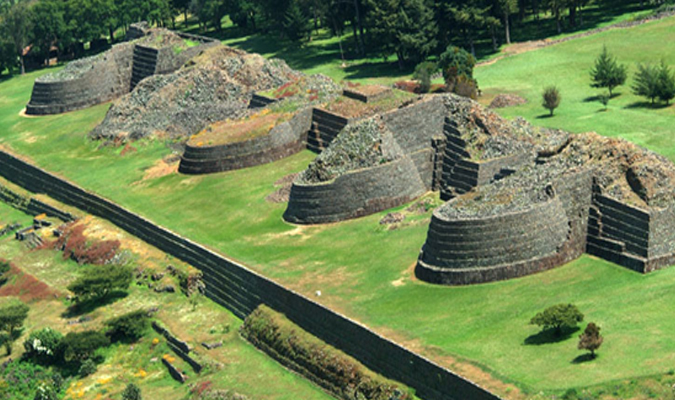 Santa Clara del Cobre
Another one of Michoacan's Pueblos Magicos, Santa Clara del Cobre, has a legacy that dates back to the 16th century back when admirable artisans (even prior to the conquest) had been known as incredible copper smiths. The coppersmith craftsmen are still going strong and in addition to preserving their workshops,  they are also still use traditional techniques of hammering, shaping, polishing, and so on — all by hand.  The town is uniformly painted in bright white and deep red with an assortment of solid copper art laid out at every turn.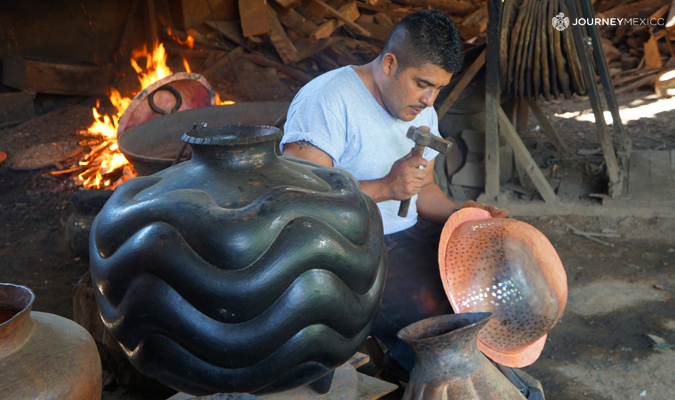 Gastronomy Michoacana
Traditional Mexican cuisine is a comprehensive cultural model comprising natural resources, ritual practices, age-old skills, culinary techniques and ancestral customs; thanks to the P'urhepecha indigenous influence in Michoacan, its regional cuisine is one of the best in  Mexico. Authentic Purepecha recipes preserve the natural origin of food, using little fat and oil. UNESCO, who recognized Mexican Gastronomy as a Cultural Heritage of  Humanity, acknowledges that Michoacán underlines the importance of traditional cuisine as a means of sustainable development.. Traditional plates include atápakuas, chandükatas, churipos, uchepos, and corundas.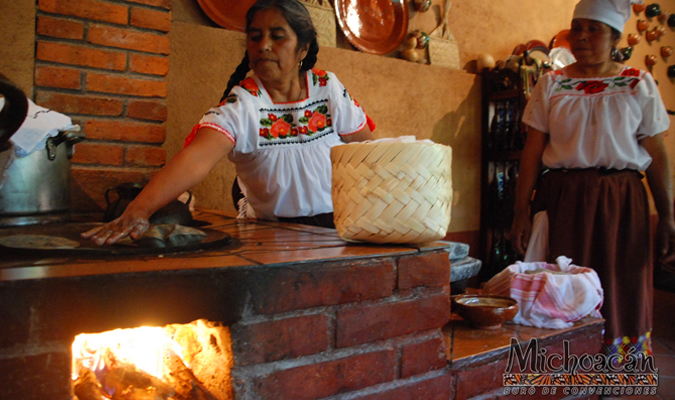 Viejitos
"La Danza de los Viejitos" (The Dance of the Little Old Men)  is traditional to the state of Michoacán. The dancers are colorfully dressed as senior citizen men wearing bright hats adorned with ribbon, a pink smiling mask, and typical campesino clothing and is a intended to be humerous. The men start hunched over, aching in pain as they walk with their canes in very slow motion when all of a sudden it turns into vigorous, agile dancing and stomping their feet. Read more about Los Viejitos on our blog here.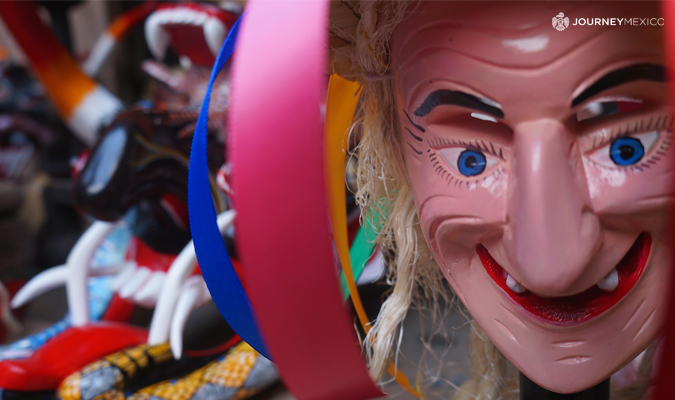 Tlalpuhajua
Tlalpuhuajua, yet another Pueblo Magico, is a small mountain town that enchants visitors with the secrets held in its sloping streets and jolly specialty handicraft of hand-blown Christmas bulbs. As a former mining town, it is home of the Dos Estrellas Mine (now a museum), which was the leading producer of gold in the early 20th century.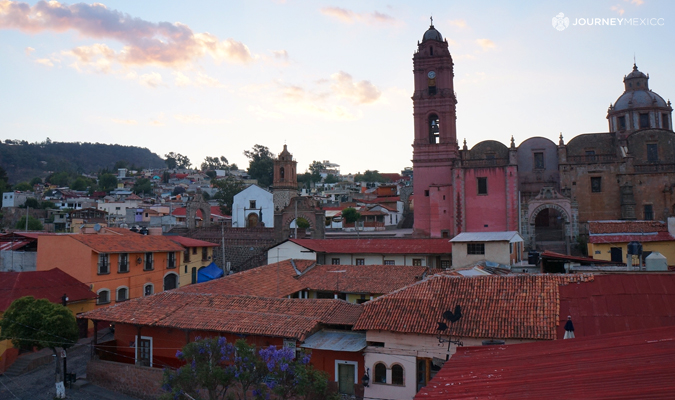 History can be found in each corner of the state, either in its beautiful colonial architecture found in Morelia, in its interesting archaeological sites such as TzintzunTzan, or through its cultural, artistic and humanistic heritage.
Ready to discover Michoacan? Start by browsing these Michocan tours and hotels
Morelia and the Monarch Butterly Migration – Discover Morelia and witness the natural phenomenon of the Monarch Butterfly migration while also getting to visit  several charming nearby towns including Patzcuaro, Santa Clara el Cobre, and Tzintzuntazan.
Colonial Mexico Trip: Exploring the Heartland – Journey into the heart of Colonial Mexico in Guanajuato and Michoacan for an intimate experience with Mexico's history and lore. Michican highlights include Morelia, Patzcuaro, Isla Janitzio, Santa Clara del Cobre, and Tzintzuntazn
UNESCO World Heritage Cities – Visit Mexico's traditional cities and discover why they are considered to be of great value by UNESCO, including Morelia. Also visit Michocan's Pueblos Magicos: Patzcuaro, Santa Clara el Cobre, and Tzintzuntazan.
Villa Montaña – BA peaceful retreat from the city, Boutique Hotel Villa Montaña is a colonial jewel located just outside the historical center and set on the hill slopes overlooking Morelia. Amid a profusion of jacaranda, bougainvillea, and ivy, the cottage-style rooms are furnished with cozy log fireplaces.