Across Mexico, celebrations and festivals are accompanied by music and dance that owes it variety to a fusion of traditions. Mexico has a vast range of regional folkloric dances performed only in their specific states or areas and one of those is called "La Danza de los Viejitos" (The Dance of the Little Old Men) which is traditional to the state of Michoacán.
The dancers, who are colorfully dressed as senior citizen men wearing bright hats adorned with ribbon, a pink smiling mask, and typical campesino clothing, is a intended to be a humorous dance. The men start hunched over, aching in pain as they walk with their canes in very slow motion when all of a sudden it turns into vigorous, agile dancing and stomping their feet. The viejitos are accompanied by violins and guitar melodies which are meant to interpret the folkloric characteristics and excite the crowd. There are moments in the dance when the viejitos return to their "elderly" state, coughing and falling over. This performance is said to trace back to pre-Hispanic times to the Purépecha indigenous group from Michoacán and was meant to honor the 'Old God'; later, after the colonization by Spain, it was "modernized" and became a parody of old Spanish men.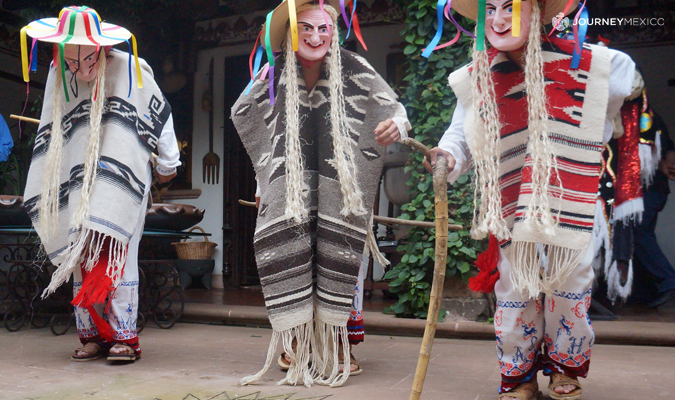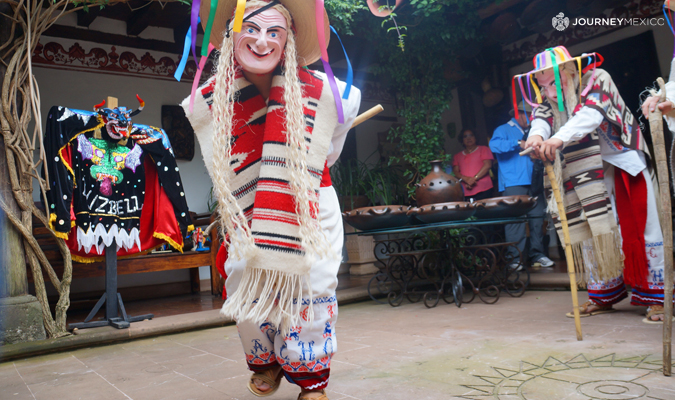 On our 6th day of the #MexicoJourney, we found ourselves in Patzcuaro, Michoacan at Casa de la Real Aduana surrounded by the energetic Danza de los Viejitos. The dancers filled the room with laughter and excitement as their playful interpretations progressed. Toward the end they pulled in people from the group to dance along. Their theatric expressions full of color and symbolism was a memorable and fun moment for everyone!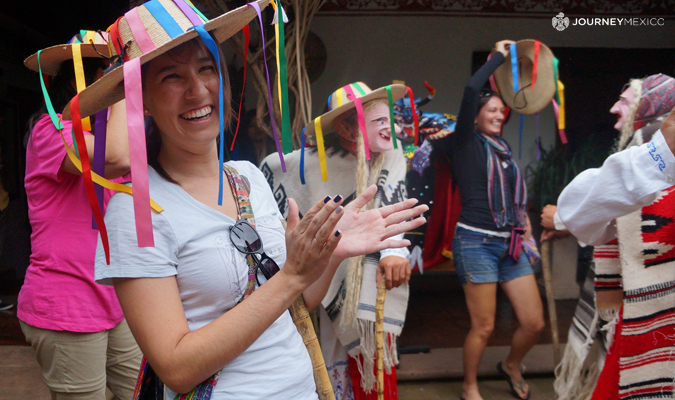 For the opportunity to plan a trip similar to the one we are on, check out our Mexico UNESCO World Heritage Cities Itinerary. To read more stories while on the #MexicoJourney road, click here.