Our team has been out and about in Mexico´s diverse and wonderful corners, staying at the top hotels we work with from coast to coast. We caught up with the Journey Mexico team to get their insights on an array of properties from Oaxaca City and Punta Mita to San Miguel de Allende and Mexico City.
What makes a property special?
The properties that we work with go beyond the basics, impressing with their historic architecture and unique design, state-of-the-art amenities and expansive natural grounds. While chatting with our team, we noticed they had an enormous amount of praise for the hotel staff who´d made their time extra special. As the saying goes, "people will never forget how you made them feel", and that rings true for any hotel stay – take a look at some reflections below: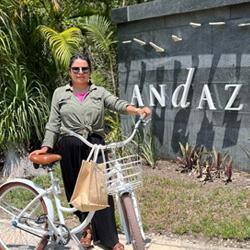 Brenda, Sales Assistant: "The warmth of the team at Andaz Mayakoba is impressive; attentive service from the moment of arrival makes you feel at home. It's a marvelous place to disconnect, with comfortable nooks, picture-perfect backdrops, and most importantly, respect for the natural environment."
Amberley, Business Development: "Casa Polanco is the most serene hotel I have ever stayed in in ANY city. From the moment you arrive you feel at home, greeted with kindness and a warmth that makes you feel instantly relaxed."

Jessica, Director of Marketing: "At Las Ventanas al Paraíso, the staff anticipated everything in terms of service and worked meticulously so each detail was perfect, whether it was setting up hundreds of candles for a private romantic dinner, or carefully raking special messages in the sand for a guests' special occasion. They constantly went above and beyond in the details."

Maria, Travel Planner: "The friendly service at Casona Sforza in Puerto Escondido made me feel relaxed and right at home. I felt spoiled throughout my stay!"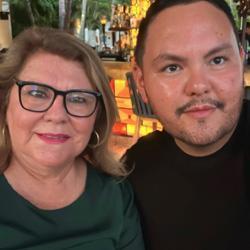 Jose, Director of Sales: "The warm welcome from the One&Only Palmilla team and their attention to our preferences elevated the experience – they spoiled my mom during the whole stay with special touches like her favorite cookies, wine, and snacks! The beach club was an amazing spot for us to spend the day together, and the complimentary activities such as paddleboarding and snorkeling were great extra details."
Making the Grade: JM´s High Standards
At Journey Mexico we´re known for our incredibly high standards, which are built on a deep mission of service throughout the travel process, from crafting unforgettable itineraries with our travel planners to supporting our discerning guests 24/7 during their trip. As part of this, we´re proud to provide Mexico´s finest accommodations that we´ve tried and tested ourselves. We love working with a range of luxury properties across the country that go beyond the grade in areas like comfort, a sense of place, privacy, environment and location. After their stays, we asked our team members why they thought the hotel reflected Journey Mexico´s values. See their thoughts below: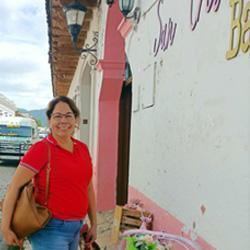 Gabriela, Travel Planner: "Casa del Alma, San Cristóbal, combines all the elements in a hotel that we recommend: safety, comfort and service."
Brenda, Sales Assistant: "From the moment you arrive at Pug Seal Zapoteco, you feel at home, the staff is lovely and gives you the confidence to ask anything about the hotel and Oaxaca City. They always talked to me about my day and prepared a box breakfast when I had an early start."

Gerardo, Senior Manager of Travel Planning: "Susurros del Corazón Punta Mita, has a strong sense of place and provides personalized service – even though it´s part of a "brand" it feels very relaxed and authentic, not corporate. The property offers a high level of standard services plus sustainable products and experiences, making it a perfect match for Journey Mexico's clientele."

Zaira, Senior Travel Planner: "I loved Pug Seal Zapoteco because it had a very different vibe and concept from other hotels in Oaxaca. The artwork and murals that adorn the colonial architecture make it feel like a fun and funky space while still retaining that old-world charm and sense of place. The staff was genuine and friendly, making me feel right at home with exactly the level of service and warm hospitality we expect for our travelers"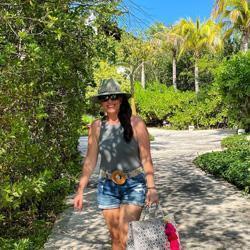 Jessica, Director of Marketing: "Chablé Maroma hit all the right marks for me: ultra-luxury rooms with local design and details, privacy provided by lush gardens and overall harmony with nature – the cutest little creatures get to call Chablé home! The spa is one of the absolute best in the Riviera Maya, plus there´s a beautiful white sand beach and a strong sense of place with Mayan cultural influences and ceremonies. Sustainability is at the forefront, with a genuine care and concern for implementing responsible practices throughout the resort, which can be seen at every level of operation."
Finding the Right Hotel for You
We´re experts at finding our seasoned travelers the right property for their individual needs, and we start by listening. The human touch should never be underestimated and rather than making suggestions based on an algorithm, we want to understand the nuance of what each guest is looking for, before delving into our own knowledge to meet the request. Take a look at some of our team´s impressions: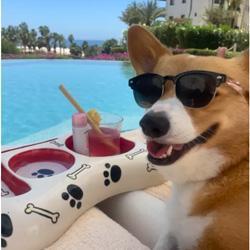 Jessica, Director of Marketing: "Las Ventanas al Paraíso Los Cabos is by far, one of Mexico's most pet-friendly hotels – they treat pups just like any other VIP guest! It's also great for parents with babies – they won´t have to worry about packing 10,000 things, the hotel has it covered and ready in the suite. The level of service provided is truly "don't worry about a thing & don't lift a finger", exactly what new parents need and deserve!"
"Casa de Sierra Nevada is a great choice for mature travelers who want a slower pace and a piece of authentic San Miguel de Allende charm, which oozes from the hotel´s old casonas. It's also pet-friendly! :)"
Maria Quero, Travel Planner: "Casona Sforza in Puerto Escondido is well suited to young adults looking for a relaxed getaway and amazing surfing, while staying at a hotel with super-creative architecture."

Gerardo, Senior Manager of Travel Planning: "Susurros del Corazón Punta Mita, caters to young adults, couples, and honeymooners as it´s a perfect spot to rest and relax, enjoy a beautiful beach, drinks, and great casual meals. The whole vibe is relaxed yet refined. It´s a good fit for families that don't necessarily require tons of services or amenities and more independent travelers that are looking for a smaller alternative to big resorts. That being said, their Kid's club is well equipped and a fun place too."
Insider Tips
Of course, one of our specialties is being on the inside track. As an in-country travel company with locally based staff, we know all the secret spots and how to maximize your stay. Take a look at some tips below!
Gerardo, Senior Manager of Travel Planning: "Susurros del Corazón, try their freshly brewed coffee with a pinch of cinnamon (café de olla) and the chilaquiles for breakfast."

Zaira, Senior Travel Planner: "Be sure to take the complimentary nature boat tour that Andaz Mayakoba offers around the complex, you get an amazing view of the green golf course, while spotting birds, turtles and even crocodiles on a lucky day."
Jessica, Director of Marketing: "Don't miss dining at Chileno Bay in Los Cabos' newest restaurant, Yaya. Chef Eliana from Mexico City beautifully fuses together Mexican and Mediterranean cuisines with delicious details! Any plate with freshly baked bread or pita is a win, and don't miss the fresh hummus or the kaleidoscope of pickled vegetables. Weather permitting, head to the outdoor seating for dinner to enjoy a bohemian vibe with great views overlooking the resort."

Amberley, Business Development: "While Casa Polanco doesn´t offer a spa, they do have the best masseuse on speed dial. Just ask at the desk and everything will be arranged for you. Also, there are lots of communal outdoor spaces – take your wine to a balcony and meet other guests or relax and watch the world go by."

Jose Pineda, Director of Sales: "At One&Only Palmilla, the spa is not to be missed; I had one of the best massages ever! Additionally, the complimentary access to all their wet areas is great during your full stay. My other tip would be to make sure you go to Agua Bar in the evening to enjoy live music and be sure to order their special, signature craft beer."
TAP OUR KNOWLEDGE AND CUSTOMIZE YOUR MEXICO TRIP WITH OUR EXPERTS!
Allow us to use our insider knowledge to craft you your ultimate dream vacation! Our travel experts can help you find the perfect accommodation and plan experiences that will connect you to the heart of your chosen destination(s). Journey Mexico´s sample itineraries are a great starting point to get some inspiration before chatting through your ideas with our team.