We´re still buzzing from Journey´s recent trip to Mexico City! Every year, we get together in one of Mexico´s magical destinations for our corporate retreat, and this one was highly anticipated after pandemic lockdowns and restrictions. It was amazing to finally gather the whole team in one place, with staff from every area of operations flying into the capital – Journey Costa Rica was there too!
These annual trips are an opportunity for old friends and new faces to come together and share experiences, explore ideas, and unify goals. We had a stellar itinerary, packed with captivating destination activities, team workshops, hotel inspections, and family-style meals at some of Mexico City´s top restaurants. We got to step into the shoes of our guests and have the full Journey Mexico experience; that means special accesses, expert guides, luxury accommodation, and seamless service to join up the dots.
Daily staff meetings set the stage for discussion and collaborative goal setting. One of Journey´s current priorities is to revolutionize the sustainability of our operations and certify as a B-Corp Company. We believe that business can and should have a positive impact both environmentally and socially – that includes our employees, communities, clients, suppliers, and the planet – so we decided to take action. Each of our departments worked together to set objectives for how to improve aspects of sustainability in their area and how to measure the success of these goals. We´re motivated and ready to smash our targets! 
Shout out to Sofitel Mexico City for giving our 60-strong team a luxurious home-away-from-home and catering to all our needs. The hotel´s location right on Reforma avenue was perfect for exploring the city, and those panoramic views over the metropolis are hard to beat.
Take a look behind the scenes at what we got up to on the 2022 #JourneyCDMX retreat!
Mexico City Market & Taco Tour
We kicked off the trip in the beating heart of any city, it´s market. Our knowledgeable guide led us through an explosion of flavors as we tasted our way through spicy seafood, mouthwatering endemic fruits, rich tacos, edible flowers, and…BUGS! Some of us were brave enough to crunch into Mexico´s traditional edible insects like grasshoppers and even scorpions!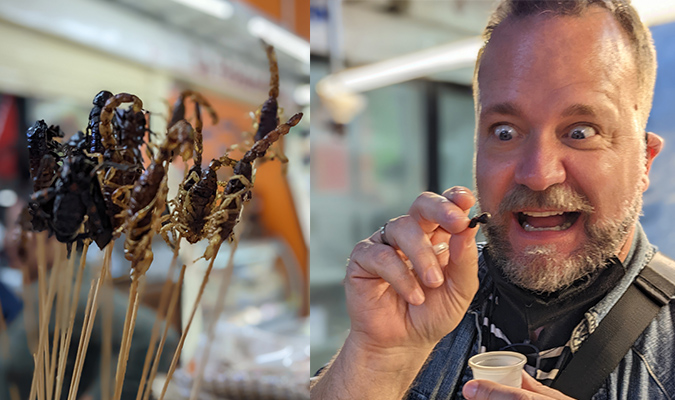 National Museum of Anthropology (Museo Nacional de Antropologia)
The special off-hours access to the National Museum of Anthropology is our favorite way for Journey´s guests to experience the vast collection of ancient Mexican artifacts on display. Visting at time when it's closed to the public, we felt like we had the place to ourselves as our guides brought the history and culture behind the pieces to life. Seeing the 24-ton Aztec Sun Stone in the flesh is a must while in Mexico City!
Tour Historic Center, Zócalo
No trip to the capital is complete without a walk around the Historic Center! Learning about the past of this area is fascinating, from its origins as an Aztec island on Lake Texcoco, to the construction of the Metropolitan Cathedral in the Spanish colonial period, and its contemporary use for government headquarters, cultural events, and social issues.
Meet & Greet Lucha Libre
It was a night to remember at the Lucha Libre! Mexican wrestling is a classic cultural event that´s adored by its fans and makes for a thrilling evening out. With Journey´s special access, we had the unique experience of arriving to an empty Arena Mexico before the wrestling began. We got to go backstage and meet the personalities behind those iconic masks, who told us all about the stadium and personal stories from years in the sport. During the fights, even the quietest members of the team were cheering on the luchadores and fist pumping! We got the perfect souvenir of photos with the wrestlers right by the ring, before closing the evening with tasty pastor tacos.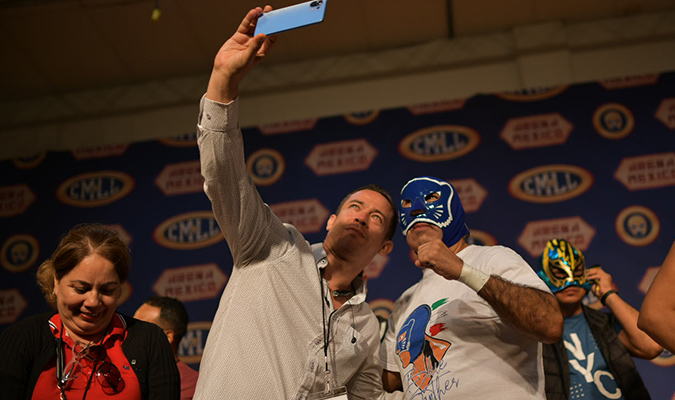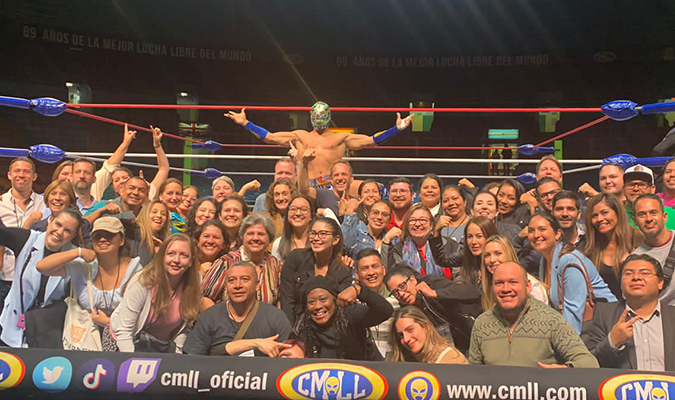 Coyoacán & Frida Kahlo's Casa Azul
Perhaps Mexico´s most recognizable character, Frida Kahlo, is a source of intrigue and inspiration around the world. We visited the painter´s Casa Azul (blue house) in the leafy southern suburb of Coyoacán. It´s amazing to walk the same floors as Frida did and get a sense of how she lived and worked. A really special feature at the house-museum is Frida´s collection of personal objects, including hand-painted medical corsets, which give an insight into the artist´s enduring pain from her accident. These intimate pieces were only uncovered in recent years on instruction from Frida´s husband, Diego Rivera, that they should remain locked away in the bathroom for at least 15 years after his death.
Top Mexico City Hotel Site Inspections
Hotels that we visited during our trip included:
– St. Regis Mexico City
– Sofitel Mexico City
– Hotel Circulo Mexicano
– Las Alcobas
– Hotel Downtown
– Casa Polanco
– Ritz Carlton Mexico City
– The Alest
– Four Seasons Mexico City
Farewell Dinner at Four Seasons
All good things must come to an end, but not before enjoying a beautiful farewell dinner at the Four Seasons. For the final time, we enjoyed a delicious meal together and raised a glass to Mexico City!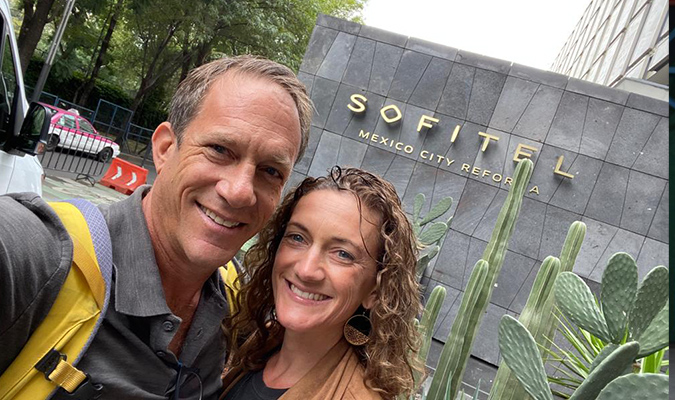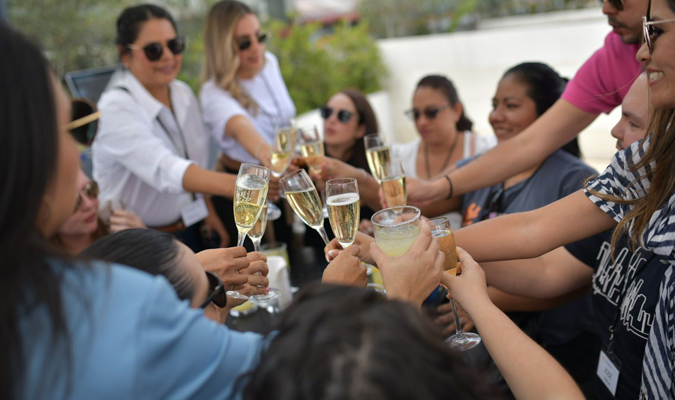 Our #JourneyCDMX retreat was all about connection, reflection, and joy. We had an amazing time dipping into the best of the capital´s culture, history, and gastronomy, and we can´t wait to share it all with you! And of course, we cannot forget, a special congratulations Zach, Rebecca, and Matteo on celebrating Journey Mexico's 19th Anniversary!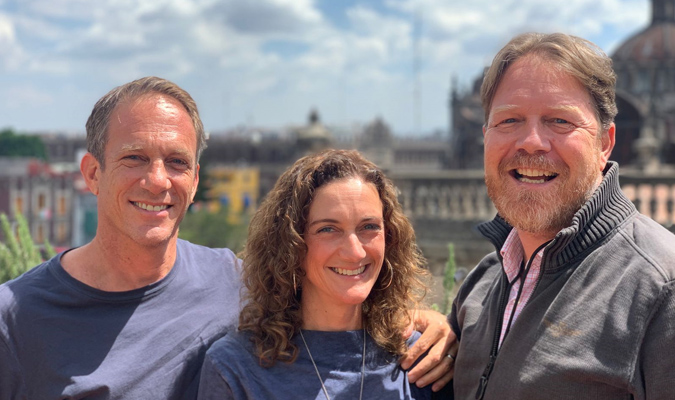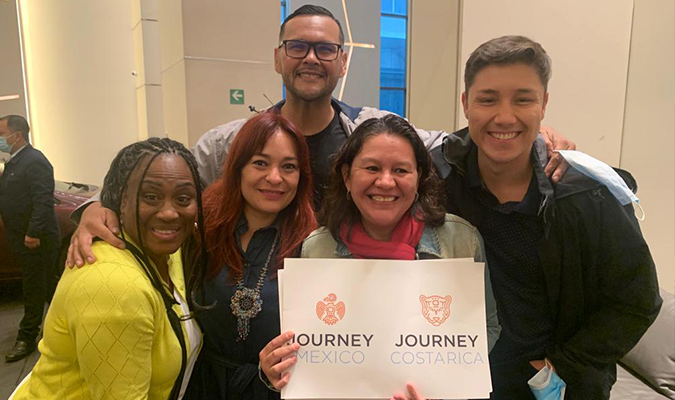 Include Mexico City in your Personalized Travel Itinerary
Planning a trip to Mexico City and want to experience some of these insider accesses on your own? You've found the experts. Get inspired with our Mexico City sample itineraries and then speak to our travel planners to chat about your dream trip and how to customize it to your particular interests.