Earlier this year, Mexico's Secretary of Tourism, Claudia Ruiz Massieu, discussed  how she intends to grow Mexico's tourism and draw tourists to areas of Mexico outside the resort and beach destinations. One strategy includes promoting the Yucatan Peninsula where the greatest archaeological wealth that Mexico has can be found. She believes this region of Mexico has the greatest untapped potential.  Covering three states: Yucatan, Quintana Roo, and Campeche, this area in Mexico is one of the most diverse in the hemisphere.  Of the three states, Campeche stands out for having the largest biosphere reserve (Ancient Maya City of Calakmul) and the Historic Fortified Town of Campeche — both UNESCO World Heritage Sites.  
Campeche's capital, Campeche City, lures visitors with its picture-perfect colonial town of Baroque Spanish architecture, narrow cobblestone streets, colorfully restored buildings, and majestic mansions. Many people describe it as they are walking through a fairytale!  The walled-in historic center is a typical example of a harbor town from the Spanish colonial period but beyond those barriers travelers will find a genuine Mexican city where the people (known as campechanos) are incredibly friendly.  The city's central location makes it ideal for day trips to visit the archaeological sites of Calakmul and Edzná and the nearby Gulf beaches.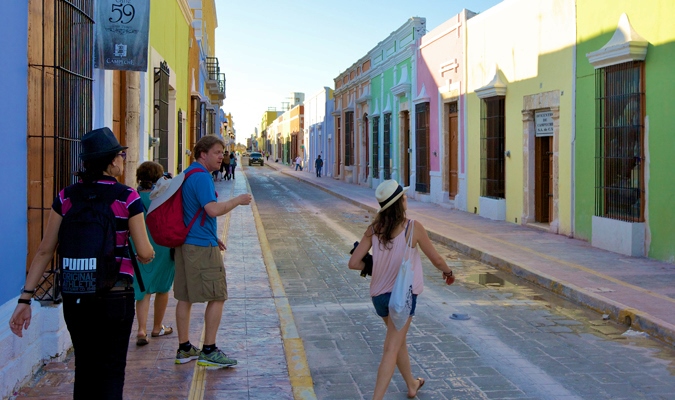 Campeche Highlights
Historic Fortified Town of Campeche
A great way to tour Campeche's famous landmarks, including the colonial forts and museums, is by trolley. The historic center is pedestrian friendly with many multilingual signs. The main plaza (zócalo), Francisco de Paula Toro Theater and Campeche's Cathedral are all great places to discover in the town.
Malecón
A stroll down the recently-renovated waterfront boardwalk known as the "malecón is always a great highlight when visiting Campeche. Here travelers and campechanos alike can  can enjoy local cuisine and catch incredible sunsets.
Museums
A must-see museum in Campeche is the Museo de la Arquitectura Maya which provides an overview of surrounding sites in Campeche and an explanation of the architectural styles. Other great museums include Museo Arqueologico de Campeche & Fuerte de San Miguel where one can admire artifacts from Calakmul , Edzná, and Isla de Jaina; Museo Fuerte San Jose del Alto which excitingly outlines the port's maritime history; and Museo de la Ciudad that chronologically illustrates the city's history. Centro Cultural Casa Numero 6 is another  great stop. It is an old mansion which was occupied by a very wealthy family providing insight to how the city's upper-class lived back then.
Calakmul
Calakmul is a Biosphere Reserve and important Mayan site set deep in the tropical forest of the Tierras Bajas. It is the largest archaeological site in the state built in the late Classic period later conquered by Tikal (Guatemala). It is believed that the site contains an estimated 6,000 structures — only of which a half of dozen are restored! The site contains incredible temples that were mostly dedicated to ancestor worship and it  twin pyramids, Temple II and Temple VII, reaching as high as 50m  (164ft) tall. The magnificent structures are exceptionally preserved and  vividly paint the picture of life in an ancient Maya capital.
Edzná
This Maya archeolgical site was one of the most important ceremonial centers in the pre-Classic Maya period. Various temples, including the Pyramid of the Five Floors, are remarkable structures that give in sight to this mysterious era. This site is believed to to have been used for agriculture products.
Chenes Route
The Ruta Chenes  is a collection of the remains of splendid Mayan cities that at one point were important political centers. The archaeological sites included along this route are Hochob, Tabasqueño and Santa Rosa Xtampac.  Xtacumbilxuna'an caverns also formpart of the Chenes Route which contain stalactites and stalagmites that we considered  a sacred place for Mayas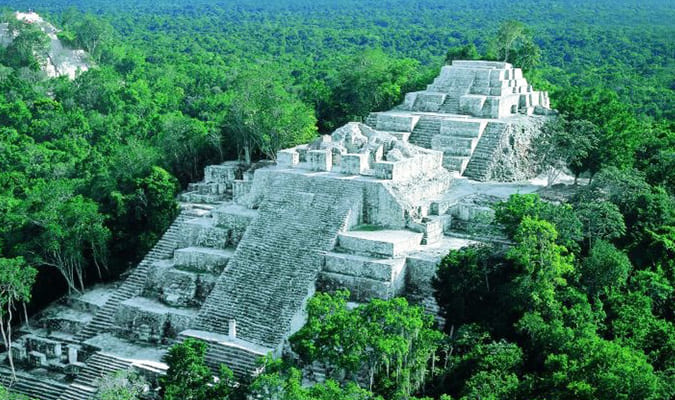 Campeche Hotels
Chicanna Ecovillage
Chicanna Ecovillage Resort is a self-sufficient and ecological resort in Xpujil, Campeche  surrounded by pure, untouched nature where guests can pleasantly relax in bungalows.
Hacienda Puerta Campeche
Hacienda Puerta Campeche is a luxurious hotel flawlessly displaying a collection of restored 17th century historical houses. Meander a Mexican hacienda where guests will find one-of-a-kind pools, with secret alcoves and open windows offering views of an outside world of beauty.
Casa Don Gustavo
Casa Don Gustavo is a beautiful building from the Historic Center of Campeche which has been restored as a luxury boutique hotel with high standards of comfort, sophistication and privacy. The hotel recreates a stately old home during the heyday of Campeche's splendor of the eighteenth century with an exquisite collection of furniture and art,  harmoniously and subtly combined with the amenities of modern life.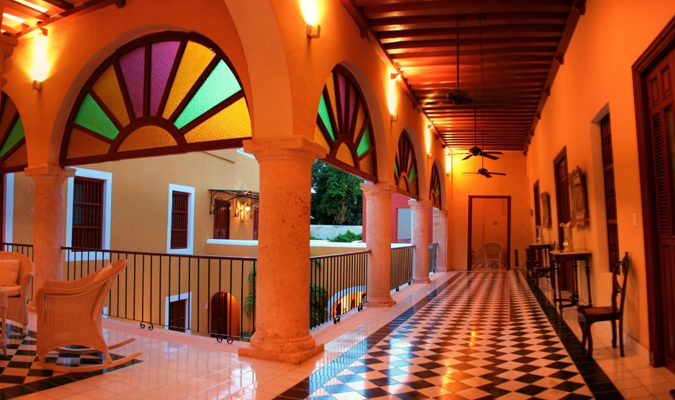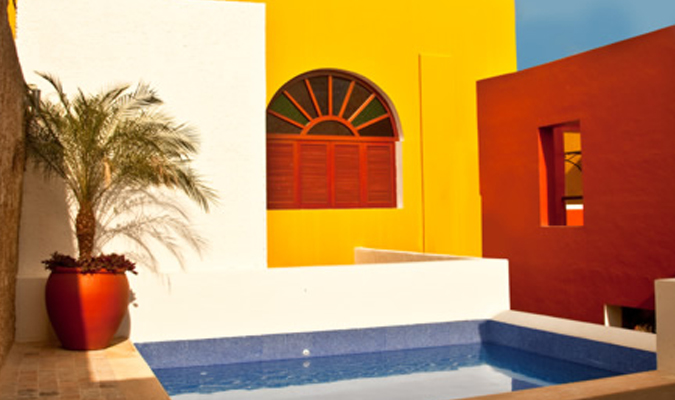 Campeche Tours
Archaeological Maya Journey – Immerse yourself in Mayan culture and history by visiting the region's most important archaeological sites and villages where you will also have a chance to sample local Yucateca cuisine.
Treasures of the Yucatan with Beach Stay – Take the opportunity to explore the Yucatan Peninsula and Campeche and then rest and relax on the crystalline shores of the Riviera Maya.
Yucatan EcoTour – Explore every inch of the Yucatan on this Ecotour, visiting Mayan ruins, charmind cities, pristine reserves, and impressive waterfalls.
Note: There is no US Department of State advisory warning in effect for the state of Campeche. >>