After just six short months of opening our first Journey Mexico office in Mexico City (and third in the country), we are happy to report the following progress:
Staff
The Mexico City office, located right in front of the capital's iconic landmark: El Ángel de la Independencia (Angel of Independence) now has six full time employees which include the Marketing Team, a Groups Sales Manager, an Operations Manager (Mexico City), and a Senior Travel Planner. You are invited to get to know each of them: Ana Belem, Judit, Mabel, Paulina, Lillian, and Jessica. We are currently looking for candidates to fill a  airport supervisor position.
Insider Access
Keeping up with the trends and knowledge of a city where over 20 million people live is no easy task which is why our entire staff in Mexico City is dedicated to staying on top of the latest and greatest. Our presence in Mexico City allows us to have our finger on the pulse of the most exciting happenings citywide. Scoping out the newest restaurants, having VIP access to museums or exclusive art shows, and where to shop in the hottest boutiques are just some of the expert, insider access details we provide to our clients.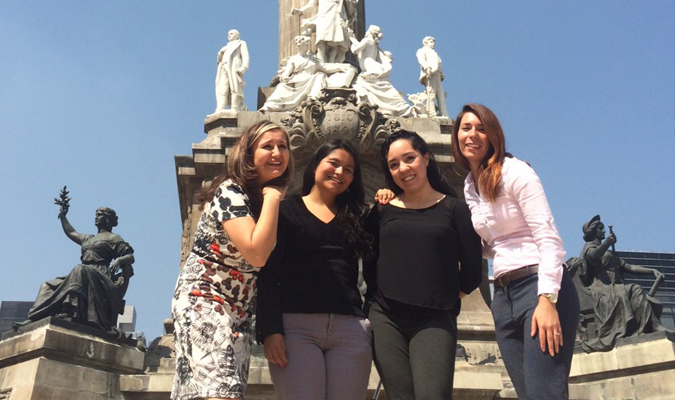 New Product and Hotels
Boutique hotels in Mexico City are springing up everywhere! La Valise in Roma Norte, Hippodrome in La Condesa, and Busue in Polanco are some the newest which we work with. We are also developing new, unique tours, such as "The Charro Experience", off hour visits to the Anthropology Museum, hot air ballooning at Teotihuacan, and the"Mexico City Chocolate Indulgence Tour", which shows the important role chocolates played in Mexico's history and how it has evolved into modern gastronomic art today.
In The News
Spearheading the Mexico City office, Journey Mexico Director of Marketing, Lillian Aviles, has been taking the city by storm! One of her many accomplishments has been amplifying Journey Mexico's presence in various press outlets including Travel Weekly, Travel Agent Central, and About.com. She has also been featured in La Agencia de Viajes Mexico magazine,  and Tale of a Guest for her hardwork and passion for Mexico.
"Mexico City can be whatever you want it to be", replies Lillian Avilés (Director of Marketing at Journey Mexico) when we ask her why she loves Mexico City so much. "It's just so colourful, lively and diverse!". Her enthusiasm for one of the most intriguing and popular cities in the world is evident. It's always exciting to meet people like Lillian, who love what they do and share their passions with the rest of us. – Tale of a Guest, Lillian Avilés: Living Each Day In The Moment.
If you're interested in planning a trip to Mexico City, please contact our travel planning department: [email protected]