Thanks to ancient Maya pyramids, sacred cenotes, and the crystalline Caribbean Sea, the Yucatan Peninsula has become a bucket list destination for travelers across the world.
Encompassing the states of Yucatan, Campeche, and Quintana Roo, it's a land of almost limitless adventure. Its major cities are some of Mexico's most beloved: Cancun, Playa del Carmen, and Merida, while many of its towns are Pueblos Magicos, places recognized for their exceptional beauty or cultural significance.
Organizing a trip on your own can be overwhelming. There's almost too much to see and do and, unless you've got some insider tips, you'll probably end up visiting overcrowded tourist hotspots.
To help, we have gathered our almost 20 years of Mexican travel expertise to create a ten-day trip that takes in the very best of this wonderful world. You'll take private tours of world-famous archeological hotspots, visit natural wonders, and stay in two of the finest resorts in Mexico.
Best of Yucatan Peninsula and Riviera Maya With Chablé Resorts
Day one
The journey begins with an arrival at Merida airport, in the north west of the Yucatan Peninsula. You will be met by a private driver and transferred to Chablé Resort & Spa. Here you have the time to unwind from your journey and explore the many wonders on offer at the resort.
About Chablé Resort & Spa
Chablé Resort & Spa in Merida is 750 acres of pure bliss nestled within the heart of the Maya forest. Here you will discover one of the world's finest health resorts, which offers the very best in holistic treatments in a truly gorgeous setting.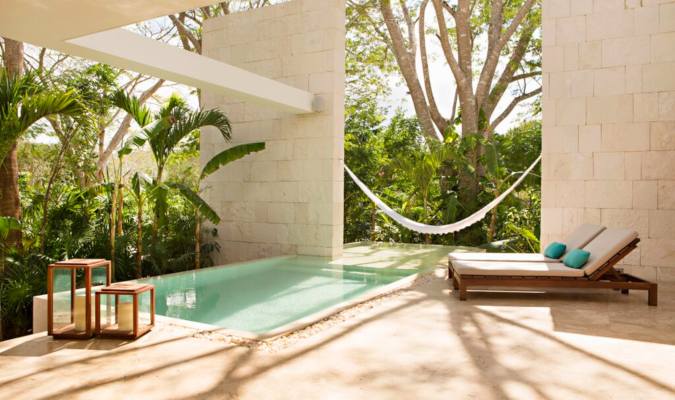 Its spa was named one of the seven best in the world by Tatler Magazine; a thoroughly deserved accolade. Its wellness program takes ancient Maya healing practices and combines it with a cutting-edge therapy menu.
Elsewhere, guests stay in one of 38 gorgeous casitas or two large villas. Each casita sits within lush gardens and has been designed using traditional Maya architecture. Natural materials and muted tones injected with the occasional pop of color create a calming atmosphere. For a larger party, the stunning villas are grand, elegant, and stylish. By any standards, Chablé Resort and Spa is a truly spectacular place to be.
Day two
After a thoroughly refreshing night's sleep, the first adventure on the Yucatan Peninsula and Riviera Maya trip is visiting the pink flamingos at the Celestún Biosphere Reserve. Here, you will take a boat onto the salt-water lagoon for a close up look at these truly fascinating creatures. Take some pictures or simple marvel as they go about their daily lives. You will also be able to see a wide variety of plant-life and even take a dip in the lake's cooling waters.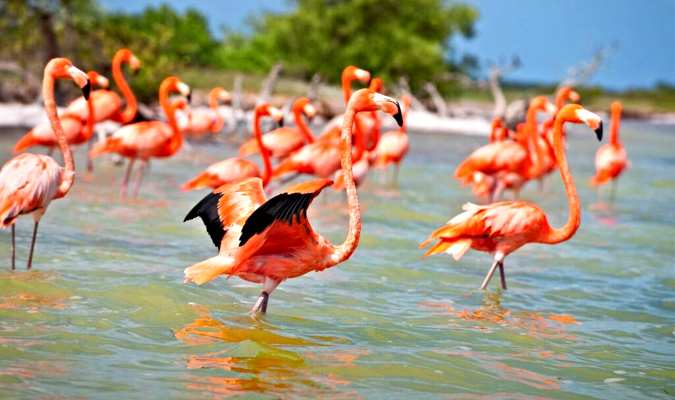 Next, you will head to the city of Merida, capital of the Yucatan, to explore its historical city center. A guide will teach you all about its history and modern importance, plus you'll visit the major architectural landmarks such as the plaza (known as the Zócalo) and the Monument of the Homeland. After visiting some of the colonial buildings in Merida, you will head back to Chablé to relax.
Day three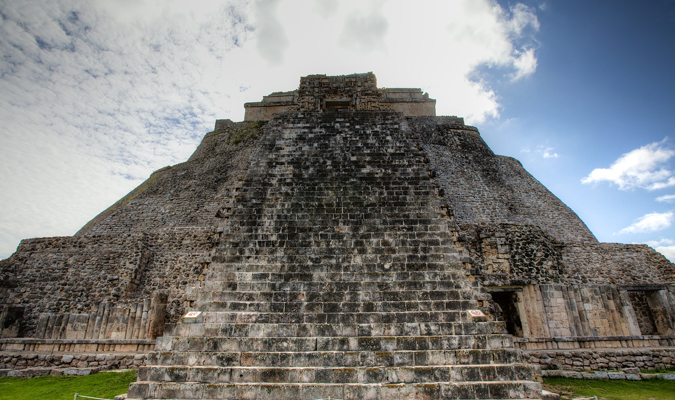 Today you will visit Uxmal (pronounced oosh-mal), a Maya city which is home to the Pyramid of the Magician, one of Mexico's most mystical ancient structures. A personal tour guide will take you around the site, teaching you about its fascinating history and the myths surrounding the creation of the towering pyramid.
After, you will head to Kabah, another stunning ancient Maya site. You will visit the incredible Palace of the Masks, and view the 260 masks of the rain god Chaac that adorn the façade.
Day four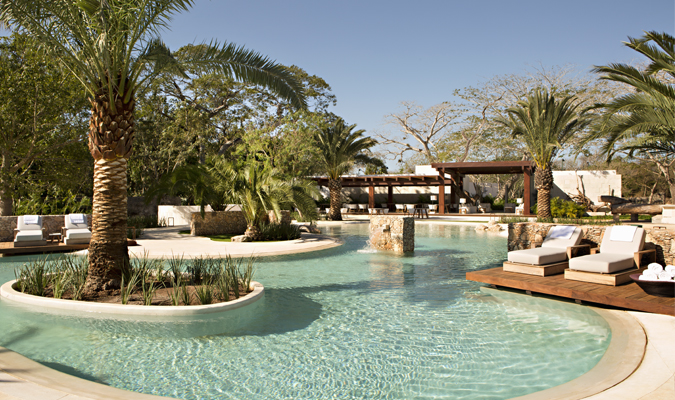 After the excitement of the past two days, it's time for a day at leisure. Explore the wonders of Chablé Resort and enjoy the many activities on offer. There's plenty to do including a tequila and chocolate experience, learning how to make fresh tortillas, and a fabulous wine tasting session. Alternatively, you could take advantage of the spa facilities: sweating out your toxins with a temazcal ceremony or enjoying the extensive spa menu.
Day five
Today you will visit one of the New Seven Wonders of the World, Chichen Itza — Mexico's most famous archeological site. Here you will take a guided tour, taking in its rich culture and viewing its stunning Maya architecture. You will, of course, visit El Castillo, the site's famous stepped pyramid, but will also visit the ball courts and other ancient structures.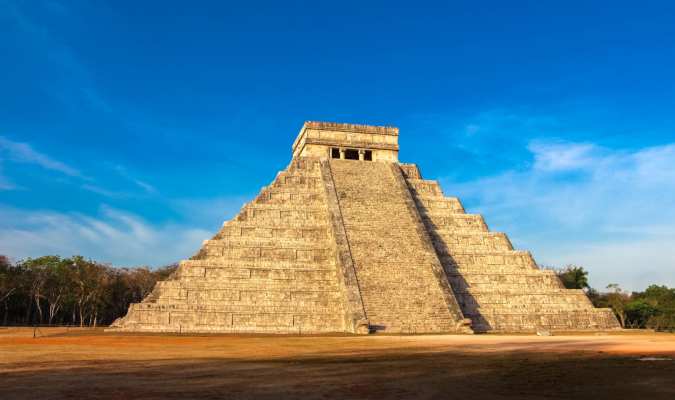 You will also discover a mystical cenote, home to sacrificial drownings, to learn about the brutal ancient rituals of the ancient Maya people. Once your tour is complete, you will be taken to a new hotel, Chablé Maroma in the Riviera Maya.
About Chablé Maroma
Much like its sister resort, Chablé Maroma is considered one of the finest getaways in Mexico. Wedged between tropical jungle and a pristine 650-foot long beach, it is an oasis of calm offering peace and tranquility in buckets.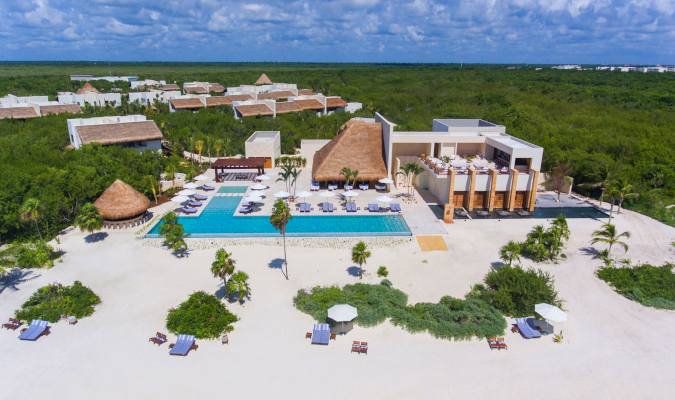 Guests enjoy world-class beach living, taking romantic walks on the white sand, and cooling swims in the sparkling Caribbean Sea.
Visitors stay in well-appointed presidential villas, suites, and independent villas dotted throughout the jungle landscape. Each is designed with endemic materials (xucun stone, marble, and galarza quarried stone) and accented with pops of Maya color. The larger presidential villas have three bedrooms, private pools, and plenty of living space.
Elsewhere, the on-site spa honors Maya therapeutic traditions, bringing them into the 21st century using the latest techniques. Three exquisite restaurants offer superb dining using locally sourced ingredients.
Day six
Today's exploration takes you into one of Mexico's most celebrated animal habitats and onto one of its most famous archeological sites. The day begins, however, at your hotel where your driver will meet you. They will whisk you off to your first stop: the Sian Ka'an Biosphere Reserve.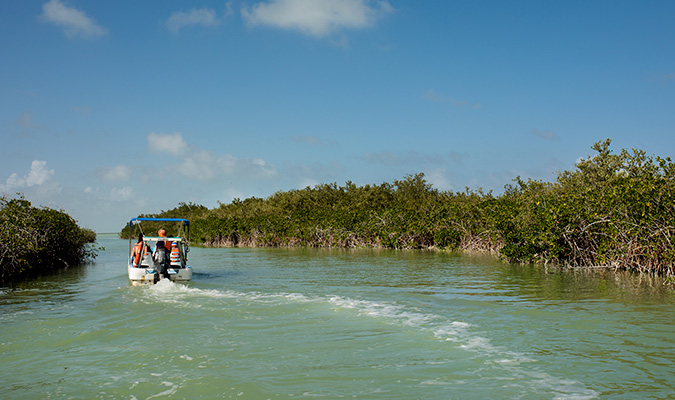 This fascinating UNESCO World Heritage Site is a wonderfully varied landscape of marshes, mangroves, seas, and tropical forest, home to a stunning array of wildlife. You will start the tour on foot, taking an easy walk through the jungle to the Muyil Maya temple. After you will hop into a boat to explore the area's stunning waterways and discover a cenote. You will also be able to swim and relax in the 'lazy river'.
After drying off, the next destination is the Tulum archeological site — an ancient Maya city overlooking the Caribbean Sea. Your guide will take you around this famous destination, providing a fascinating insight into the rich past of the area. 
Day seven
Today — your last day of planned activities — you will head out onto the Caribbean Sea for the private sailing trip of a lifetime. On your 41-foot catamaran, you will cruise the Bay of Cancun and Isla Mujeres. If you want, you can also snorkel in the Great Maya Reef, the second largest coral reef in the world. Here you'll have the chance of coming face to face with sea turtles and hundreds of different fish species.
Days eight and nine
For days eight and nine you are at leisure, free to take advantage of the many wonders of Chablé Maroma. Catch up on some sunbathing, enjoy a margarita or two, and unwind with a spa treatment.
Alternatively, you could venture into the local area, exploring Maya cenotes or discovering Rio Secreto, a stunning underground river with beautiful geological formations.
Day ten
Your final day begins with a beautiful breakfast followed by check out. After, you will be met by your driver in the hotel lobby and taken to Cancun International Airport for your flight.
The Best of Yucatan Peninsula and Riviera Maya With Chablé Resorts tour is available to book now. Click the more info button below or head to our Plan Your Trip page to book.
Each one of our sample itineraries is fully customizable. Tell us what you'd like changed and we'll make it happen.