Mexico´s vast diversity of wild places and captivating backdrops is home to animals that are just as remarkable. From whales off the coast of Baja´s desert-meets-ocean landscapes to the monkeys roaming Mayan temples in the south, we´ve put together our highlights of Mexico´s majestic animals you won´t want to miss. 
Axolotls in Mexico City
Season: All Year Round
These curious and adorable amphibians are endemic to Mexico´s basin, an area of vast lakes in pre-Hispanic times where present-day Mexico City lies. As the metropolis sprawled, the axolotl´s natural habitat became confined to several canals in Xochimilco, an area to the south of Mexico City. In response to the axolotl´s critically endangered status, scientists, farmers, and local communities have come together to help breed axolotls and regenerate the species' habitat with the development of more chinampas; these pre-Hispanic floating gardens help to filter pollution in the canals. Journey Mexico cares about the conservation of amazing axolotls as well as their ancient habitats. Support ongoing preservation efforts while you learn more about the chinampa agricultural heritage system and their rare amphibians on our Axolotls and Chinampas in Xochimilco experience, led by the non-profit organization REEDUCA.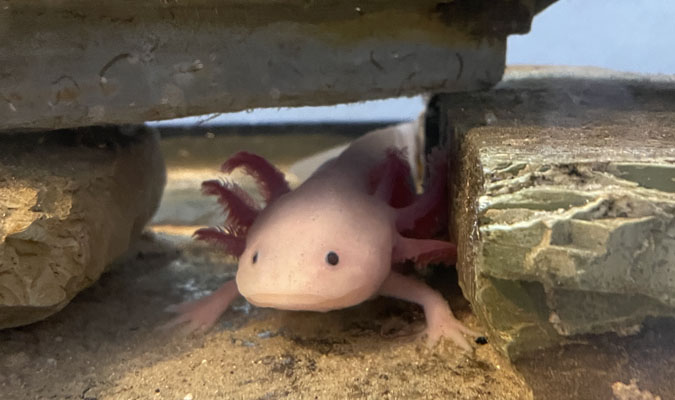 The Whales of Baja & Banderas Bay
Humpbacks
Season: December to March
The winter months bring the chance to spot humpback whales off Mexico´s western shores, in Banderas Bay and Baja California Sur. Whether you´re soaking up Puerto Vallarta´s laid-back beach vibes, sipping a poolside cocktail in a Punta Mita luxury villa, or taking a private boat out of Cabos San Lucas, keep your eyes peeled for these majestic marine mammals!
For humpbacks in the northern hemisphere, the summer months are all about feeding on krill in cold Arctic waters before the winter migration to the Mexican Pacific´s tropical waters, where tens of thousands of whales travel to focus on breeding and calving. When the winter season comes around, we love the excitement of seeing an iconic humpback whale tail flick out of the water, or when we´re really lucky, a playful leap into the air followed by a dramatic splash.
Gray Whales
Season: January to March
Gray whales are known to be curious, friendly, and uncharacteristically social with humans, often swimming over to bump up against boats and say hello. The chance to have deep moments of connection with such huge marine mammals is a big draw for visitors, who take day trips and multi-day adventures to encounter the friendly grays on Baja California Sur´s Pacific side.
These incredible animals make the 6,000-mile migration south from the Northern Pacific Ocean and Bering Sea as part of their annual winter migration. San Ignacio Lagoon, Ojo Liebre Lagoon (Guerrero Negro), and Magdalena Bay are the three spots in Baja chosen by the whales´ intuition, as areas that have warm, shallow waters and natural protection from both predators and rough ocean conditions. Gray whales are also known to occasionally pop up around Banderas Bay! Explore Magdalena bay with expert guides on our Baja Multisport: Gray Whales, Hiking & Sea Kayaking itinerary.
Blue Whales
Season: January to March
The blue whale is believed to be the largest animal that has ever graced the planet and can grow up to 100 feet long! In the late winter months these awe-inspiring creatures travel to Baja Sur´s Loreto Bay National Marine Park to feed, mate, and calve. Located in the Sea of Cortez on the peninsula´s east coast, the park has been designated a UNESCO world heritage site thanks to its natural beauty and wealth of biodiversity. That´s one magical backdrop to see flukes and spouts flick up as blue whales glide through the water!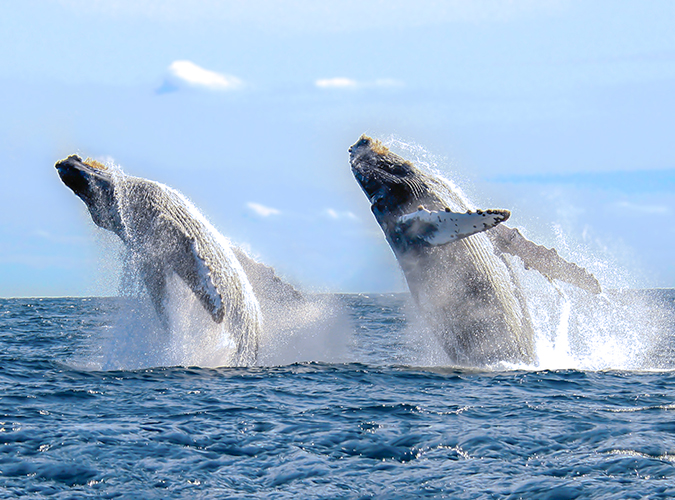 Whale Sharks in La Paz and Isla Mujeres
Season: La Paz November to March & Isla Mujeres mid-May to mid-September
Despite their name, whale sharks are the world´s largest species of fish with an average size of 18 to 33 feet, and not harmless at all! These gentle giants eat only small shrimp, fish, and plankton and are easily recognizable by their flat head and a pattern of white dots that covers the top of the body. It´s a surreal and beautiful experience slipping into the water with a snorkel to swim alongside such graceful, immense animals.
Mexico is blessed with whale sharks around the bay of La Paz in Baja California Sur and Isla Mujeres, an island just across from Cancun. The peaceful creatures arrive to each location in different months, so you can have this incredible experience in Mexico almost all year round!
The sustainability of whale shark operations is our priority and it´s important to Journey Mexico that the government regulations in place to protect whale sharks are respected, such as keeping six feet distance in the water, not using flash photography, and not trying to touch these amazing animals.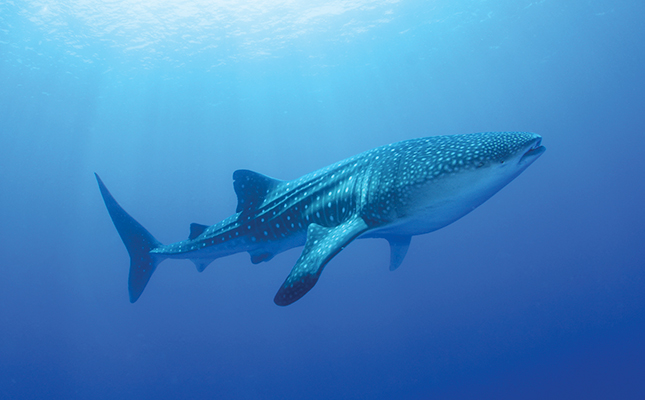 Monarch Butterflies in Michoacan and Mexico State
Season: November to March
Each winter, delicate orange and black monarch butterflies embark on one of the most impressive migrations we know to reach the perfect conditions for reproduction. Setting off from Canada and the U.S, the floaty wonders will cover some 3,000 miles to arrive high up in the forests of Michoacán, sometimes travelling up to 100 miles per day . That´s the longest migration of any insect!
As the sun´s warmth shines through in the daytime, the monarchs open their patterned wings and fly around as part of a mating ritual, creating a collective, fluttering orange blaze for spectators. Time stands still when you´re faced with such an ethereal scene, it´s a hypnotic experience and one you´ll never forget.
The monarchs are the only butterfly species that achieve a two-way migration, returning north in the springtime. Since the average life span of a monarch is around four to five weeks, it's the great-great grandchildren that will make it back to continue the cycle!
Experience the butterfly awe yourself with our Monarch Butterflies and Playa Viva: An Eco-Friendly Adventure itinerary.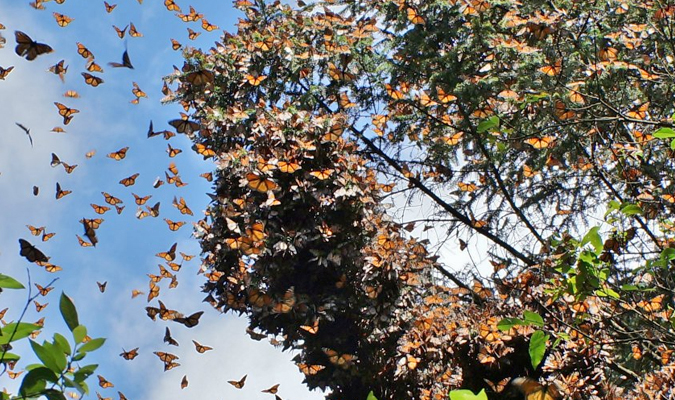 Pink Flamingos of the Yucatan Peninsula
Season: Río Lagartos April to June, Celestún December to March
Did you know you can see pink flamingoes in two different places in Mexico? Both are located on the Yucatán Peninsula and have their seasons at different times of year, maximizing flamingo spotting potential! The iconic birds get their bright color from pigments found in algae that get passed up the food chain, resulting in fabulous pink feathers. Mexico´s flamingos split their time between the Celestún Biosphere Reserve on the Yucatán´s west coast, and Río Lagartos, on the northern coast.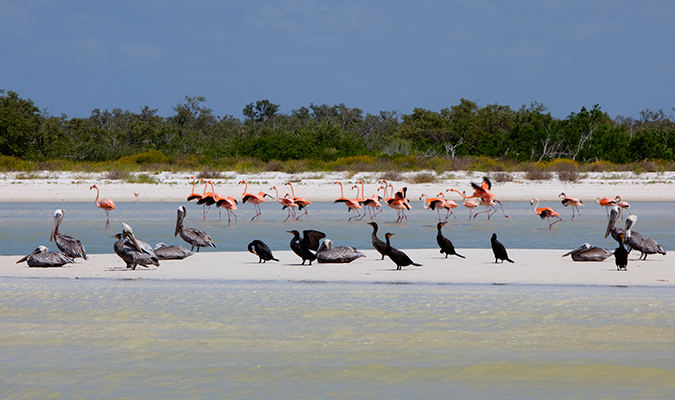 Monkeys in Southern Mexico
Season: All Year Round
Monkeys can be found swinging through the trees of southern Mexico, where the Lacandon Jungle stretches from Chiapas state into Guatemala. One of our favorite moments to see monkeys in the wild is when we´re exploring ancient Mayan cities surrounded by verdant tropical forest. There´s a good chance of seeing spider monkeys going about their business and you´ll hear the local howler monkeys before they come into view!
Palenque is an outstanding archaeological site in the area with well conserved architectural remains, or for more adventure take a trip to Yaxchilán and Bonampak archaeological zones. Set deep in the jungle on the banks of the Usumacinta River on the border with Guatemala, Yaxchilán can only be accessed by boat, while Bonampak´s cave paintings give an amazing insight into the ancient Mayan world. If this sounds like your thing, check out our itinerary 'Chiapas: A Journey through Mexico Less Visited´.
To get closer to spider monkeys, head to Akumal Monkey Sanctuary in the Riviera Maya, where groups of youngsters that have been harmed in the wild are integrated and socialized together.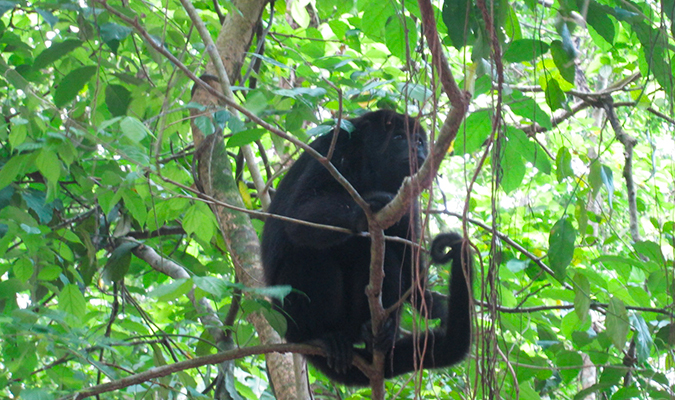 Sea Lions at Espiritu Santo Island
Season: All Year Round
Isla Espiritu Santo is a must when visiting La Paz to admire untouched rocky landscapes, crystal clear waters, and white sandy beaches. We like to take our travelers out by boat to explore the flora and fauna on this unique island, making a stop to snorkel and swim with the resident Los Islotes sea lion colony. The 600 strong community includes lots of puppies that love to play! From June through to August, we respect the sea lions´ mating season and observe the marine mammals from onboard our boats to keep both animals and humans happy and safe.
Include a Wildlife Encounter in your Custom Travel Itinerary
Come and experience some of the incredible species that call Mexico home, from eccentric axolotls in the capital to playful sea lions in Baja and dazzling flamingos in the Yucatán. Get inspired with our wildlife itineraries and then speak to our travel planners to chat about your dream trip, how to customize it to your particular interests, and make it a reality!