OVERVIEW
ITINERARY DETAIL
DATES AND PRICES
The Baja Multisport: Gray Whales, Hiking and Sea Kayaking is an off the beaten path journey visiting the coastlines of Baja California.
This trip is an off-the-beaten-path adventure that visits both the Pacific Ocean and Sea of Cortez coastlines of Baja California, Mexico. Every year the Whale makes its annual migration from the Chirikof Basin to Magdalena Bay, a round trip of some 12,400 miles making it one of the longest migration by any mammal. During the whale's winter visit, they calve and nurse in the shallow lagoons. These amazing Gray Whale nursing grounds are protected by strict Mexican environmental and ecological legislation. We are careful to observe these regulations by exclusively working with licensed cooperatives that have trained boat drivers. This in turn helps support local fishermen and their families.
This trip is ideal for active travelers wanting to experience Baja's world famous biodiversity and stark geography through a multitude of outdoor adventure activities.  Hiking, sea-kayaking, surfing, town tours, and snorkeling are all included in this exciting itinerary that visits both Baja's Pacific and Sea of Cortez coasts.  There are also options for SCUBA diving, fishing and horseback riding. Any Baja California Multisport Adventure can be followed immediately by 9 days hiking the magnificent Copper Canyon.
PHOTO GALLERY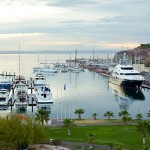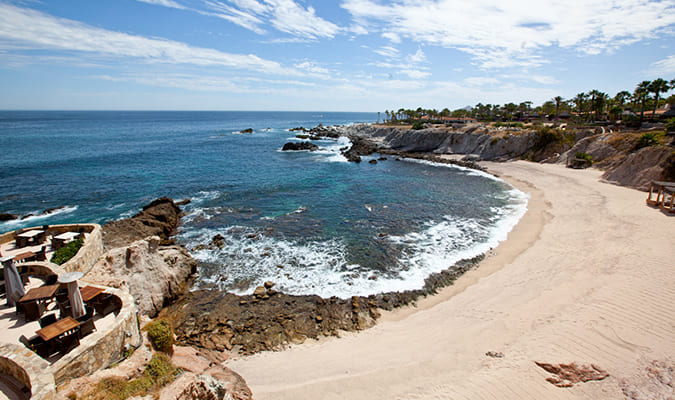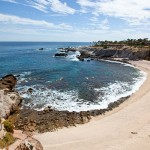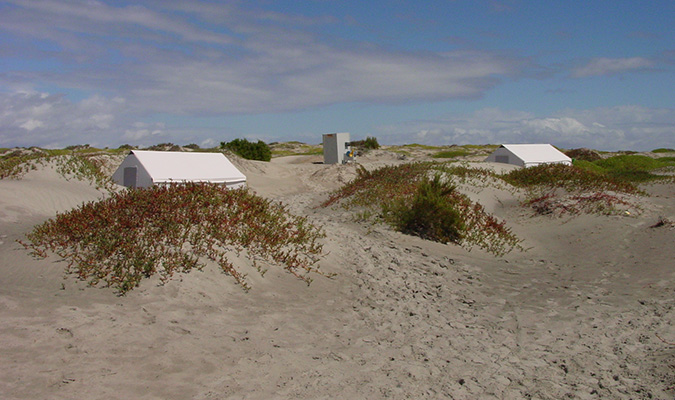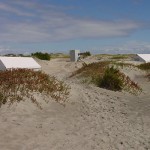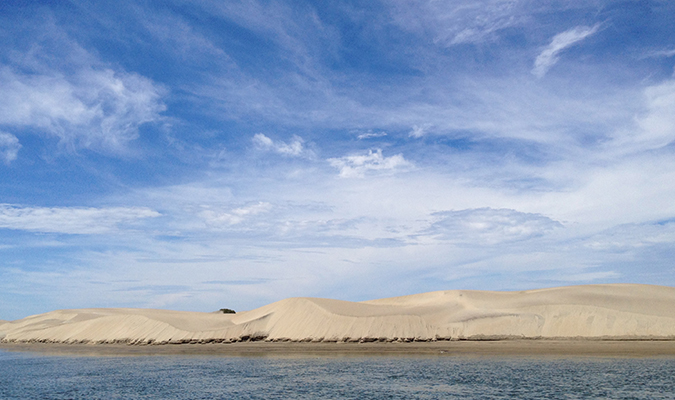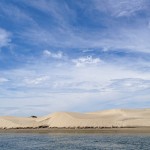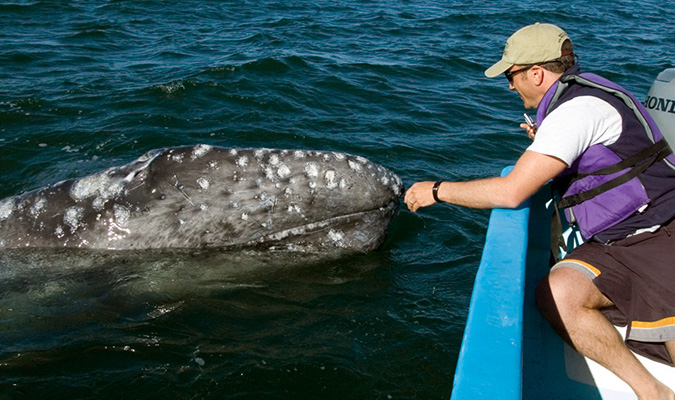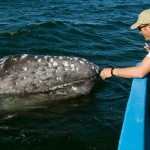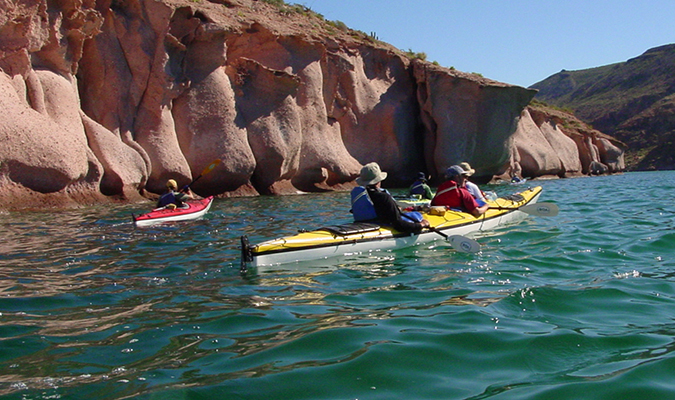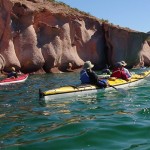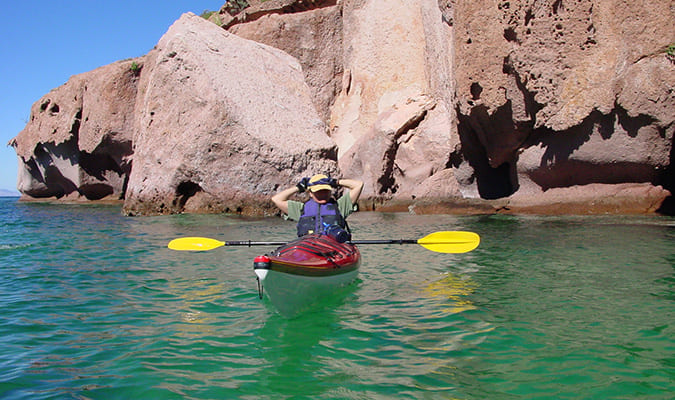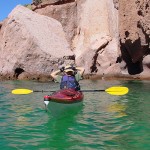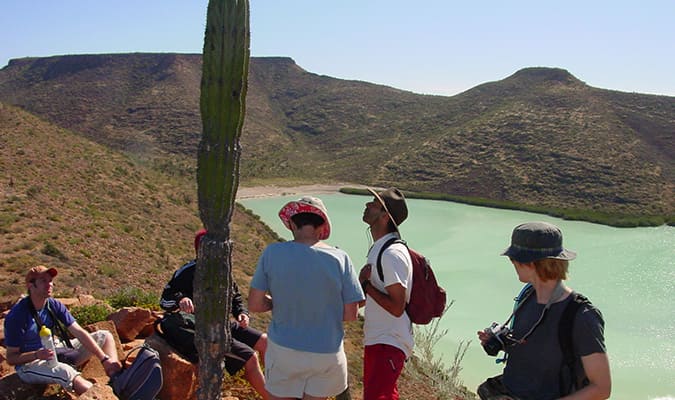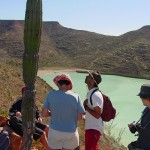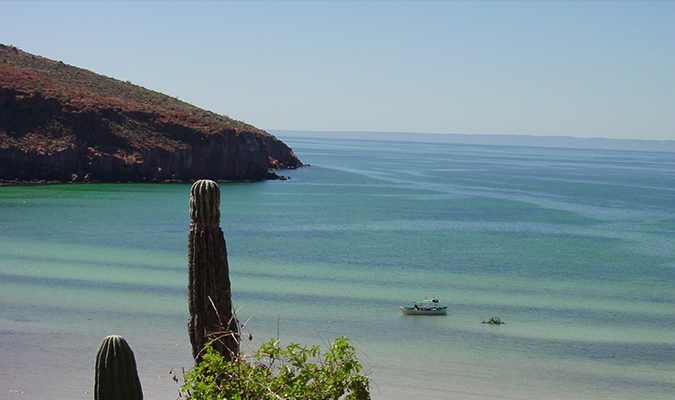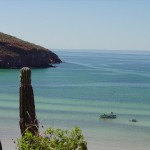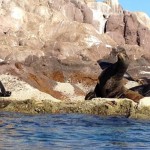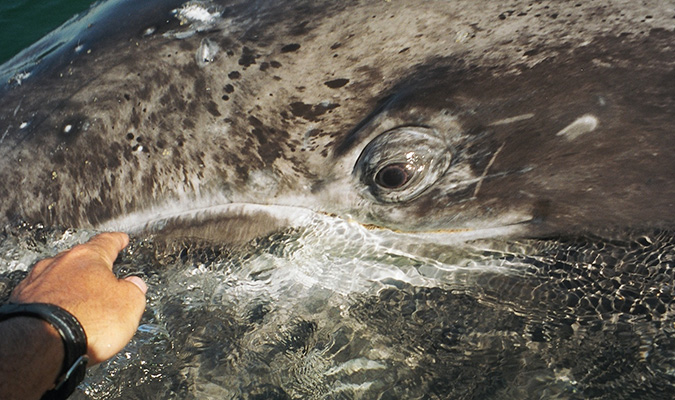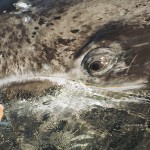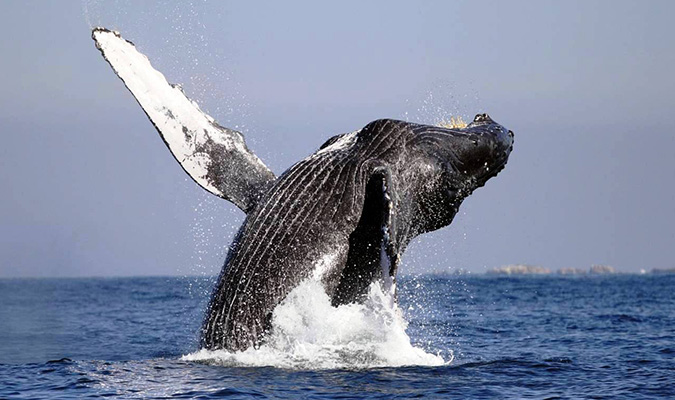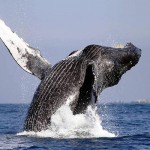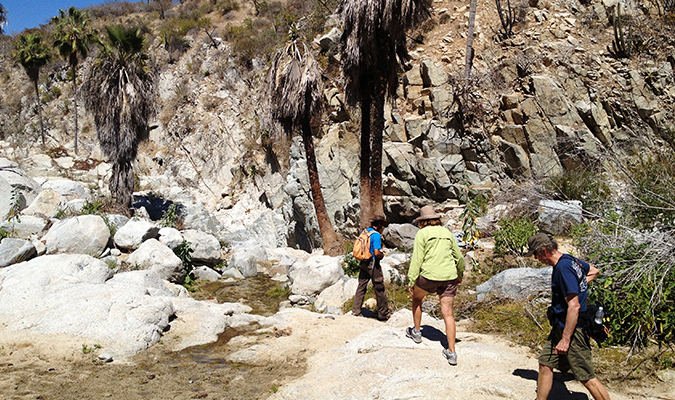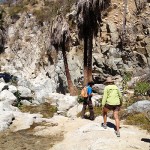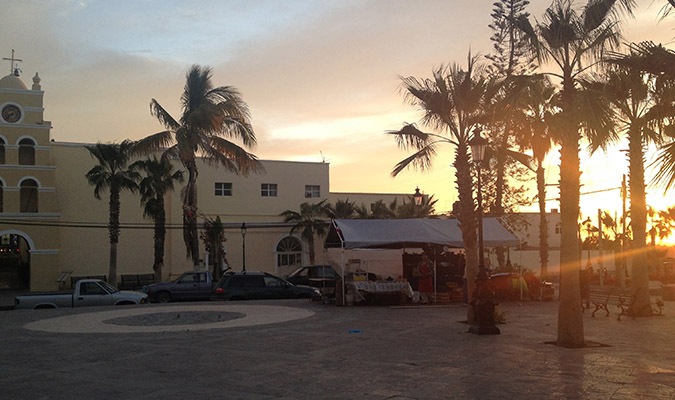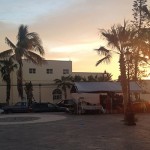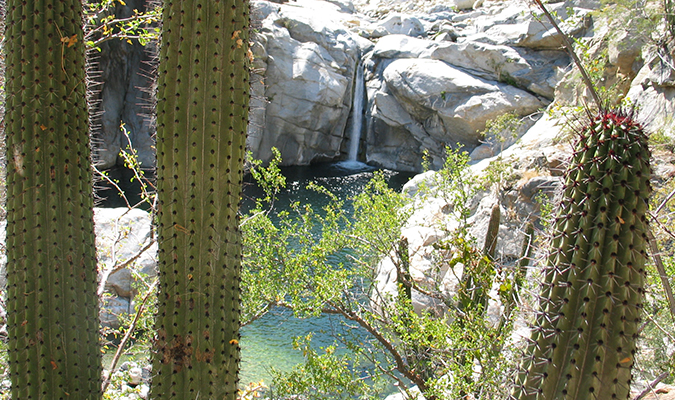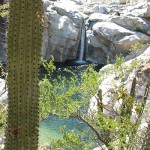 HIGHLIGHTS
The Grey Whales – Enjoy boat trips into the lagoons getting a chance for arms length encounters with the Pacific Gray Whales during their annual migration
Kayaking the Sea of Cortez –  Sea-Kayaking expedition in the turquoise waters off the beautiful Island of Espiritu Santo where we will also enjoy guided walks and a visit  sea lion colony at Los Islotes where we can swim and snorkel
Hiking in the Sierra de la Laguna Biosphere Reserve – Hike into the Sierra de la Laguna Biosphere reserve and experience the magic of cascading waterfalls in the spectacular cactus forests of this seldom visited desert wildernes.
Todos Santos – Explore the charming fishing village of full and try your hand at surfing at Los Cerritos beach

Day 1: Arrival Day Los Cabos – Todos Santos. (No Meals)
Transfer from San Jose del Cabo airport to charming colonial fishing village turned artist colony Todos Santos (Approximately 1:30 hrs). at arrival settle into your lovely boutique hotel in Todos Santos and enjoy rest of evening at leisure.
Overnight: Guaycura
Day 2: Sea Cliffs Hike / Todos Santos Historic Town Walking Tour. (B,L)
Meet at 9:00 am in the hotel courtyard and before heading out to hike the rugged coast line south of Todos Santos. We'll take in secluded beaches and you might even spot gray whales from the cliffs before arriving at a lush oasis for a picnic lunch. We'll head back to town to enjoy a walking tour of the historic town of Todos Santos. Later this evening you may enjoy dinner at one of the many fantastic restaurants.
Overnight: Guaycura
Day 3: Todos Santos – La Paz – Sea Kayaking/Snorkeling Espiritu Santo Island & Sea of Cortes (B,L)
After an early breakfast we will cross the peninsula (1:30h) by van and arrive to La Paz, where our high speed skiff awaits to take us out to Espiritu Santo Island.
Your guide will give a short briefing the Natural Protected Area as we head out into the Bay of La Paz. After roughly 1.5 hours, we arrive at the sea lion colony for our first stop. You will have plenty of time to swim, snorkel and interact with the playful sea lions in the company of your guide as well as observe tropical fish and other wildlife. We will continue to navigate the island aboard our skiff until we come to a secluded beach where we will enjoy a delicious lunch before exploring a waterway by kayak. Your guide will lead an informative chat about the natural history of the island, plants, fauna and mangroves. We will return to La Paz in time for dinner on your own.
Overnight: Posada De Las Flores
Day 4: La Paz – Magdalena Bay (Grey Whale and Sea Turtle Conservation Adventure) B,L,D
After breakfast we will meet our guide for the journey north, crossing the desert to arrive at Magdalena Bay, "Jewel of the Pacific" and home to some of the Baja California peninsula's most breathtaking scenery. Arriving to the bay, we will search for whales as we head out into the bay, along the way taking in the lush mangroves, barrier islands, and sand dunes, arriving at the Gray Whale and Sea Turtle Conservation Camp, nestled in the dunes between the two bays and backed by extensive mangrove estuaries. Members of the surrounding fishing communities run the camp, which will be our base for activities and adventure over the next few days. Don't let the word "camp" fool you; no effort is spared in making sure your stay is comfortable and relaxing, in a natural setting unlike any other.
We take eating seriously, and you will be amazed by what the local chefs prepare in such an isolated setting. Cuisine focuses on local dishes, and lunch or dinner will often come right from the bay. Special attention is given to dietary requirements and restrictions. After getting settled in to camp the first day, you'll have time for a beach hike, or to relax and watch the tide change in front of camp. After dinner take a tour through the night sky and wonder at all the stars. Rest up, tomorrow – sea turtles!
Accommodations: Canvas tents with standing room and comfortable amenities including raised mattresses with linens and pillows. Toilet and shower facilities are rustic by design, environmentally friendly and integrated in the landscape.
Overnight: Camp
Day 5: Whales and Sea turtles (B,L,D)
After breakfast we will head out on the water, in search of whales. Your guide will give you a detailed orientation on gray whales, their magnificent migration, and the importance of Magdalena Bay for the whales to breed and calve . Out on the water with the whales, your guide help explain the whales' behavior. You may even get wet, as the whales are known to sometimes play with the visitors who have come to see them, swimming alongside the boats and splashing water at the tourists.
We will say goodbye to the whales for now, and it's time to put on your sea turtle biologist cap, and take part in a black sea turtle monitoring project recognized around the world as a model for community based conservation. We will assist the monitoring team as they capture turtles, and can help collect important data on the turtles (weight, size, previous capture) that helps researchers understand more about sea turtles' movement and the health of their populations.
Back at camp, you can choose to relax or take a leisurely kayak paddle through the mangrove canals before sunset. Swap stories from the day during dinner.
Overnight: Camp
Day 6: Dunes in Magdalena Bay – Transfer to La Paz (B,L)
Today after breakfast we will set out in search of the tallest dune in the Magdalena region. Climb up and take in the incredible view of Magdalena Bay, the barrier islands and the Pacific Ocean. We will make our way back to camp to say goodbye before heading back to La Paz well in time for dinner.
Overnight: Posada De Las Flores
Day 7: Private Whale Shark snorkeling with a picnic lunch on the Hidden Beaches of Balandra Bay
Whale sharks are the true "gentle giants" of the oceans. The largest fish on the planet, these gentle beasts return yearly to the coast just off La Paz. We will meet in the hotel lobby at 8:15 am and head to the operations office to try on our equipment. After a short walk to the tourism pier we will board the boat our head out in search of whale sharks. If you are lucky and feeling adventurous, grab your snorkel and mask and get in the water with your guide to see the whale sharks up close.
The trip continues to Balandra Bay, a natural protected area and home to pristine beaches, mangroves, and stunning scenery. Here we'll have a tasty lunch (dietary restrictions taken into account), explore the nature trails, snorkel in the crystal water and relax and unwind before heading back to La Paz well in time for dinner (not included).
Learn what it is like to be a whale shark researcher! Optionally, a Researcher or local investigator may join your trip (optional subject to availability and not included, please enquire) to take you through the ecology of these magnificent creatures, the role they play in the ecosystem, and their feeding, mating and migratory habits. Before getting in the water with the researcher you'll learn how to identify individuals and document age, sex and other characteristics.
Overnight: Posada De Las Flores
Day 8: Departure day from La Paz – To Los Cabos Airport or Beach Extension (B,L)
Transfer from La Paz hotel to San José del Cabo airport.
Optionally you may extend your trip with a beach stay in Los Cabos, to enjoy the best of both worlds in this journey! Combining the incredible off-the-beaten path adventures with unparalleled natural beauty in remote areas of Baja California, with Los Cabos for a relaxing vacation at some of the most luxurious resorts in the world, such as One & Only Palmilla, perfect suggestion for families!  

Dates
This trip can be customized for a private journey in the months of February and March.
Prices
Our custom-tailored journeys start from $800 USD per day for two travelers. Contact us today to discuss your travel desires and design a personalized proposal with exact pricing.
Please note, our pricing guideline is a starting from price and is not necessarily applicable to the suggested hotels contained within the suggested itineraries on this web site. Itineraries are customized prior to final pricing.