Our friends at AFAR recently published a fascinating feature, The Rise of Mezcal: Great for Cocktails, Better for Oaxaca by Chris Colin, in their magazine. Below are some excepts from the article on how mezcal is changing Oaxaca's landscape:
That fancy new mezcal in your favorite bar is changing everything in the villages of Oaxaca.

[Asis] Cortés [owner of the Mezcalogía bar]  hails from a small town where his family has made mezcal since before the American Civil War. Remote family distilleries have long been features of the landscape here, as familiar as the agave plants themselves. Culturally if not culinarily, they were essentially moonshine operations. They seldom distributed farther than the neighbor's house, and usually in an old Coke bottle. Putting a label on it? Selling it beyond Oaxaca? Mixing it in a cocktail glass? These notions were foreign. Then the world shrank, and foreign ceased to exist.

Globalization found Oaxaca and coaxed forth its beloved beverage. If you're a drinker, you've likely seen mezcal kale its way to near ubiquity in recent years. Any bartender with a half-decent mustache has a memorable mezcal cocktail at the ready, while your purists sip it straight, calling out notes of pine or banana, or cardamom, or chocolate, or ash, or almond. To the old mezcaleros in the hills of Oaxaca, this is a baffling new phenomenon.

To me, it can feel like an overly familiar one: just the latest obscure consumable being discovered, appropriated, and fetishized by the disposable-income set. But to the kids of those mezcaleros, this phenomenon is something else entirely. Channel things just right, navigate the country's byzantine export hurdles just so, and the old moonshine could become the basis of a sustainable local economy, and a first-ever alternative to deep endemic poverty.
To read Chris' full article, and his adventures to a mezcal producing family at the center of Oaxaca's massive changes, click here: The Rise of Mezcal: Great for Cocktails, Better for Oaxaca by Chris Colin.
If AFAR's article has inspired you to discover Oaxaca and mezcal for yourself, check out our top recommendations for planning your Journey Mexico custom itinerary to Oaxaca:
Artisanal Mezcal Experience – During this full-day experience you will journey through the valley of Oaxaca to three pueblos, which make premium Mezcal at simple yet authentic distilleries.
Far from the tourist track, the mezcalerias in San Dionisio Ocotopec, San Baltazar Chichicapam and Santa Catarina Minas produce quality mezcal using varied distillation methods. Visiting the producers in each town, you will learn how donkey-power is still used in the fermentation process and learn about the differences between distillation using the traditional copper still and the pre-Columbian clay still. Upon tasting a variety of mezcal, you will appreciate the wide-ranging and distinct tastes of the spirit that can depend so much on the agave used and how it is distilled.
Off the Beaten Track, Boutique Mezcal Experience – This full-day experience will take you on a journey 3 hours outside of Oaxaca, right to the heart of fine mezcal country. Deep in the Sierra Madre de Oaxaca along the Totolapan River you will descend upon a small pueblo of 300 inhabitants, home to the producers of some of the best quality mezcal in the world. Many of the most expensive brands of mezcal source the spirit here at San Luis del Rio.
The producers will take you step-by-step through the process of mezcal production. You will learn how long it takes for the agave to mature, how it is fermented using 'donkey power' and what techniques are used to distill this spirit that the locals refer to as the elixir of the gods.
You will, of course, have a chance to try some of the local spirit. Upon tasting a variety of mezcals, you will appreciate the wide-ranging and distinct tastes of the spirit that can depend so much on the agave used and how it is distilled.   Should you wish, you will have a chance to buy the locally produced mezcal at the fraction of the cost that it is sold elsewhere. However, this is entirely at your discretion and non-obligatory.
Best of Oaxaca: Culture, Mezcal, & Beach – This complete sample itinerary is designed to immerse you in the best of what Oaxaca has to offer. Spend your days strolling the friendly city center lined with vibrant colonial buildings, meet the families of nearby local communities to learn about their indigenous traditions, take a break to unwind with some mezcal and taste your way thorough Oaxaca's unique gastronomy. The itinerary ends on Oaxaca's coast in the beachside town of Puerto Escondido.
Azul Oaxaca – Bouqitue Hotel Azul in Oaxaca's city center describes itself as a hotel gallery and rightly so. Clean wooden design and contemporary Mexican-tiled floors, coupled with installation art pieces and walls of tall San Pedro cacti make this hotel ooze modern cool, while never totally straying from its traditional Oaxacan roots. The rooftop bar offers spectacular views over downtown and offers mezcal and mezcal cocktails.
Casa Oaxaca – Boutique Hotel Casa Oaxaca effortlessly combines contemporary design  with traditional architecture and is located right in the heart of Oaxaca's historic center. The local roots of the hotel appear throughout, with textiles from Oaxacan artisans and walls adorned with artwork from local artists.  In-house Chef Alejandro Ruiz is world-renowned for his contemporary Oaxaca food and the La Terraza rooftop bar around the corner offers a selection of mezcal you can drink by the glass or pitcher.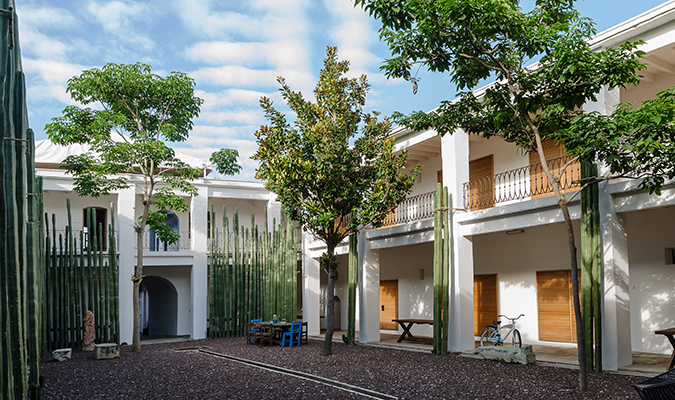 >>Next from AFAR: How to Drink Mezcal in Oaxaca City