The capital of the state of Jalisco and second most populated city in Mexico, Guadalajara is the birthplace of mariachi music. Old colonial charm meets modern living in a city that boasts shopping, museums, sporting events and day trips to near by Tequila and Lake Chapala among the many things to do there. Voted the hottest destination of 2015, and again the best place to travel in 2016, Guadalajara only keeps getting better, and 2017 will be no exception!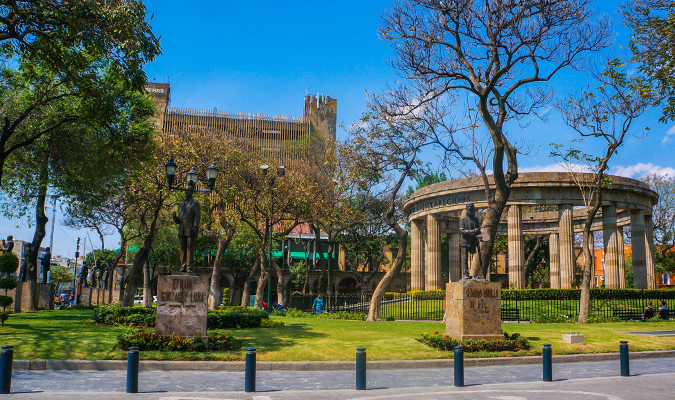 What to do in Guadalajara
As Mexico's second largest city in the country, there is a lot to see in do. To maximize time in this exciting city, consider hiring a private tour to Guadalajara's city center – and maybe even fitting in Tlaquepaque! Your guide will know just the places to stop for a complete overview and understanding of everything Guadalajara has to offer.
Consider the following: As you make your way to the Historical Center of Guadalajara,  drive through the old and new residential districts, observing the wide avenues lined with monuments and fountains to get a feel for the city. Once in the historical center, visit the City Hall with its mural depicting the Spanish conquest of Mexico, the 16th century cathedral and the Governor's Palace (the State Capital Building), built in the 18th century and boasting murals by José Clemente Orozco. Next, head to the  Rotonda de las Personas Ilustres (Rotunda of the Illustrious). Built in 1952, the 17 pillars of this monument pay tribute to the history of Jalisco and house the remains of the city's important historical figures. A Guadalajara-must-do is Hospicio Cabañas; built in the 19th century, this hospice facility provided care and shelter for the disadvantaged. It boasts impressive architecture and murals, visiting the Degollado Theater, the city's opera house, with golden walls and interior mosaic work.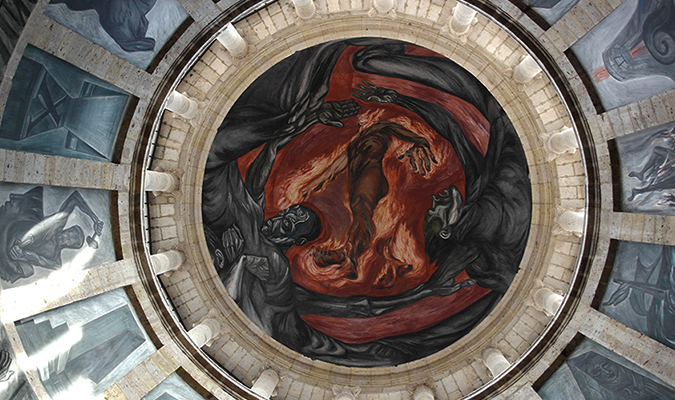 Another thing to do when in Guadalajara is to visit the nearby town of Tlaquepaque to explore and shop for local handicrafts. The pedestrian mall, lined with 17th and 18th century houses is full of shops, museums, galleries and restaurants. Local goods include ceramics, blown glass, cut crystal, paper mache, leather goods, embroideries and jewelry. Be sure to stroll to the main plaza to El Parian, where the Mariachi bands play for tips as people eat and drink.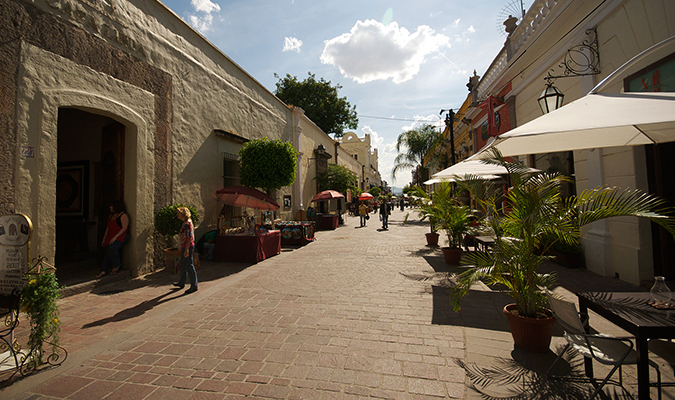 Art in Guadalajara
In addition to incredible historic murals depicted by some of Mexico's most famous artists like José Clemente Orozco, Guadalajara also has an emerging contemporary art scene.  place where visitors can witness some of Mexico's greatest architecture, including the work of legendary Arch. Luis Barragan.
Some of our favorite art stops include:
Art Gallery Travesia Cuatro – Travesia Cuarto was founded in 2003 as a gallery for emerging and mid-career international artists in Madrid, Spain. In recent years, they have focused on building a bridge between Latin American and European art scenes and decided to open a a gallery of the same concept in Guadalajara. The gallery is located in Casa Franco – a beautiful house designed by legendary architect Luis Barragán in 1929.
Paramo Gallery- Páramo was founded in Guadalajara in 2012 to present exhibitions of emerging and established artists in order to generate work and ideas to further a global dialogue. While presenting an ongoing program of exhibitions, events, performances, screenings and talks, they also offer a residency for artists to engage in the city of Guadalajara and create experimental and innovative work on site.
Curro y Poncho –  Also famous for its architecture, the Cube Tower by Carme Pinós houses Curro y Poncho, a gallery that is enjoying international recognition. The idea behind this concept  was to create a dialogical space to become a platform for Mexican and non-Mexican artists whose discourse constantly transcends the physical space of the gallery as well as its artists' nationality. Over the course of almost seven years Curro has effectively become an obligated reference for the Guadalajara art scene.
Art Studios Insider Access – By appointment only, special tours lead by Journey Mexico include exclusive access to art studios  to meet with recognized artists and learn about their work including Gonzalo Lebrija Studio (photography, video, sound and sculpture to capture the aesthetic experience of time and the isolated Self.), Jose Dávila Studio (reproduction strategies to dismantle the relation between form and content, as well as manifest the virtues and deficiencies of his references), and Eduardo Sarabia Studio (work honors and mocks his Latino heritage through exposing Mexican cultural clichés about drug smuggling, banditry, and the import/export of tawdry contraband).

Ceramic Factory Insider Access –  By appointment only, Journey Mexico offers exclusive access to meet the owners of Ceramica SURO, a family-owned ceramic factory in Tlaquepaque that has been around since the 1950s. Travelers will learn abou tJosé Noé Suro's work, observe how it is made, and learn about the artists that are involved in the project.
Restaurant Suggestions in Guadalajara
One of the best ways to experience a destination is through its food, and Guadalajara is no exception! From the markets of Mercado Libertad (aka Mercado de San Juan de Dios) to the fine-dining restaurants, Guadalajara offers delectable regional cuisine. Typical dishes include tortas ahogadas, birria, carne en su jugo, and pozole Jalisco-style. Known for its  entrepreneurial culinary spirit offering contemporary takes on traditional recipes, there are many great restaurants in Guadalajara including:
• Lula Bistro
• Anitla Li
• Alcalde
• I Latina
• La Chata de Guadalajara
• La Tequila
• Santo Coyote
• Hueso (Latin America's 50 Best Restaurant)
• La Panga del Impostor
• Magno Brasserie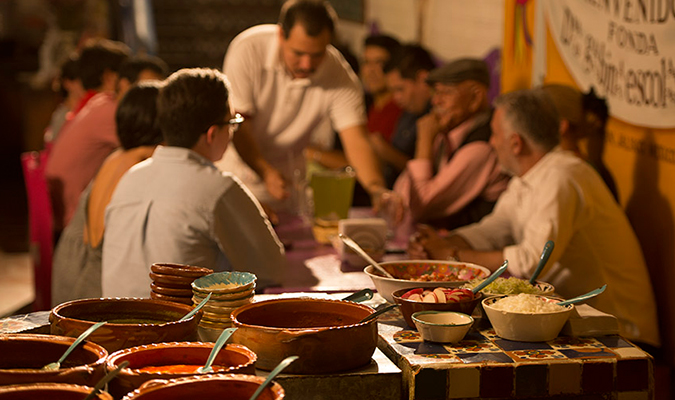 Where to Stay, Guadalajara Hotels
Demetria – Demetria is a design boutique hotel, restaurant, and art gallery located in the Lafayette neighborhood of Guadalajara. Chic, trendy and contemporary, the hotel boasts a large art collection, making it as much a gallery as it is a hotel. It is set between two historic houses, Luis Barragán's Casa Franco and Pedro Castellano's Casa Quiñones, modeled to preserve Guadalajara's architectural history and reflects a successful combination of contemporary art and Zen comfort.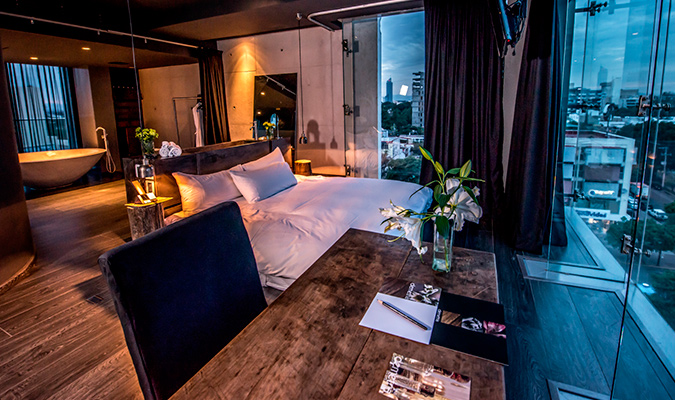 Casa Fayette – Located in the trendy and vibrant Lafayette area of Guadalajara, this Grupo Habita hotel is true to style in the merging of art, design, fashion and architecture. Set across two buildings that are entirely unique in style, the 1940's art-deco designed home flows into the patio to the modern high rise that houses all of the suites.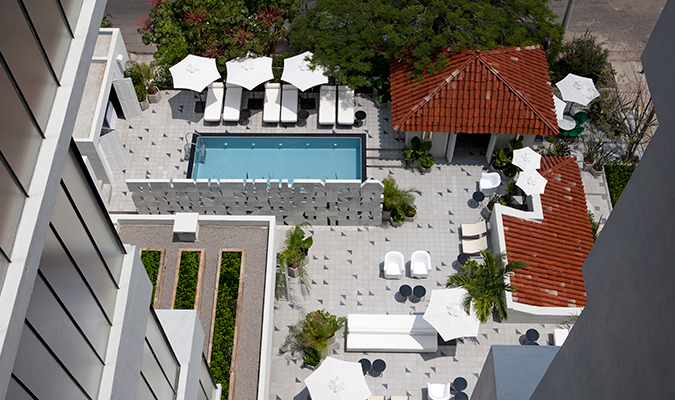 Ready to visit Guadalajara?
If you're interested in traveling to Guadalajara to immerse yourself in its creativity and design,  browse our sample itineraries below or  contact Journey Mexico today.
Guadalajara, Tequila, and Punta Mita  – Discover the home of mariachi and tequila in the state of Jalisco, visiting Guadalajara and the Magic Town of Tequila before heading to the beaches of Punta de Mita for some rest and relax time.