Tulum, Mexico, a coastal land once inhabited by the Mayans, is known for its mind-blowing natural landscape, blanketed with tropical vegetation and bordering the crystal waters of the Caribbean Sea. Its name stems from the Mayan word for "wall," describing the fortification that surrounded the Pre-Columbian city, the ruins of which still remain on 12-meter cliffs along the Yucatan Peninsula's coast. Like so many other ancient cities, Tulum thrived well into the 15th century but eventually fell to Spanish conquest. For the traveler looking for a unique Mexican vacation, here are our top 10 picks for best boutique hotels and villas in Tulum.
Shambala Petit Tulum
Ten thatched-roof cabanas named for Mayan deities line the shores of South Beach, offering an unparalleled view of sparkling ocean. This hidden retreat features relaxing minimalist décor and lounge chairs shaded by palm trees. Guests can arrange cooking and Spanish lessons or enjoy tranquil yoga classes.
A captivating blend of nature and luxury awaits in 20 suites decorated with reeds, stonework and distressed wood. Glass doors and private terraces give a breathtaking view of the ocean, beaches and tranquil gardens. Weary travelers can relax at the poolside bar or enjoy a spa massage.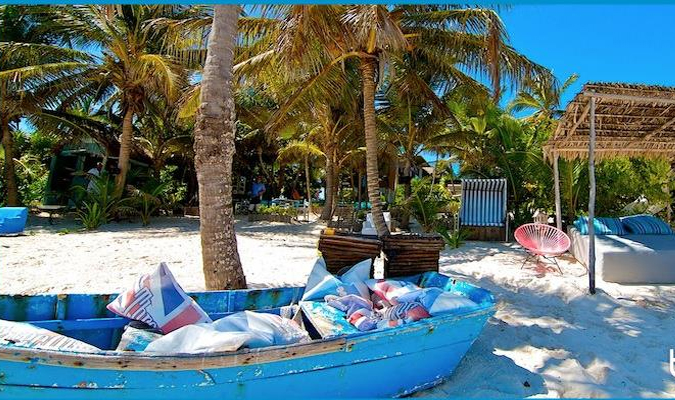 Oceanfront and private lagoon surround this stunning boutique villa, where all guests can tour ancient Mayan canals. Spacious rooms of contemporary Mayan décor come with maid services, full meals and a complimentary Swedish massage. The villa is charmingly sustainable while offering luxury amenities like rooftop dining and satellite Internet and TV.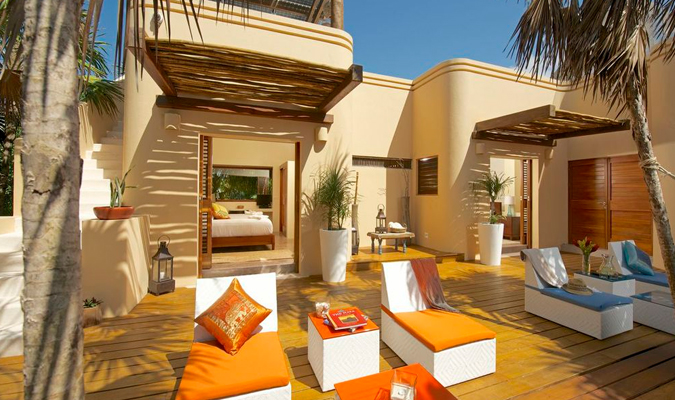 Tropical landscape and the Caribbean Sea provide an incredible backdrop for luxurious oceanfront suites that welcome guests with bright colors and nature-inspired décor. Palm-shaded hammocks, spa treatments and linen drapery make this hotel a romantic hideaway, while nearby remnants of Mayan culture provide exciting day excursions.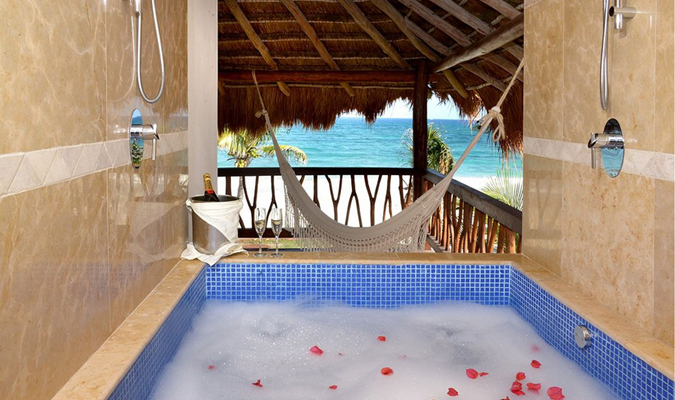 The regal estate of a former duchess houses this contemporary retreat, a spectacular blend of lush scenery, modern simplicity and authentic Mexican décor. Traveling families will be enchanted by versatile amenities ranging from children's cooking lessons to pre-loaded iPods to relaxing private pools.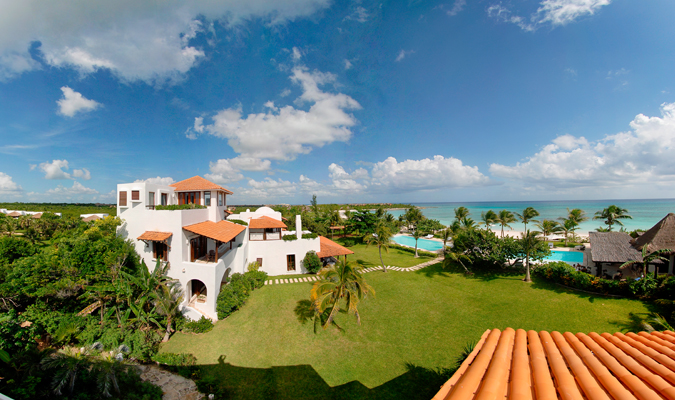 Casa Godi
This 3-bedroom private villa lies in the Sian Kaan reserve amidst the sparkling Caribbean Sea, Tulum archaeological ruins and the famed ancient Mayan canals. Fully staffed and environmentally conscious, Casa Godi uses green energy to offer satellite TV, Internet and iPod entertainment. Services are expertly tailored to guests' needs, including pre-planned gourmet meals.
Plan an unforgettable family getaway to this private rental villa with four suites, seven stunning terraces and two beachside huts. Elegant rooms combine Meso-American influences with natural and contemporary décor, incorporating tranquil comforts like balconies and hammocks. Dine amidst lush tropical scenery and enjoy local eco attractions from swimming with dolphins to visiting the enchanting butterfly pavilions.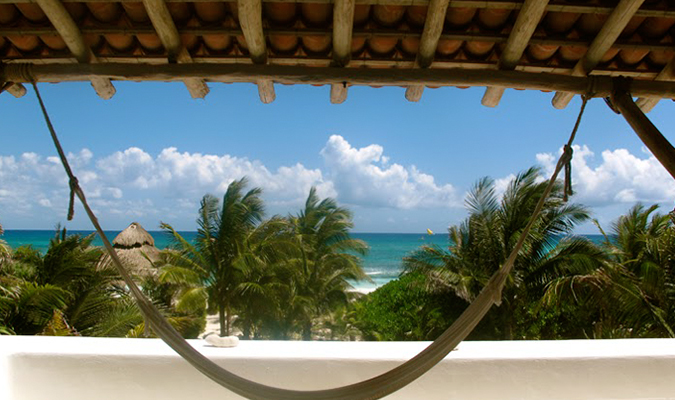 Twenty-six villas and studios make up this impressive resort on the Caribbean shore. Airy, open spaces, white linens, and wood and thatch décor merge luxury with the natural beauty of tropical gardens and white sandy beaches speckled with nesting turtles. This private paradise appeals to adults and children with onsite water sports, babysitting services, massages and gourmet meals.

A new 4-bedroom villa, Kite House is artfully balanced, offering cutting-edge technology alongside airy, tropical-style rooms with views of the Caribbean Sea and ancient Mayan ruins. Private bathrooms accompany each unique room and the house is fully staffed with a butler, chef and maid services. A wealth of upscale shopping and cuisine stops are nearby, but guests won't want to leave the villa's automated current infinity pool.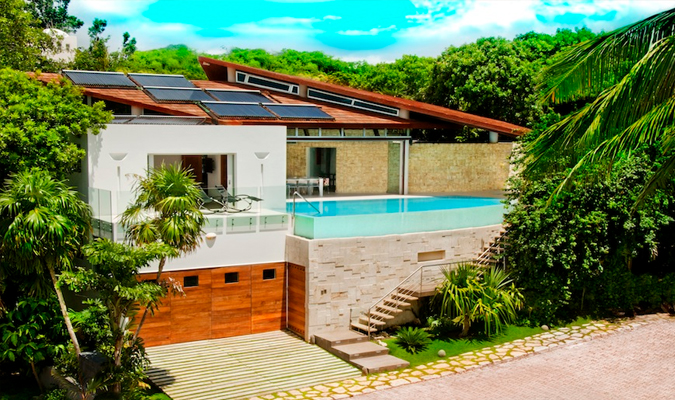 For a sweet escape, Zacil Na is the perfect private villa for the whole family, offering four bedrooms right on the waterfront. Guests are pampered with custom meals from an onsite chef, concierge services and water sports equipment to enjoy in the soothing pool or beach. Bask in the tranquility of natural gems while having plenty of tech power ranging from outdoor speakers to an in-house computer and flat screen TV.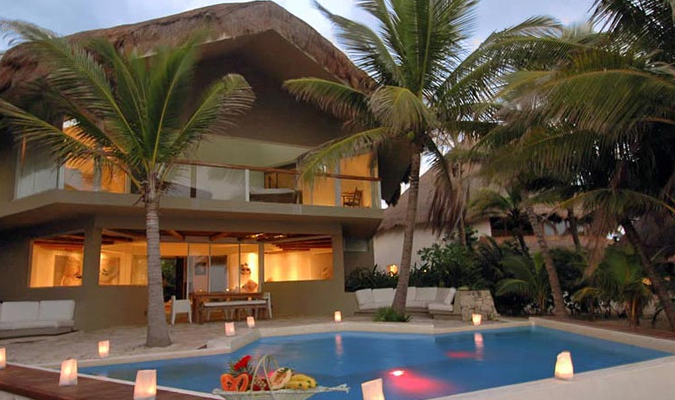 This boutique hotel is the place for traveler's seeking ultra-exclusivity. Tthe coconut trees and the white sand beach of Tulum was the inspiration for the entire Coqui Coqui experience. The 7 room property has a  small restaurant, bar, and a unique holistic spa.