Whale shark season in Mexico brings the chance to enjoy a bucket-list-worthy experience: an ocean swim next to a giant of the deep
But when is the whale shark season? And what rules and regulations should you follow? Find out the answer to these questions and more with these six things to keep in mind for whale shark season.
6 Things to Know About Whale Shark Season in Mexico
There are two whale shark seasons in Mexico
Mexico has two separate destinations where it is possible to swim with whale sharks. The first is off the Yucatan Peninsula and, more specifically, the waters around Cancun, Isla Mujeres, and Isla Holbox. The other is off Baja California Sur in the Sea of Cortez and Bay of La Paz. However, these two destinations welcome whale sharks to their waters at different times of the year.
Whale shark season in the Yucatan Peninsula, including Cancun, Isla Mujeres, and Isla Holbox, runs from June to September. Whale shark season in Baja California Sur runs from October to May.
The rules to swim with whale sharks will be enforced
It's important to remember that only two people at a time per guide may enter the water to swim with a whale shark. In a typical group tour of 10 people, a person can expect to swim in the water two or three times, only several minutes each time. If travelers are interested in spending more swimming time with these amazing creatures, we recommend a private guide or a complete private whale shark excursion.
Other important rules to remember include no jet skis, no diving, no touching the whale sharks, no camera flashes, use biodegradable sunblock, and always keep at least three feet away from the whale shark's body and at least 10 feet from its tail.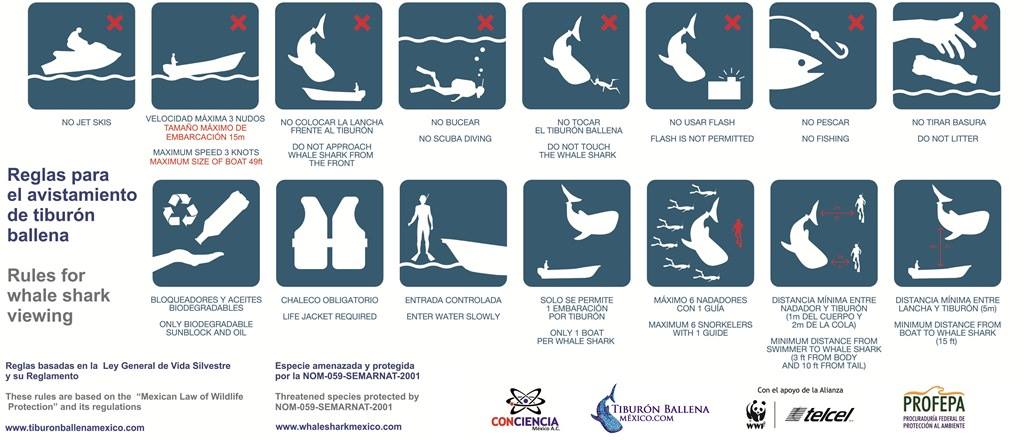 Be flexible
Sea conditions will greatly impact the chance of interacting with whale sharks. If the ocean is choppy – not only is seasickness a factor – but it is much more difficult to find whale shark groups. And if it has recently rained, the whale sharks will not feed on the surface of the water and stay submerged.
Before the tour, it´s important to stay flexible and check with your provider to see if ocean conditions are agreeable. At Journey Mexico, we recommend only going out when conditions are best to ensure a pleasant experience.
The Whale Shark Festival is in mid-to-late July
Every year, the Isla Mujeres Department of Tourism runs its Whale Stark Festival. The event showcases the achievements, traditions, and environmental splendor of Isla Mujeres and attracts more than 5,000 people. The family-friendly fest encourages swimming with the whale sharks and educating visitors on the need to preserve the area's marine ecosystem.
Part of the proceeds from the festival goes to Amigos de Isla Contoy, a non-profit organization working to advance education on sustainable marine conservation and ecotourism in the region. For more information, visit www.whalesharkfest.com.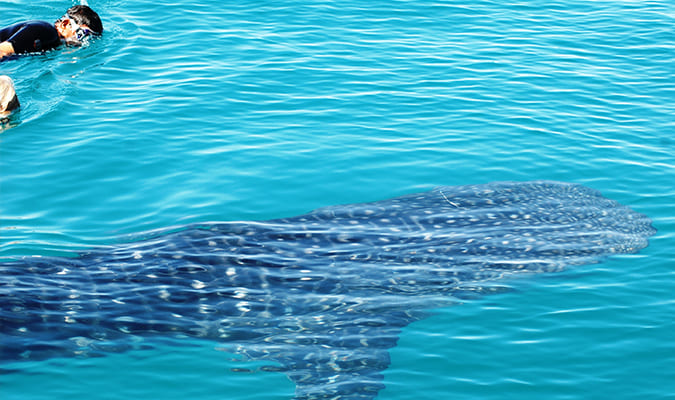 Choose your tour operator carefully and consciously
Whale sharks are endangered – a species considered to be in danger of extinction in the wild. Therefore, it´s important to work only with a highly knowledgeable and experienced tour company that operates with the utmost respect to the animals. The tour boat operator should be aware and trained in the movements of the whale shark to avoid any collisions, and the guide should be certified and give a detailed briefing about the rules and safety before entering the water. If you are looking for an experienced and knowledgeable whale shark tour, please contact one of our Travel Planners.
Plan ahead!
Mexican conservation authorities decided to drastically limit the number of authorized whale shark boats after heavy congestion in past years resulted in injuries to the whale sharks. For this reason, availability is restricted. The new rules and regulations launched in Quintana Roo in 2019, for example, limit the number of divers to 80,000 visitors over the season.
It is therefore strongly recommended to reserve a tour before coming to Mexico. Try to avoid peak hours, visiting either before everybody arrives or when everybody starts to leave to maximize your time with the whale sharks.
Ready to Swim with Whale Sharks?
For the opportunity to swim with the whale sharks of Mexico, check out our Private Whale Shark Tour or Yacht Expedition to Swim with Whale Sharks. Remember, the use of a private, expert guide will enhance your experience greatly, enabling you to not only receive personal attention but also to perform the activity under your own pace and not have to wait in long lines to enter the water. In line with our commitment to sustainable tourism and pledge to provide the best possible services to our discerning travelers, we assess each tour carefully, only operating during good conditions and with certified, bilingual guides.