Set out onto the sparkling Caribbean Sea for a bucket list-worthy private whale shark tour to swim alongside these ocean giants.
Accompanied by an expert guide, enjoy a private boat ride across the waters until you arrive at the gathering place of the whale shark — typically, the area between Isla Holbox and Isla Contoy hosts the largest number of whales but some may be located towards Isla Mujeres.
Upon arrival at the whale sharks' gathering area, it's time to don snorkeling gear and jump into the water for this once-in-a-lifetime experience.
Whenever you're not swimming, a bilingual guide will be on-hand to provide expert insight into these titanic yet docile creatures. Learn all about their habits and why they visit this uniquely beautiful part of the world.
PHOTO GALLERY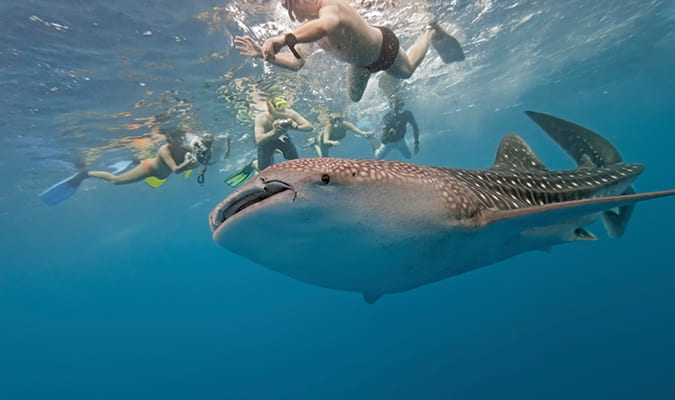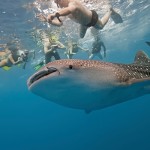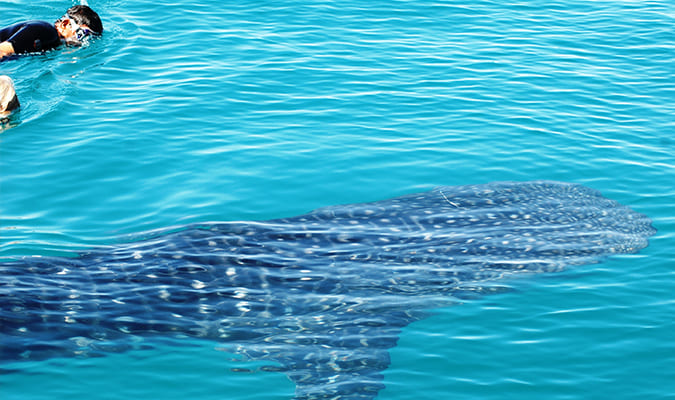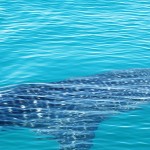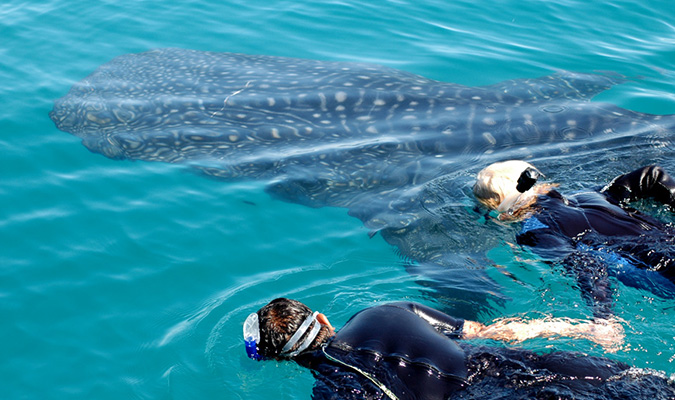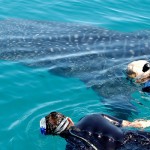 HIGHLIGHTS
If you are serious about snorkeling with whale sharks, there is no better way than a private expedition with Journey Mexico
Benefits include:
A flexible schedule, staying longer or getting to the whale sharks earlier, for more time with these magnificent creatures
Private transportation in a deluxe vehicle (Suburban; Mercedes Vito or a Mercedes Sprinter) to and from your hotel.
An expert guide who is certified to lead whale shark tours in the area
Private speedboat transportation with snorkel gear and wet suits ready to go upon arrival
Approximate timetable for this private whale shark tour:
8.30am: Meet your Journey Mexico tour guide who will drive you in a private, deluxe vehicle to Puerto Juarez.
9.30am: Arriving at Puerto Juarez, board your private open fiberglass speedboat. Enjoy the ride as you travel over the glistening Caribbean Sea. Keep an eye out for the local wildlife.
11am: When the majority of the local whale shark tour operators are leaving, arrive at the whale shark area. Enjoy your snorkel in peace, watching these magnificent beasts slowly make their way through the seas.
2pm: After time with the whale sharks, head back to the boat and journey to Isla Mujeres — enjoying sandwiches and drinks along the way.
2.30pm: On arrival at Isla Mujeres, enjoy some free time at Playa Norte dipping into the beach clubs or relaxing on the sands.
4pm: Then, head back to Puerto Juarez where you will be driven back to your hotel.
Important notes:
The best months to observe and snorkel with these fantastic animals is July and August.
If your group is larger than two guests we will add an additional guide so that you can maximize your experience in the water with the whale sharks
This expedition includes:
Deluxe private round-trip transportation
Private vessel
Snorkeling gear
Life jacket
Wetsuit
Private bilingual certified whale shark guide (if there are more than two guests there will be an additional guide)
Entrance fees to the National Reserve of the Whale Shark
Light breakfast
Bottled water and sodas
Beer (only after swimming)
Lunch (sandwich and freshly made ceviche)
What should you bring with you?
Waterproof camera, towel, sunglasses, and biodegradable sunscreen
Please note that this is a completely private tour – not shared with others. It includes deluxe, private, round-trip transportation from your hotel, a private boat, private, bilingual, certified guide(s) and more.
COST PER GUEST (based on Riviera Maya – Playa del Carmen hotel)
Cost per guest for 1 guest:    USD 2,695.00
Cost per guest for 2 guests:  USD 1,353.00
Cost per guest for 3 guests:  USD 957.00
Cost per guest for 4 guests:  USD 715.00
Cost per guest for 5 guests:  USD 583.00
Cost per guest for 6 guests:  USD 517.00
Cost per guest for 7 guests:  USD 429.00
Cost per guest for 8 guests:  USD 374.00
For a shares whale shark experience, please visit  Shared Whale Shark Tour