According to Travel Agent Central (TAC), one of travel trade's most frequented online sources,  Mexico has three cities that are considered to be trending as top travel destinations. With only a dozen destinations on the list, the cities have each been vetted by TAC's globtrotting staff and are said to be the leading spots rising in popularity and on the radar of many savvy travelers.
Here are the three destinations in Mexico that are trending:
MEXICO CITY
The capital of Mexico, Mexico City (Distrito Federal) has become a truly world class city and it is starting to finally attract the international attention it deserves. For Latin American travelers, it has been on their radar for years; and for travelers in USA and Canada, they are just snow tarting to realize they have a sophisticated city — comparable to Paris and London — just a few hours south of them in their backyard. As Travel Agent Central states, "It is one of the biggest metropolises in the world, but [travelers] need only focus the historical center, which houses the must-sees. This means first-timers to the city won't get overwhelmed traveling around the whole city, and stopover visitors can see a lot in a short time."
But the sky is the limit here in terms of creativity. Depending on travelers interests, a trip to Mexico City can be crafted to extend beyond the Historical Center to include a visit to the colorful canals of Xochimilco;  a stroll around the charming neighborhood of Coyoacan, a visit to some of the largest pyramids in the world at Teotihuacan; or a cooking class and market tour.
TAC also points out that Mexico City is also trending with LGBT travelers which is reflected in revolutionary actions designed to enhance equality, most notably in the legalization of same-sex marriage.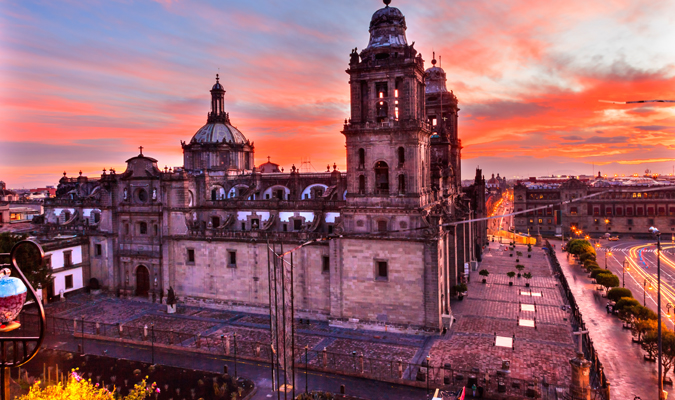 SAN MIGUEL ALLENDE
San Miguel Allende continues with its momentum of being a "hot" destination since their naming as "The World's Best City" by Conde Nast Traveler in 2013. Set in Mexico's Colonial Heartland,  the charming UNESCO World Heritage City is a thriving center for art, culture, and history and is located just 4 short hours from the capital. For travelers who know the beautiful beaches of Mexico, San Miguel Allende provides an in-land gateway for visitors looking for a change of scenery that is safe, authentic, and English-speaking friendly. As TAC highlights, " San Miguel is ideal to see on foot, as there isn't a single traffic light in the town. Guests will have the opportunity to visit several beautiful churches and should check out San Miguel de Allende Historical Museum, which was the first museum restructured as part of the Independence of Mexico Bicentennial celebrations."
In line with San Miguel Allende's attraction is the number of renowned branded hotels, such as Rosewood and Belmond, along with its top rated restaurants and arrival of some of Mexico's best and brightest chefs. In addition, San Miguel Allende is in close proximity to expand horizons even further including the nearby colorful city of Guanajuato, the small town of Dolores Hidalgo, and top-notch boutique vineyards such as Dos Buhos and Cuna de Tierra.
TULUM
Tulum is "it" right now in Mexico and along the Riviera Maya. When comparing Tulum to the neighboring resort towns of Cancun and Playa del Carmen, it still contains an off-the-beaten path essence thanks to their array of small,  boutique hotels, funky shops and restaurants, and bo-ho vibe. Travel Agent Central thinks of Tulum as "an adventurer's paradise" since it is located near the Sian Ka'an Biosphere Reserve and the fishing town of Punta Allen; not to mention the dozens of cenotes, handful of Mayan archaeological sites,  and the stunning paradise of Bacalar. Thanks to Tulum's diversity appealing to travelers that range from backpackers to A-List celebrities, it has without a doubt warranted its recognition as a top trending destination. Read more on The Complete 411 on Tulum: Where to Stay, Eat, and Wander. 
To read the entire article of Top Trending Destinations  on Travel Agent Central, click here.