Berlin, November 6, 2013 – Design Hotels™ introduces Grupo Habita's latest coup: the secluded beach hut village Hotel Escondido, opening December 1, 2013. On a pristine stretch of Mexican coastline, nestled between the Pacific Ocean and the Sierra del Madre Sur mountain range, 16 upscale beach bungalows dot the unspoiled coast north of Puerto Escondido. Long regarded as a top ten surfing destination, the charismatic town welcomes the new rustic glamour that complements the area's laid-back beachside vibe.  www.designhotels.com/hotel_escondido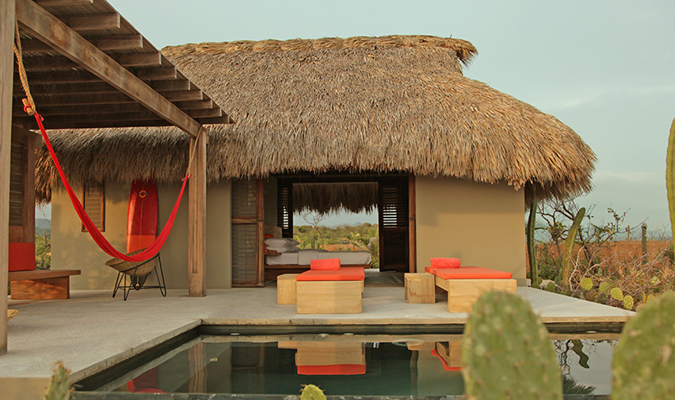 Beach Bungalow Glam
Hoteliers Carlos Couturier and Moisés Micha, the creative minds behind Grupo Habita, have collaborated with architect Federico Rivera Río to create a modern-take on traditional palapa beach huts. Together, they have transformed 200 meters of coastline into a sophisticated private paradise with a commitment to honor local tradition and design. The 16 beachfront bungalows boast minimalist and comfortable lines, crowned by authentic palapa rooftops and tropical wood floorboards, all sourced locally. Natural light beams through louvered wooden slats with regional curio ornamenting each room. Further cultivating relaxation are draped canvas hammocks, slung overlooking each hut's private plunge pool.
Surfer's Paradise
Long known as an international surf mecca, the village of Puerto Escondido exudes an easy and unhurried pace. At Hotel Escondido, languid loungers and thrill-seekers alike are lured by the area's natural riches. As one of the top international surf destinations, Zicatela Beach is a must for both beginners and pros, hosting major surfing competitions on its renowned waves. A large lagoon area to the west of the town sees many fishing and bird watching enthusiasts on its shores. Surfing, boating and kayaking lessons abound mere steps from the bungalows, and a cheerful bar and underground nightclub cap off a day spent in the sun. Sit and contemplate poolside, 50 meters from the ocean's break and take in the vistas of ocean blue and verdant cacti. In-room messages and full spa services ease the day's aches away and locally-sourced cuisine inspired by the region's bounty nourishes.
Grupo Habita
For Carlos Couturier and Moisés Micha building hotels that reflect their surroundings is more than just a job – it's a passion that drove these Mexican entrepreneurs to leave their respective former careers in citrus farming and investment banking. In 2000, Couturier and Micha launched Grupo Habita, a diverse collection of 13 exquisite hotels, including New York's Hôtel Americano and DOWNTOWN Mexico. Today, Couturier and Micha sit on the boards of Mexico's most prestigious fine arts institutions, while often hosting art openings at their one-of-a-kind hotels.
Hidden Port
Taking its name from Mexican legend, Puerto Escondido or 'Hidden Port' refers to a woman who fled her pirate captors and hid in the port town, once used primarily for the shipment of coffee. As the quaint fishing and market town retains its unpretentious charm, it has also become a destination for travelers looking for a taste of authentic Mexican life. Locals and visitors intermingle by day at the home of the legendary "Mexican Pipeline", considered Mexico's best wave, while night hosts an eclectic mix of musicians, Mexican families and warmly welcomed guests.
Location
Puerto Escondido is a small port and tourist center in the municipality of San Pedro Mixtepec Distrito 22, in the Mexican state of Oaxaca. Puerto Escondido International Airport is about 12 miles from the resort.
Rates from 185 USD
-Ends-
NOTE TO THE EDITORS
For additional information, please contact: [email protected] or tel: +49 30-8849 400 33
High resolution images and a press kit are available from our Online Press Office: www.designhotels.com/press