When planning a vacation getaway to the warm beaches of Mexico's east coast, travelers usually stick to what they know: Cancun, Riviera Maya, and Tulum. But the Mexican-Caribbean Sea and Gulf of Mexico are actually bounded by the entire Yucatan Peninsula, extending over 700 miles of coastline, and beyond Cancun and Riviera Maya lies idyllic destinations such as Celestun, Sian Ka'an, Isla Holbox, and Bacalar, to name a few. What is great about these beach destinations are that they incorporate many of nature's beautiful elements, setting the scene for  tranquility and the perfect relaxing vacation.
In our Tranquility in the Yucatan sample itinerary, we include a 10 day combination of sight-seeing, beach relaxation, and stays in serene boutique hotels. The first few days are full of mind and body exercises at Celestun Biospehere Reserve, followed by visits to Mayan ruins, and ending with a stay on the practically undisturbed island of Holbox.  Here are the highlights:
Merida
Capital of the state of Yucatan, the colonial city of Merida was founded on the ancient Maya city known as Thó. Today, the narrow streets and shady plazas create a feeling of the old- colonial world, as horses and cars traverse the cobblestone streets lined with centuries-old mansions. Perfect for travelers seeking luxury and culture, Merida offers first class facilities; many of the mansions and haciendas have turned into luxury boutique hotels, gourmet restaurants,  cafes, galleries and museums. A stroll down Paseo de Montejo with traditional Yucatecan music leading your way is the perfect way to spend a Sunday afternoon and slow down time. Read more >>
XiXim Unique Maya Hotel
About an hour outside of Merida is the white sand beaches of Celestun and where you will find Xixim boutique hotel nestled in 32 acres of undisturbed paradise. This slice of serenity features 32 bungalows infused with Mayan culture. By day, guests can enjoy nature tours through the mangrove estuaries for bird watching; and by night they can explore on a moonlight safari.  The hotel boasts an impressive Wellness Center that overlooks the emerald-green sea and is a place for travelers to practice yoga, pilates, meditation, therapy, and enjoy a unique spa experience. Xixim stands out for its secluded setting where the rediscovery of one's well being through the pleasure of connecting with nature is encouraged.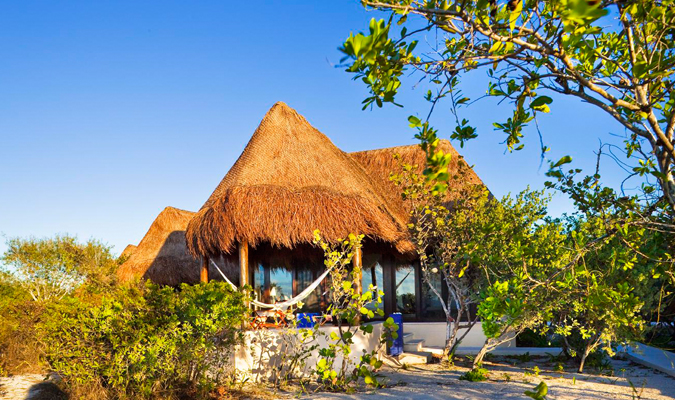 Celestun Biosphere Reserve
With 147,500 acres of protected lands, the Celestun Biosphere Reserve is one of the most beautiful natural areas in the Yucatan and comprises one of the largest areas of mangroves in the Gulf of Mexico. Due to the unique eco-system of a combination of fresh water from the estuary and salt water from Gulf of Mexico, more than 200 species of birds flock to the area which has become famous for their large colonies of bright pink flamingos. Celestun is best explored by boat, winding through the canals of the mangroves and having a local guide point out the magnificent natural surroundings.
Valladolid and Coqui Coqui
Valladolid is one of few dozen towns to have been chosen and named  "Magical Towns " (Pueblo Magico)  by Mexico based on its natural beauty, cultural riches, and historical relevance to the country. It was once the former colonial capital of the Yucatan Peninsula and since then has preserved its fine architecture and small plazas which reveal the glory of an era passed. In the town is a quaint boutique hotel and perfumery called Coqui Coqui Valladolid where guests can enjoy tailored spa treatments that maintain simplicity in their holistic approach to the guests' physical and spiritual well-being. They say Coqui Coqui is a place "where life slows down and your senses wake up in a new peaceful dimension. "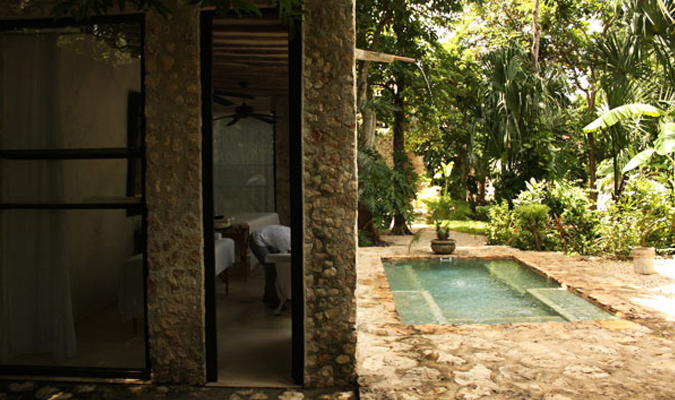 Isla Holbox
Located northwest of Cancun, Holbox  is a small island that makes up part of the Yum Balam Ecological Reserve. The shallow lagoons where the Caribbean Sea converges with the Gulf of Mexico create a picture-perfect refuge for visitors of all types including exotic birds and the whale shark. Life on the island is very laid-back and traditional with most of the residents making their living through fishing. It is not uncommon to see people walking around barefoot given that the streets are completely made of sand. Very few cars are allowed access on the island in order to protect the environment so the preferred mode of transportation is either golf cart, moped, or bicycle. The waters surrounding the island are shallow and gentle, radiating a blue oasis and seeming-like infinity-edge pool that has no end. Read more >>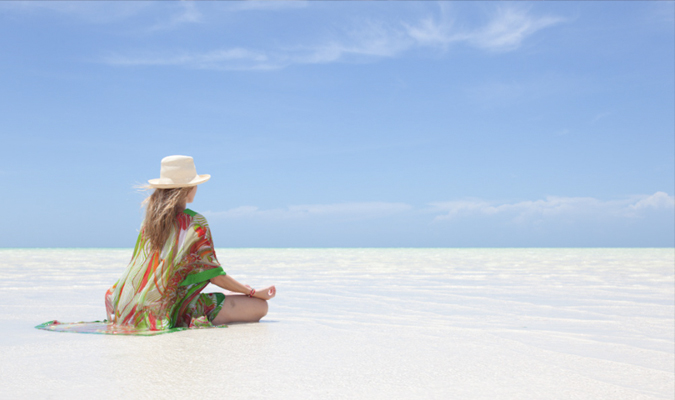 Casa Sandra
Casa Sandra Boutique Hotel is a peaceful  hotel of only 19 rooms on the secluded Isla Holbox. It incorporates artistic flairs, personalized attention to guests, and a very 'welcome home' ambiance. Here, the details are created with love in hope that the guests can  experience  a profound bond with loved ones, while enjoying the pleasures of the sea. CasaSandra is a place where distractions are few, where time is the most important asset and where families connect more deeply.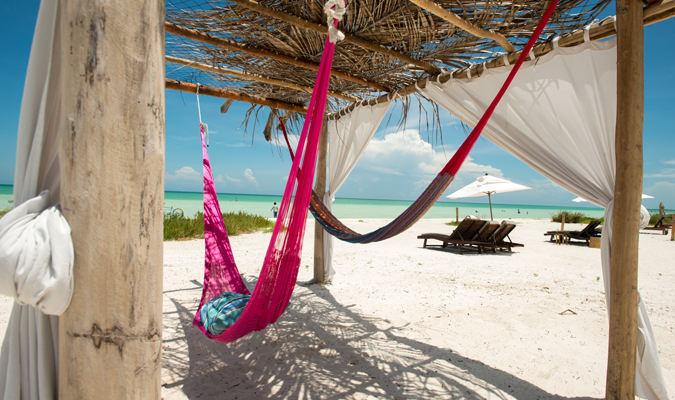 For more information on our Tranquility in the Yucatan itinerary, please contact one of our travel planners at [email protected]