OVERVIEW
ITINERARY DETAIL
DATES AND PRICES
SUSTAINABILITY
Embark on a captivating 4-day journey through Mexico City, immersing yourself in the vibrant traditions of Day of the Dead. Explore renowned museums, witness intricate altars, and join a guided cultural experience at a local cemetery. Venture into southern Mexico City where you'll discover iconic sites, engage in a personalized altar-making experience, and indulge in a gastronomic adventure.
Join us for an unforgettable journey where history, art, and tradition converge to create a truly immersive Day of the Dead experience in Mexico City.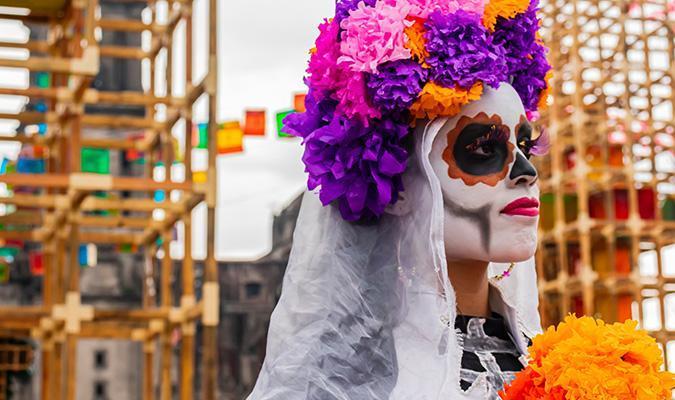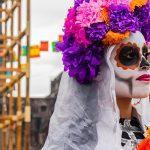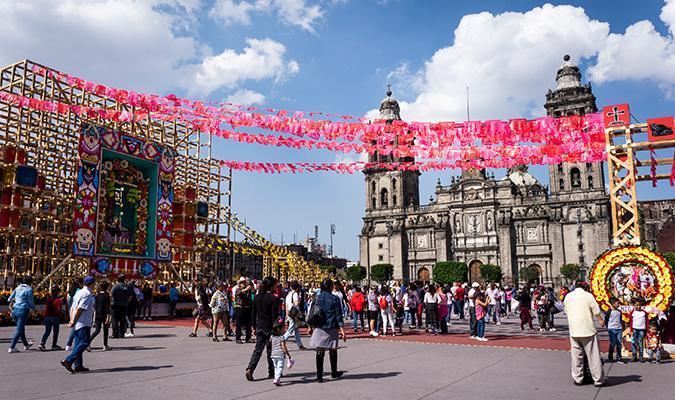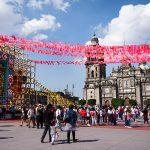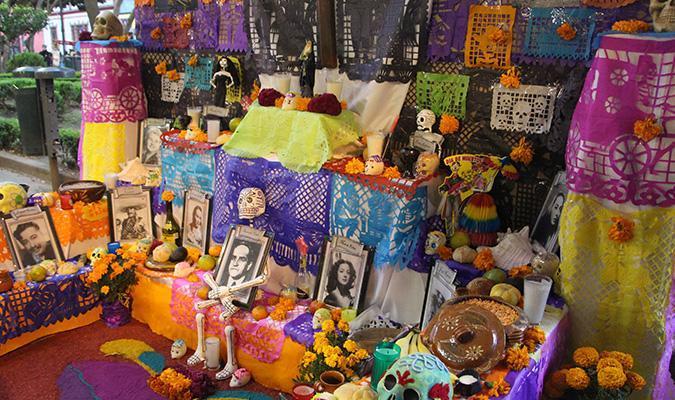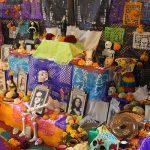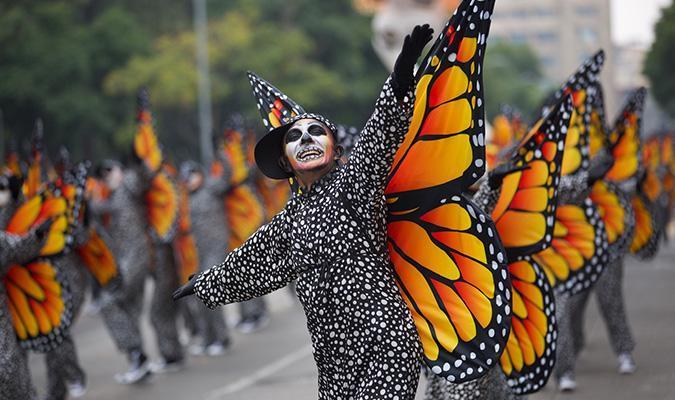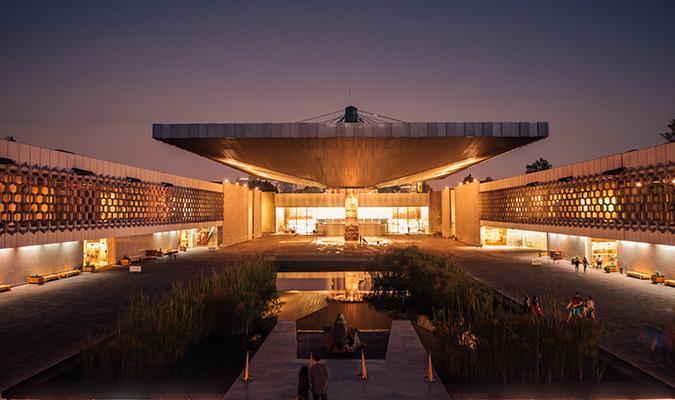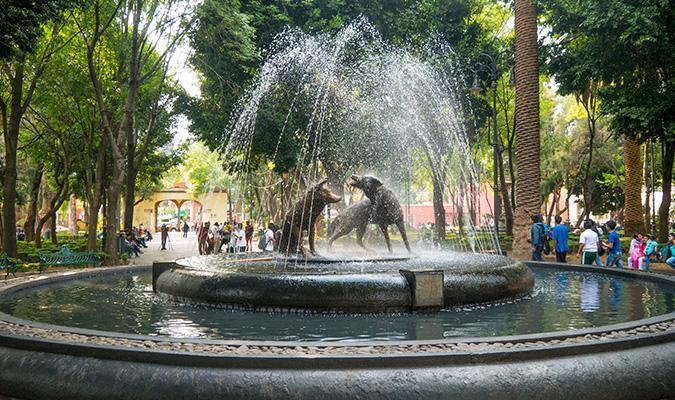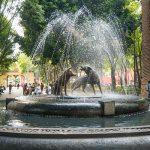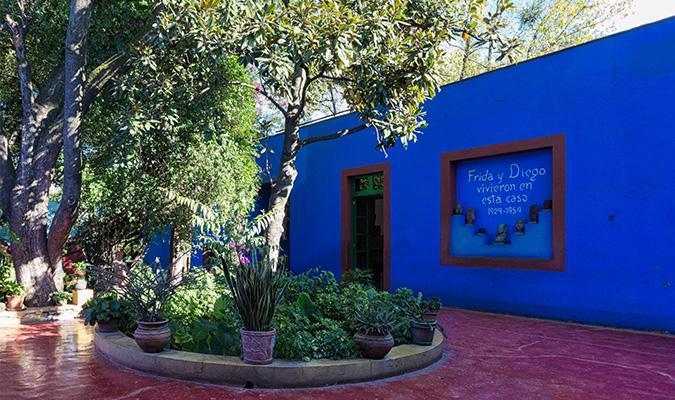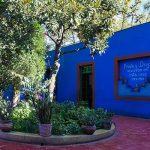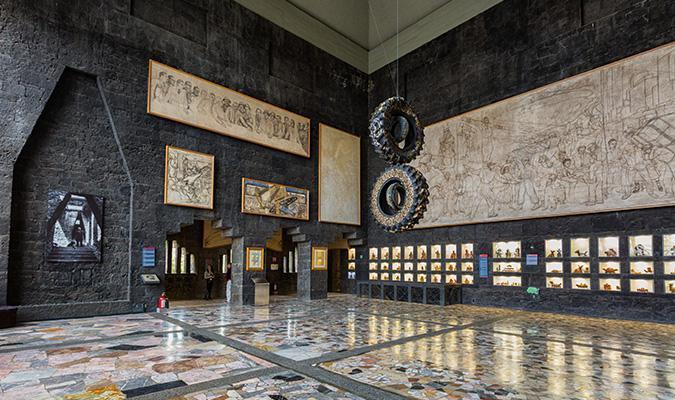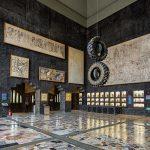 HIGHLIGHTS
National Anthropology Museum, Off Hours – Start the trip with a deep dive into Mexico's history, laying the groundwork for an enhanced understanding of Day of the Dead´s importance and indigenous influences.
Downtown Historic Center – This time of year, the Zócalo becomes a lively hub of colorful altars, captivating performances, and heartfelt remembrance of departed loved ones.
Museums – Explore an array of museums and special exhibits showcasing the artistry of this cherished celebration (Franz Mayer, Arte Popular, and Dolores Olmedo special exhibit).
Cemetery Visit – An intimate experience where candlelit paths guide you through the gravesites, adorned with marigolds, love, and remembrance.
Southern Neighborhoods – Visit Coyoacán and San Ángel to explore Day of the Dead folklore, including a visit to Casa Estudio Diego Rivera and Frida Kahlo's Casa Azul.
Local Market – A sensorial experience of colors, aromas, and flavors, shop for items for your ofrenda (altar) and learn about the symbolism and tributes behind each object. sensorial experience of colors, aromas, and flavors, shop for items for your ofrenda (altar) and learn about the symbolism and tributes behind each object.
Mexican Cheese & Spirits Tasting – Enjoy a private tasting menu of Mexican cheeses and agave-based spirits.
Day 1:  Arrival to Mexico City, Night at the Museum  – Oct 31
Arrive to Mexico City Airport, where your private transportation will pick you up and take you to your hotel. In the evening, set off on an extraordinary adventure  with a special, after-hours privately guided visit of the National Anthropology Museum. Mexico´s most visited museum, it showcases a vast collection of fascinating artifacts from a myriad of cultures, housed within a renowned architectural design by Pedro Ramirez Vasquez.
Your private guide will lead you on a journey through the museum´s vast collection of artifacts that tell the stories of Mesoamerica. As you explore these fascinating relics and admire their craftsmanship, your expert will bring to life the myths and secrets of ancient civilizations, from the legend of the five suns depicted on the 24-ton Aztec Sunstone, to the tomb of King Pakal found at Palenque, Chiapas. Understanding Mexico's complex history is an important aspect in understanding Day of the Dead beliefs.
After taking a deep dive into history, delight your tastebuds with dinner in a city celebrated for its world-class chefs and thriving culinary scene.
Day 2: Unveiling Day of the Dead: Exploring Mexico City´s Altars, Museums & Cemetery Traditions – Nov 01
Get immersed in the captivating world of Day of the Dead traditions in Mexico City. Discover the vibrant customs and meaningful rituals dedicated to passed loved ones, while witnessing beautifully decorated altars adorned with bright marigolds, fragrant incense, flickering candles, and sugar skulls.
Step into the heart of the historic center, where the iconic Zócalo becomes a lively hub of colorful altars, captivating performances, and heartfelt remembrance. Experience the atmosphere and rich traditions of Día de Muertos as you wander through bustling streets and iconic sites, discovering the hidden treasures and architectural wonders that embody the city's cultural heritage. Explore two renowned museums such as Franz Mayer and Arte Popular which showcase the artistry of this cherished celebration; and also visit a special ofrenda created by Museo Olmedo. Marvel at themed altars that tell a special story, honoring beloved family members with their photos, favorite objects, foods and drinks. Let your imagination run wild as you encounter colorful "alebrijes," fantastical wooden creatures painted in vivid tones.
As the sun sets, follow your guide to a local cemetery for the evening´s observances. Experience the magical atmosphere as candlelit paths guide you through the gravesites adorned with love and remembrance. As you´re driven back to your hotel, carry with you the vibrant energy of Mexico City's Day of the Dead.
Day 3: Feast and Festivities – Day of the Dead Celebrations in Southern Mexico City; Altar Building; and Mexican Spirits  – Nov 02
Embark on a captivating journey through the vibrant neighborhoods of Coyoacán and San Ángel in southern Mexico City, exploring both artistic offerings and enigmatic Day of the Dead folklore.
Visit an assortment of renowned museums and sites, including Casa Estudio Diego Rivera, the former residence of the renowned muralist, Casa del Risco, a cultural center housed in a 16th-century mansion, Casa Azul, the preserved home of painter Frida Kahlo, and Casa del Indio Fernández, an enchanting house-museum. These emblematic locations will immerse you in the artistic expressions and symbolic elements of Día de Muertos. Discover fascinating exhibits, intricate altars, and colorful decorations, each site offering a glimpse into the profound significance and cultural richness of the Day of the Dead celebrations in Mexico.
On today's outing, you´ll also immerse yourself in the atmosphere of a bustling local market, where an array of colors, aromas, and flavors make it a sensorial experience. You may even find a thing or two to personalize your own altar, which you´ll create at a nearby gastronomic space with local hosts. During this private experience, learn about the symbolism and tributes behind the ritual of altar-making, enhanced by a private Mexican cheese and spirits paired tasting.
Day 4: Departure Day – Nov 03
You will be privately driven to the Mexico City airport for your flight home. Alternately, you may choose to extend your trip to Mexico City with more experiences tailored to your interests.
Dates
This trip can be customized for a private journey surrounding the dates of November 1st and 2nd. Programs and events subject to change according to festival calendar.

Prices
This 4-day itinerary starts at $1,920 USD per person (based on double occupancy of two people traveling) and does not include accommodation. Contact us today to discuss your travel desires and design a personalized proposal with exact pricing.
Please note, our pricing guideline is a starting from price and is not necessarily applicable to the suggested hotels contained within the suggested itineraries on this website. Itineraries are customized prior to final pricing.

Participating in this program supports the preservation and celebration of UNESCO-appointed intangible cultural heritage. Experiencing Day of the Dead in Mexico fosters a deeper understanding and respect for the generational observances and meaningful rituals that take place each year.