OVERVIEW
ITINERARY DETAIL
DATES AND PRICES
Take the ultimate winter holiday adventure and discover authentic Mexico's beautiful and joyous festive celebrations.
You'll visit the country's very own Santa's Workshop, better known as Tlalpujahua, a Pueblo Magico known for producing ornate Christmas baubles. You will also explore the archeological site of Tzintzuntzan, where you will create your very own Christmas crafts.
A stay in San Miguel de Allende, one of the world's greatest cities, will give you the chance to bury yourself in Mexico's Christmas traditions. You will witness an authentic posada, watch a classic pastorela, and visit a life-size manger in the center of the city garden (which includes live lambs and a donkey).
A trip to Guanajuato city offers the chance to explore many historical gems including Spanish Colonial architecture and the decadent Juarez Theater. Finally, a trip to the historically-significant town of Dolores Hidalgo offers a chance to flex your creativity, while a visit to Atotonilco brings a breathtaking look at the "Sistine Chapel of Mexico", the Sanctuary of Jesus Nazareno de Atotonilco.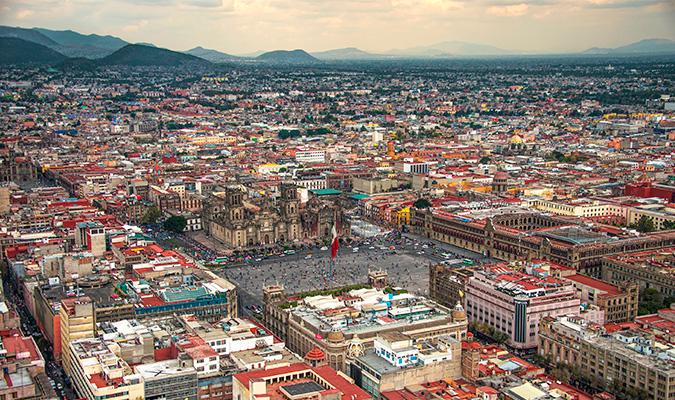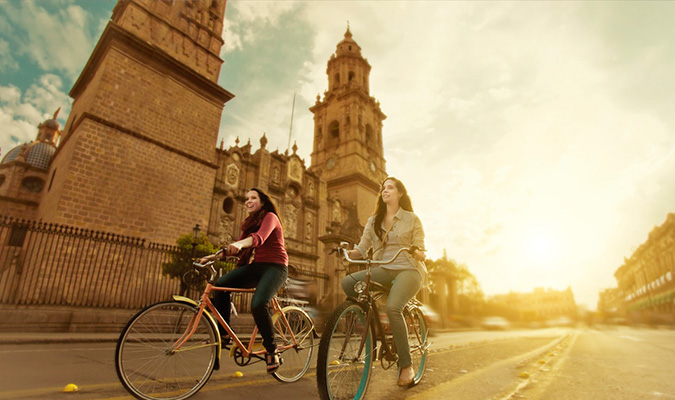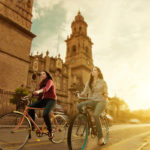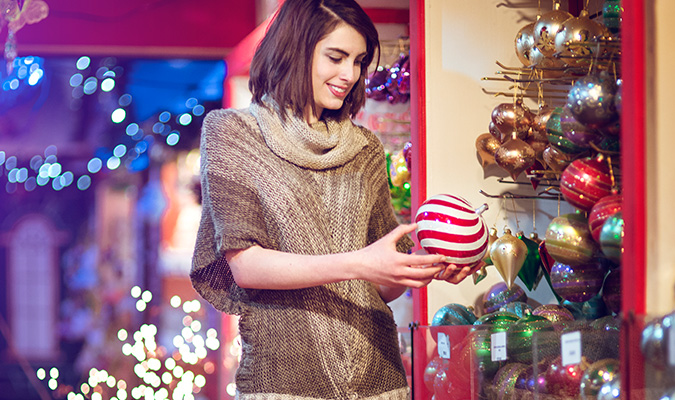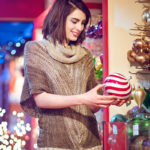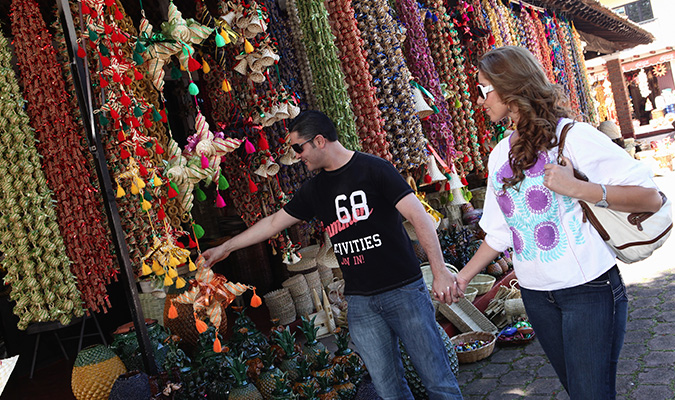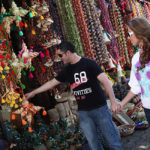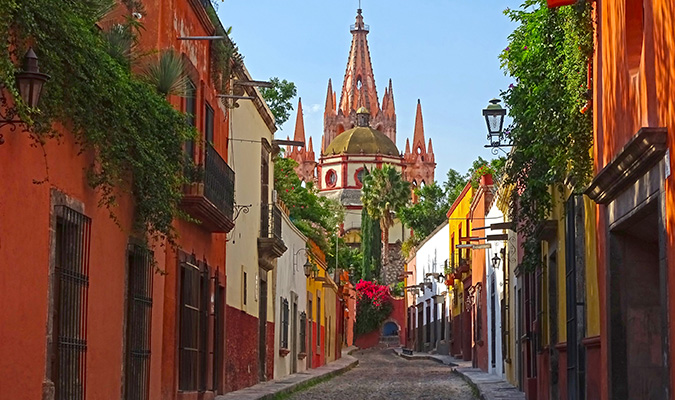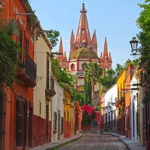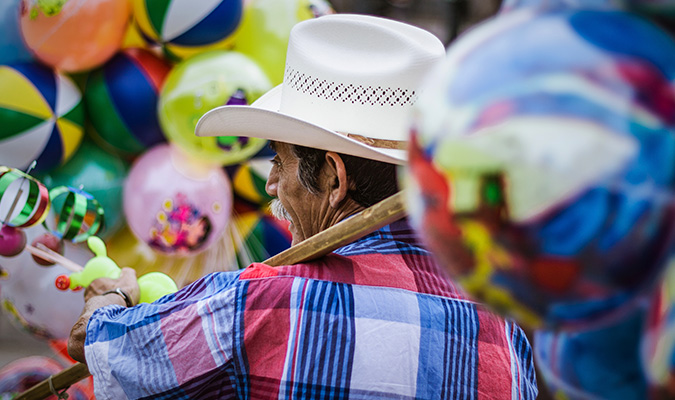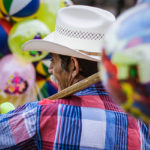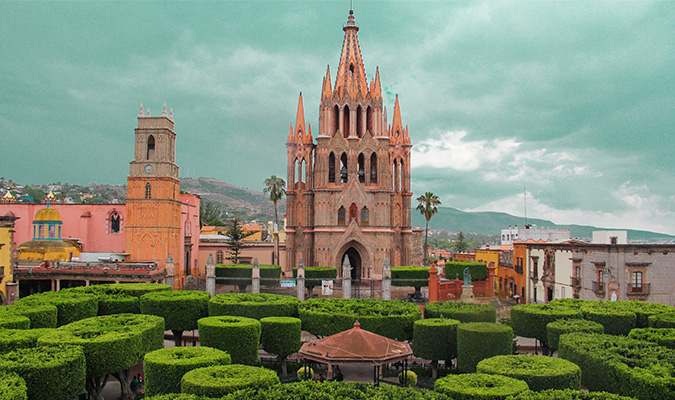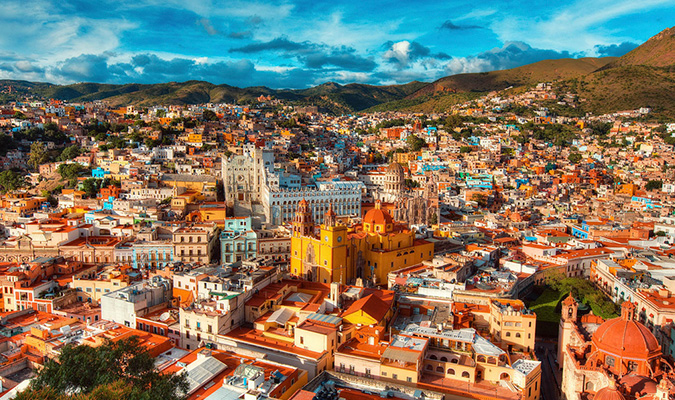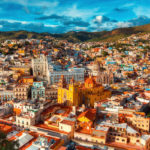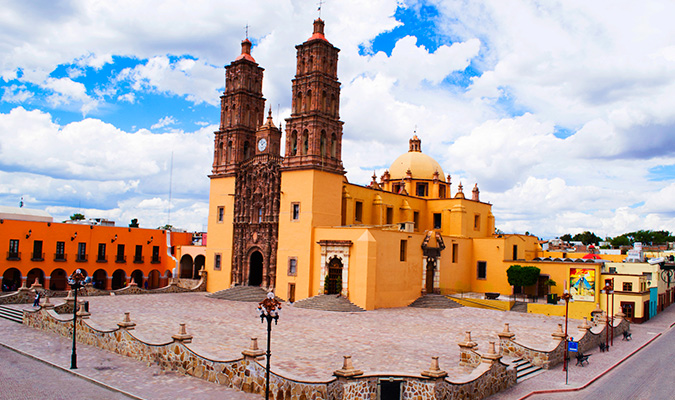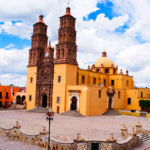 HIGHLIGHTS
Visit the Magic Town of Tlalpujahua – Discover this gorgeous Pueblo Magico, known across the world for producing ornate Christmas baubles
Traditional posada – Watch this famous Mexican Christmas tradition in which a candlelit procession winds its way through the streets
San Miguel de Allende – Explore one of the finest cities on the planet, taking in its gorgeous architecture and marveling at its Christmas decorations
Guanajuato – Take a cultural tour through this stunning city taking in its architectural features and visiting the ornate Jaurez Theater
Day 1: Arrival day – Mexico City
Bienvenidos a Mexico! After being greeted at the airport, you will be privately transferred (30-45 minutes) to your hotel. Enjoy the rest of the evening at leisure.
Overnight: Four Seasons Mexico City
Day 2: Private Transfer from Mexico City to Morelia, Visit the Magic Town of Tlalpujahua
Three hours' drive from Mexico City, in the pine and spruce forests of Michoacan, is Tlalpujahua, a Pueblo Magico (magical town) of cobblestone streets and gorgeous architecture. Take a step back in time and discover its fascinating mining history and pre-Hispanic roots.
Tlalpujahua is also famous for its production of ornate Christmas baubles. Today you will admire the skills of the town's artisans who create these beautiful pieces. You will visit an interactive workshop to find out how the Christmas ornaments are made through a blown glass technique.
Overnight: Casa Grande Hotel Boutique
Day 3: Tzintzuntzan, Patzcuaro & Artisan Villages with Workshops for Hands-on Experience
After breakfast we will depart for a full-day city tour, beginning with a visit to Tzintzuntzan, an archaeological site and town. Here, an expert artist will help you to create magical Christmas crafts from wheat straw and corn husk.
During the day you will also enjoy a guided exploration through Patzcuaro's historic center of appealing cobblestone streets. Your adventure includes a visit to Santa Fe village, a charming town known for its clay (barro), where you are invited by a local artisan workshop to learn about the ceramic and pottery process. You will also be able to get your hands dirty and have a go at making a piece yourself.
It's a great opportunity for a family to enjoy time with an indigenous community!
Overnight: Casa Grande Hotel Boutique
Day 4: Private Transfer to San Miguel De Allende / Afternoon City Tour with Christmas Cultural Celebration & Traditional Posada
After breakfast and hotel check-out, you will meet your guide at the hotel lobby for a private transfer to San Miguel (2:30 hrs drive). With an early afternoon arrival in town, you will enjoy lunch at a local restaurant (not included) followed by a guided walking tour of the historic city center.
The holiday season is a time of joy, faith, color, and fun in San Miguel de Allende with tinsel, piñatas, and posadas aplenty. There are special holiday events just about every day for around two weeks before Christmas. Furthermore, a huge Nativity Scene is set up in the Jardín every year, with life-size figures and live barnyard animals. Baby Jesus is put into his manger on Noche Buena, Christmas Eve.
Today, under the tutelage of your expert guide, you will enjoy a special walking tour of the historic center, discovering the city's Christmas highlights. The route will take you through the streets around El Jardin (the main square) and you will get to enjoy the various public celebrations including the Christmas Fair at the Plaza, the flowers stalls, Christmas trees, and many decorations.
Here, as in every town in Mexico, posadas take place every evening of the nine days preceding Christmas. Slow candle-lit processions wind their way through a different neighborhood each night, accompanied by musicians and live animals, while costumed children portray Mary and Joseph as they search for shelter in Bethlehem. Carrying candles and lanterns, locals and visitors join in the parade and the singing. This evening, with your expert guide, you may enjoy a traditional posada relishing the harmony and love it engenders.
Pastorelas, lively plays typically with flying angels and evil devils, are another Christmas time highlight. There is usually a wonderful traditional pastorela at Bellas Artes, a beautiful historic building constructed in the mid-1700s as a cloister for a convent. The pastorela will be a reenactment of the shepherds on their journey to see baby Jesus. They will encounter challenges, sometimes ironic or funny, while devils and angels turn up to create havoc.
*Schedules and specific events for these days as subject to change, as they will be settled according to the city's cultural calendar, therefore this program can be customized with detailed logistics and information, when the date gets closer.
Overnight: Rosewood San Miguel Allende
Day 5: San Miguel De Allende & Noche Buena (Dec 24th)
Today, after breakfast, you will meet your guide at the hotel lobby for a special day visiting some of the most iconic Christmas exhibitions in town. You will stop at the famous Instituto Allende and City Library, plus observe the local people bustling around the colorful market as they prepare for this very special night.
As you take this walking experience, winding your way through the cobblestone roads and alleys, keep your ears open for gorgeous choral street music created by the local students (estudiantinas) in traditional dress.
Christmas Eve or Noche Buena is the most important Christmas celebration in Mexico. A life-size manger will sit in the center of the city garden, complete with live lambs and a donkey (burro). The last posada of the season will pass by in the early evening, after which it's time to get ready for a Christmas dinner at the restaurant. Then everyone will return home to prepare for the party and, like any good Mexican fiesta, it will go on for most of the night.
Overnight: Rosewood San Miguel Allende
Day 6: Day At Leisure (Dec 25th)
Spend this day at leisure to relax on the property and enjoy the lovely surroundings and hotel's amenities, including the pool & SPA, or you may take advantage of one of the many optional activities such as cooking class, a visit to nearby archaeological sites and natural hot springs.
In the evening you may Stroll down on your own beautifully San Miguel and enjoy dinner at one of many recognized restaurants. (Restaurant suggestions to be provided.)
Overnight: Rosewood San Miguel Allende
Day 7: Full Day City Tour to Guanajuato (Dec 26th)
Late this morning, you will meet your guide in the hotel lobby ready for a private city tour of Guanajuato, the colorful capital of the state with the same name. You will descend on the city center in style — via cable car — and enjoy a full-day exploration of this incredibly interesting and historical city.
Guanajuato does not have a main square like other Colonial cities in Mexico, but instead, an intricate series of cobblestone streets and narrow alleys, filled with churches, Spanish Colonial buildings and an amazing tapestry of color. Your guide will lead you through, pointing out the many historical gems and hidden treasures. You will see the Juarez Theater, built during the opulent era of Porfirio Diaz in 1903, and Alhondiga de Granaditas, site of the first rebel victory in the War of Independence. You will stroll along Callejon del Beso, which translates to 'the alley of the kiss,' as its balconies are so close to each other they nearly 'kiss.'
During your afternoon city tour, you will also be able to appreciate the warm and joyful Christmas decorations laid out all over the city.
Overnight: Rosewood San Miguel Allende
Day 8: Private Full Day Excursion to Dolores Hidalgo, Ceramic Workshop & Atotonilco (Dec 27th)
Discover the place in which the fight for Mexican independence was allegedly born, Dolores Hidalgo. Follow your guide on a fascinating trip through Mexico's rich history and into its colorful present. Explore the streets, churches, and museums learning about the important moments that lead to the country gaining independence from Spanish rule. Afterward, you may flaunt your creative skills in a ceramic painting workshop.
Next, you will be driven to Atotonilco, home to the Sanctuary of Jesus Nazareno de Atotonilco, a mural-filled church which has been named a UNESCO World Heritage Site. Explore the Mexican baroque mural work that adorns the chapels and nave and discover why the sanctuary is dubbed the Sistine Chapel of Mexico. Upon completion, you will be driven back to your hotel in San Miguel de Allende for the rest of the evening on your own at leisure.
Overnight: Rosewood San Miguel Allende
Day 9: San Miguel de Allende Private Transfer to Leon Airport
You will be met in your hotel lobby by your driver and transported to the Leon Guanajuato airport (1:45 min), to board your flight home.
**Optionally you may want to add a beach extension to Punta Mita for New Year Celebration**
Dates
Our trips are fully customized, allowing us to build your itinerary for any time of the year.
Prices
Our custom-tailored journeys start from $800 USD per day for two travelers. Contact us today to discuss your travel desires and design a personalized proposal with exact pricing.
Please note, our pricing guideline is a starting from price and is not necessarily applicable to the suggested hotels contained within the suggested itineraries on this web site. Itineraries are customized prior to final pricing.