As December approaches, the vibrant traditions of Mexico come to life in new ways. In a country with strong historical ties, cultural celebrations dating back to colonial times and beyond take the forefront in communities all over Mexico. Everywhere you go, the holiday season is marked by robust flavors, colors and aromas. Seasonal food and goods become available, offering fresh experiences even to veteran travelers. The spirit of Mexico in December is enchanting and an opportunity to enjoy unforgettable festivities.
Mexican Celebrations in December
For nine days stretching from December 16th to the 24th, the Mexican Posadas take place. Singing processions travel the streets with candles, reenacting St. Joseph and the Virgin Mary's trek through Bethlehem in search of shelter. Residents in nearby homes play the roles of innkeepers who refused to help the travelers until Joseph and Mary are received at a designated area. In many places, the procession is beautifully detailed with angels, pilgrims, shepherds and children carrying poinsettias. The entire scene is performed in song and at the final location the participants share prayers of thanks before enjoying a marvelous feast.
Throughout the month, visitors are sure to see Nativity scenes decorating homes, churches and several public venues. Scenes of Jesus' birth in a manger are carefully laid out with ceramic figures often representing the Biblical characters. Along the streets of Mexico, these scenes range from simple setups to elaborate designs with breathtaking detail. As December 24th arrives, families gather for a nourishing meal on Christmas Eve, honoring the Nativity scene with prayer and gratitude.
Holiday Markets in Mexico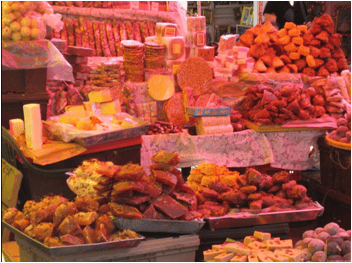 Public areas quickly transform into scenes of holiday cheer with attractive Christmas decorations. As the holiday is widely celebrated in Mexico, special markets are arranged where locals can purchase Christmas decorations, supplies for the Nativity scene and other seasonal items. For the children, holiday candy is a common attraction, and of course, the bright and inviting plazas are great place for amusement and mingling.
Where to Vacation in Mexico in December
If you want to experience the holiday season in Mexico, visit the colonial cities for an up-close look at the rich cultural traditions.
Mexico City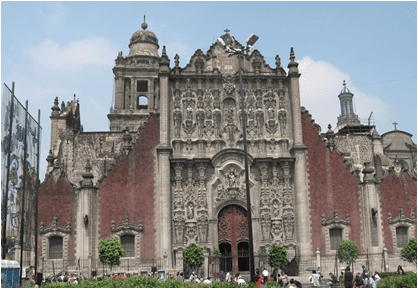 The country's dynamic capital is one of the most exciting places to visit worldwide. From bustling bazaars full of exquisite artisan jewelry, glassware, silver and weavings to the astonishing archaeological sites of ancient civilizations, Mexico City is pulsing with invigorating culture, living history and thriving arts. Visitors are charmed by the Zocalo plaza and quaint colonial layout of the city, which features stunning architectural landmarks that house museums, cathedrals, galleries and government offices. The homes of remarkable figures like Frida Kahlo and Diego Rivera still stand in remembrance of their work while just beyond the city the ruins of Teotihuacan tell the story of Mexico's pre-Hispanic ancestors, the Aztecs. To find out more visit our Mexico City tour, one of several private journeys to the city.
Other Destinations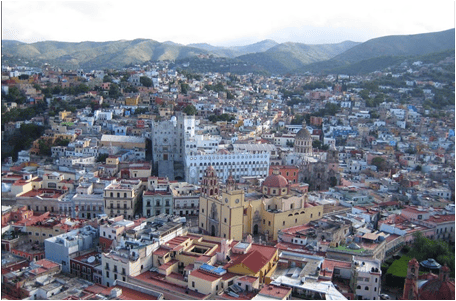 Guanajuato, located in central Mexico, is another destination for a memorable vacation. In this colonial heartland, the city is still home to incredible Baroque architecture and underground pathways such as Boca Mina, a famous mine once coveted for its silver. For the traveler who enjoys diverse entertainment, the city is bursting with thrilling nightlife, chic restaurants, live music and boutique hotels with luxury amenities.
Just a few towns away, Patzcuaro lies amidst charming artisan communities where visitors can truly dive into the local cultural, from tasting traditional cuisine to checking out the artisan and copper workshops. Or if you prefer to see a UN World Heritage site, travel to nearby Morelia for authentic souvenirs from Michoacan markets and a chance to see the city's treasured historic center. Wherever you decide to visit, the holiday season is sure to bring impressive festivities that will be remembered for years to come.