The West Pacific Coast of Mexico is growing strong as investments and developments come pouring into the Vallarta – Nayarit region. The touristic corridor, which spans just south of Puerto Vallarta slightly past Romantic Old Town and up north past Punta Mita to Sayulita, features over 50  miles of coastline and according to Mexico's Tourism Ministry (SECTUR), the number of tourists visiting is growing at a rapid rate.
HOTELS
South of Puerto Vallarta's Centro, which is the oldest part of town set in verdant hills, is receiving quite a bit of revitalization for their visitors.  Leading the trend are the all-inclusive Hyatt Ziva Puerto Vallarta that recently opened on site of the former Dreams property; and Hotel Mousai which opened late last year featuring a 72-all suite contemporary design for adults only. New hotels that are set to follow suit include Piñata PV and Luna Liquida – both boutique properties. Piñata PV will feature six rooms and is a clothing-optional, gay man-only hotel while Luna Liquida is a traditional hotel and will feature 14 rooms distributed in five villas with extravagant views of Banderas Bay.
In the heart of Puerto Vallarta on Los Muertos Beach, Almar Resort Luxury All Suites & Spa will be partially opening up later this year after its $25 million dollar renovation. The property is expected to operate as part condo/hotel and part timeshare/vacation club. The 130-room hotel is expected to be the most eye-popping resort in the downtown-area featuring infinity pools, modern decor, a nice beach front, and a  restaurant at Mantamar.
Just down the beach visitors will find the new Sapphire Ocean Club. Expected to open completely in October of this year, the hotel will feature 13 luxury beachfront pool suites. Right now, three suites are available ranging from 460-sq ft to 600- sq ft and the beach club (formerely Lido Beach Club) is available for use on a pass/membership basis.
Other exciting hotel news includes the iconic Hacienda San Angel boutique hotel in the heart of Puerto Vallarta which will be building a sister property nearby. The completion date is still to-be-determined, but they are hopeful that it is finished before the end of the year.
Moving north up the Riviera Nayarit coast, news has come from the prestigious One&Only Resorts that they will be expanding their brand in Mexico with plans to open  One&Only Mandarina, located approximately 50 kilometers (30 miles) north of Puerto Vallarta's airport. The beachfront resort will offer 145 luxurious villas as well as private residential estates, world-class farm-to-table dining, original retail options, a beach club, and a family pool. The resort will also offer an indulgent One&Only Spa and Fitness Centre, honoring its natural surroundings with treatments using traditional Mexican elements. One&Only Mandarina is scheduled to break ground at the end of this year.
Other hotel news in the Riviera Nayarit includes a $20 million renovation project for Grand Velas Riviera Nayarit that will be completed by 2016. The renovations will include improvements to their Azul restaurant, enhancements to the spa, as well as the modernization of amenities, furniture and décor.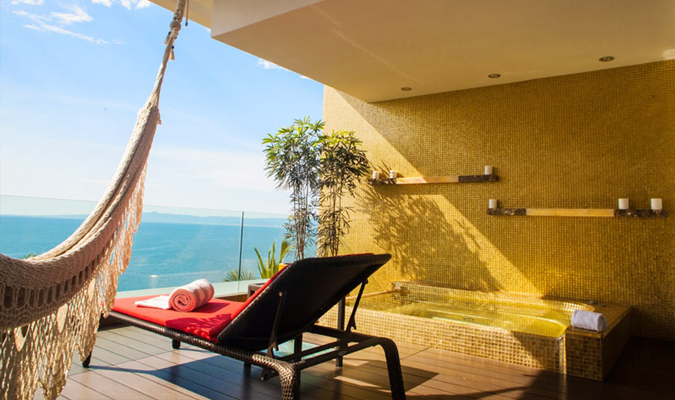 FLIGHTS AND CRUISES
According to the SECTUR, 141 crusies have confirmed Vallarta as a port of call in 2015. In airline news, Alaska Airlines recently launched direct seasonal service from Portland, OR (PDX) and plans on providing lift from Santa Ana, CA (SNA) three times weekly; Southwest Airlines has applied for  approval to fly nonstop from Orange County, CA (SNA) and is expected to begin service in June;  Delta launched a flight out of Seattle-Tacoma (SEA); and Air Transat has begun their weekly service from Quebec City (YQB).
ATTRACTIONS
Just months after the  launch of Joyá in Cancun,  Cirque du Soleil and Grupo Vidanta are eager to widen their presence in Mexico. They have recently announced plans to build the first amusement park of its kind in Riviera Nayarit. The project, which is still in the planning stages, may include both an aquatic park and a nature park where they will present open-air shows seating anywhere from 3,000 to 5,000 spectators. Each presentation will be animated by Cirque du Soleil artists and follow a common story line. Completion date for the park is projected to be in 2018. You can read more here.
A Greg Norman-designed golf course will open in two stages on the Riviera Nayarit later this year. The first nine holes will open in May with the balance to 18 opening in November; when completed the greens are anticipated to be able to accommodate as many as 260 golfers per day.
In the beach town of Bucerías will begin the construction of a new 100-foot artificial reef project, marina and boardwalk lined with stores, restaurants and bars, as well as an additional boardwalk constructed for coastal fishing.
La Galeria, a new curated gallery of contemporary Mexican artists, opened recently in Punta de Mita. The pop-up exhibit space is open to visitors daily through March. (Travel Weekly)