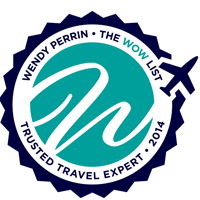 One of travel's most respected industry voices, Wendy Perrin, has recently named Journey Mexico's Zachary Rabinor as one of the most Trusted Travel Experts on The WOW List.
Wendy Perrin, who earlier this year left her position as Director of Consumer News at Condé Nast Traveler and has now joined Trip Advisor as their first-ever Travel Advocate, also runs her own website WendyPerrin.com where she and her savvy team share very insider travel information from across the globe. Recently rolled out is 'The WOW List' which is compromised of Trusted Travel Experts from around the world who can assist travelers with their plans at an extremely detailed level.  Wendy and all the selected destination specialists share a common goal: maximizing each traveler's experience and creating extraordinary trips; and when travelers connect with an advisor from The WOW List, they are marked as  V.I.P. with special benefits and even Wendy's trip-monitoring service.
WendyPerrin.com also features Insider's Guides to various destinations around the world, including Mexico, Norway, Morocco, China, North America, Australia, and more! With Zachary featured as the Trusted Travel Expert for Mexico, he was excited to share some truly special travel details about Puerto Vallarta, Riviera Maya, and Mexico City. Check out the Insider's Guides to Mexico on Wendy's site  (snippets below).
Journey Mexico  (Zachary Rabinor) is  honored to be included in WendyPerrin.com, and we know travelers will. enjoy reaching out to Wendy and her other Trusted Travel Experts.  Happy travels!