Wellness vacations are "it" right now. We've already named them in our top luxury travel trends in Mexico  and for good reason. More people than ever are looking for a complete spiritual, mental, and physical reset than ever before – and the desire for a healthy break will only grow in the future.
And in Mexico, two resorts are taking wellness to a whole new level. Chablé Yucatán and Chablé Maroma offer a holistic approach to wellness, utilizing the natural beauty of their surroundings and combining it with the ancient healing techniques of the Maya people and the latest spa facilities.
The result? The finest spa resorts in Mexico. Here are six exceptional wellness experiences you can enjoy at Chablé Yucatán and Chablé Maroma.
Wellness experiences at Chablé Yucatán and Chablé Maroma
Chablé Yucatán
Cenote-focused healing
The ancient Maya revered cenotes, partly for being their principal freshwater source and partly because they believed cenotes acted as a bridge between the living world and the underworld. Today, Chablé Yucatán draws on that ancient power to supercharge their wellness programs.
Their on-site cenote has become the central point for their spa experiences with the tranquil atmosphere offering a beautiful backdrop to the treatments. The resort makes a conscious effort to acknowledge the importance of the waters and its guardians as part of the spa experiences.
Temazcal experience
Chablé Yucatán offers guests the chance to take part in a temazcal ceremony, an ancient Mesoamerican ritual that's part-sweat lodge, part-spiritual cleansing. In the past, the ritual was used to revive the body after a great physical effort and for healing purposes.
Chablé's temazcal ceremony is led by a shaman who guides participants through a complete mind and soul restoration. The process is designed to relax and clean the nervous system, burn fat and toxins, and stimulate the digestive and respiratory systems.
The Fountain's Flow Signature Ritual
One of the carefully curated treatments in Chablé Yucatán's spa menu, The Fountain's Flow experience is a three-hour-long ritual, drawing on the resort's cenote for a holistic revival. As with all the spa's journey treatments, the relaxing experience begins with a Welcome Ritual.
This is followed by flotation therapy in a Flotarium tank, a scrub with herb-infused salts, and ends with a therapist-led aromatic anointment. The result is a complete rejuvenation of mind, body, and soul.
Chablé Maroma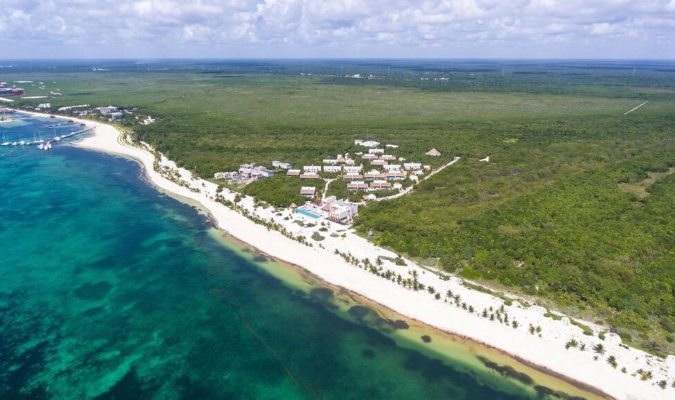 Deep Forest Awakening
Harnessing the power of the jungle foliage, the Deep Forest Awakening spa experience has been designed to relax the soul and energize the body. The three-hour-long treatment begins with a brief "ceremony of veneration and awareness," aimed at focusing the mind on the journey ahead.
Guests are then treated to a full body purification, which uses rosemary and sea salt to regenerate the skin. Essential oils from trees, including balsam fir, juniper, and cypress, help to clean the lymphatic system. Next, a deep connective tissue massage works away tightness in the body, before finishing with a signature aromatic anointment of the head.
The Sound of the Sea treatment
As one of the elemental forces, water connects with us in a way that's both physical and spiritual. The Sound of the Sea treatment draws on our innate connection to nature to provide a refreshing and rejuvenating two-hour-long experience.
It begins with a hydrotherapy and seaweed wrap, which draws toxins. A rhythmical massage using sea fennel wax then stretches out the body to help you feel like a new person.
Floral Adornment Ritual
The two-hour-long Floral Adornment Ritual celebrates the beauty of nature by utilizing "herbal preparations, floral elixirs, and traditional remedies". It begins with an exfoliating skin enhancement utilizing a mix of clay, coffee, and tabacco.
An aromatic blend of flower petals and oils of arnica, rosemary, basil, and laurel reduces pain and inflammation, increases circulation, and adds micronutrients. Next, guests enjoy a Chablé Precious Stone Massage, which uses traditional techniques to relieve physical and energetic blocks. Finally, a rejuvenating facial completes the wonderful treatment.
Book your stay at Chablé Yucatán and Chablé Maroma
For a vacation of utter luxury, book your stay at Chablé Yucatán or Chablé Maroma with Journey Mexico. Alternatively, experience the best of both worlds with a luxury vacation taking in both world-class resorts.
Our expert Travel Planners will take the stress out of planning and booking your vacation by doing the work for you. Simply give us a call (+1 (619) 819 5111 from the US or +52 322 225 9821 within Mexico) or fill out our online form and one of our Travel Planners will get back to you shortly.