Ecotourism is more than just a popular travel trend that involves roughing it in rudimentary accommodations with only the most basic amenities. The true beauty behind this travel option is that it provides you with the opportunity to help the local people improve their everyday lives. At Journey Mexico, one of our favorite causes is in beautiful Copper Canyon.
During our visits to this area, the local people have welcomed our staff and our guests with open arms. Now, these friendly communities are in need of our help. If you'd like to know more about the cause, here's a little more information about this worthy project in which we participated in:
The Incredible Strength of the Tarahumara People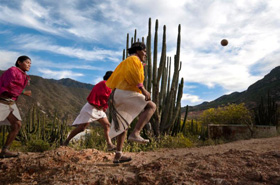 This region of Mexico is inhabited by native Indians called the Raramuris. This tribe is famous for being able to run for up to 60 miles through this mountainous region without rest and with little to protect their feet but a pair of sandals. In many cases, they make this arduous journey barefoot. Needless to say, this strong group of native Mexicans has become an inspiration to runners around the world and a symbol of strength and endurance to many others.
The Great Drought in the Sierra Tarahumara
Since just before the end of 2011, this area has been caught in the most severe drought of the past 70 years. This extreme dryness has caused their lakes to dry up and their crops to whither on the vine. In many case, these brave natives are suffering because they don't have access to what most of us take for granted: adequate food and clean water.
The Mexican government declared a state of emergency across 37 different regions in Tarahumara on January 3, 2012. These officials believe that the current situation will get much worse before it improves. As a result, these communities will endure another year without enough food, water or fertile soil.
The Journey Mexico Initiative
To help these friendly people who have always welcomed our staff and our guests, Journey Mexico created an initiative to raise money to purchase supplies for seven remote villages affected by the drought. Many past guests of Journey Mexico that had hiked the area also donated funds for the cause. The funds were used to purchase and deliver food supplies and other necessities including potatoes, flour, beans, salt, sugar, coffee, powdered milk and water.
The American School Run-a-Thon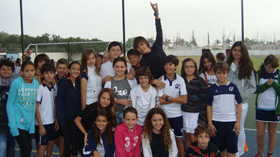 Once the news of the plight of the Sierra Tarahumara Villages reached the American School located in Puerto Vallarta, the Student Council decided to hold a Run-a-thon to raise additional money to help this worthy cause. On March 2, students from the pre-Kindergarten level through sixth grade ran in this race to raise money for the drought-stricken villages in Copper Canyon. This is a perfect example of how anyone can make a difference in the world through commitment and determination.
The All-Important Deliveries
In addition to raising the money to buy these much-needed supplies, the staff at Journey Mexico volunteered to spend their time procuring these necessities and transporting them to the remote villages. In some cases, traditional transportation couldn't be used to reach these communities, and items had to be hiked in.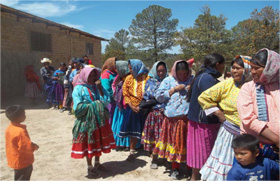 So far, food has been distributed to the communities of Mohotavo, Bajichi, Oteviachi, San Alonso and to other areas near these villages. In total, about 460 people benefited from the supplies we were able to procure, transport and distribute.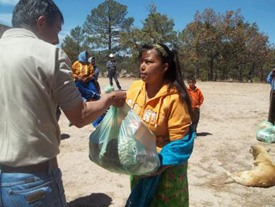 If you were able to contribute to help the native people of Copper Canyon, the team at Journey Mexico wishes to convey their deepest gratitude! We only wish that we had the right words to describe the sincere appreciation that the Raramuris have shown over the last few days.
Thank you, The Journey Mexico Team!
To read more about ecotourism in Mexico, read our blog about our top choices for eco-friendly hotels on the Pacific Coast.