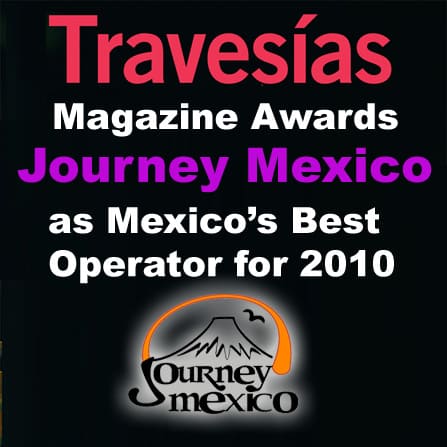 Travesias is Mexico's premier Luxury Travel & Lifestyle magazine, dedicated to those addicted to travel and staying on the cutting edge of the luxury travel lifestyle. Travesias has chosen Journey Mexico as Mexico's Best Operator for 2010, which is an extreme honor as everything printed in Travesias is written by those who have actually experienced the narration first hand. We are honored that such experienced experts have chosen Journey Mexico as Mexico's best operator!
Journey Mexico President, Zachary Rabinor and his wife, JM Co-Founder Rebecca Scotti, and Director of Operations, Matteo Luthi and his wife Fabiola, and Journey Mexico's lead guide in Mexico City, Juan-Carlos, were all present last night in Mexico's capital for the presentation of the award.
Again, all of us at Journey Mexico would like to extend sincere thanks to the undeniable beauty, the rich culture, and the incredible people of Mexico who have made all recent achievements possible!