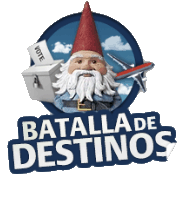 Travelocity has been running a weekly competition between popular destinations to vacation in Mexico called "Battle of the Destinations." Travelocity's Gnome travels to each of the winning destinations and then posts photos at the end of the week.
The first competition was between Cabo, Puerto Vallarta, and the Riviera Maya with the Riviera Maya taking the win.
The second week put Guadalajara, Monterrey, and Mexico City against each other with Monterrey coming out on top.
Week three was a slaughter as Mazatlan dominated Ixtapa, Acapulco, and Cancun.
This week's battle was another landslide as Oaxaca triumphed over Zacatecas, Guanajuato, and Puebla.
The Battle of the Destinations website is in Spanish, but it's pretty easy to figure out what's going on even if you don't understand the language. The site isn't very clear, however, about how long these competitions will last. Maybe someone could clarify in the comments of this post. If the winners do eventually face off, you should see much closer results but after taking the 8th spot on Travel + Leisure's World's Best cities list, I'd say the culturally rich Oaxaca is the city to beat.