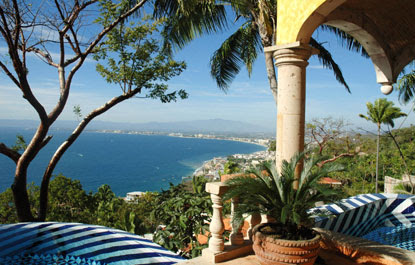 Puerto Vallarta is pulling out all the stops for the 37th annual Tourism Tianguis Mexico travel fair 2012 that is being held in the Puerto Vallarta Convention Center from March 25th through March 28th of 2012. Every year, this event is held to find new ways to strengthen tourism in Mexico.
According to the director of this exciting event, Miguel González González, this year's travel fair will focus on Mexico's core attractions including beach destinations, adventure tourism, luxury resorts and business travel. If you're attending Tianguis 2012, you will also be presented with a wide range of hands-on activities that will make this event the most successful Mexican travel fair to date. Depending on your interests, you can take part in a golf tournament, view a fireworks show and attend numerous cultural events. You can view the site for the Tianguis Turistico here.
To keep everyone organized and make sure they don't miss a thing, this year's Tourism Tianguis is going hi-tech. Participants will have access to an interactive website, a new appointment system, streaming information to their mobile devices and a number of other organizational and
communication tools.
This year's event is already demonstrating a heightened level of interest in Mexican tourism. Here are a few numbers that illustrate this increase year over year:
Buyer participation has increased by 50 percent.
Business appointments have increased by 25 percent.
The number of registered countries has increased by 30 percent.
This year's venue offers 67 percent more space.
So far, the Mexican government has invested 65 million pesos to this event, but they expect the payoff to local businesses to approach 118 million pesos. Part of this effort includes the new Malecon, improved access roads and a restored historic center. With this preparation, Puerto Vallarta is positioned to impress both the travel industry and visiting tourists.
If you're planning to attend this travel fair or visit Puerto Vallarta for any reason, give Journey Mexico a call. Both Matteo and Rene will be attending from Journey Mexico. We can help you choose the best accommodations for your stay and give you valuable inside information about the best things to do in this lovely part of Mexico.