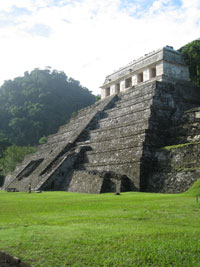 CNN Travel recently asked the top travel experts from Orbitz, Lonely Planet, Smarter Travel and Altour for their picks for 2012. With all the recent publicity about the impending end of the Mayan calendar, it should come as no surprise that this part of Mexico, including Tulum, Chichen Itza, and Chiapas, tops the Top Travel Destinations in the World for 2012!
If you'd like to soak up the sun on an unforgettable trip to the Maya World, here are a few examples of what you might experience during your stay:
Chichen Itza – One of the New Seven Wonders of the World!
No trip to the Maya would be complete without touring the most famous ruins in Mexico. Let Journey Mexico show you the way to a private entrance where our expert guide can lead you directly to the most interesting features of this ancient city. After a leisurely lunch, spend the afternoon exploring the ancient temples of Coba, a relatively new discovery with more than 6,500 unexplored structures.
Edzna and Uxmal – Plus a Tequila Tasting!
On a different day, experience the magic of the ceremonial sites and religious temples of Edzna. Nestled within the jungle, this set of ruins houses the Platform of the Knives, the Big House and the Gran Acropolis. Once you're done, enjoy a traditional Mexican meal before reaching Uxmal, one of the best examples of Puuc architecture in the world. As you roam through the temples, your guide will explain the intricacies of the ancient society that once called this city home. Finish off your day with some of the best Tequila in the world as you learn more about one of Mexico's most important products.
The Biosphere Reserve of Celestun
Leave the ruins behind and discover a part of Mexico that's full of life! This protected area contains one of the nation's largest wetland areas. Among other wildlife, you'll get a chance to see one of the largest colonies of charming Pink Flamingos. Afterwards, enjoy your midday meal in the shade at one of the local beachfront restaurants.
Enjoy the Riviera Maya!
Spend a day or two in luxury before or after your tour of the ruins! Relax by the pool, snorkel in the crystal-clear Caribbean waters, shop for souvenirs and sample the local cuisine. No matter how you decide to spend your time in the Riviera Maya, this will give you a complete picture of the pleasures this part of Mexico has to offer!
Of course, these are just a few examples of how Mexico earned a top spot on CNN Travel's list of top destinations for 2012. If you'd like to learn more about what you can see and do in Mexico in the coming year, contact Journey Mexico for more information.