If you're looking for beachfront luxury vacation rentals, Mexico has some of the best. With it's warm weather year-round, Mexico is a magnificent destination for winter getaways!
While others celebrate the holidays in the dreary cold, you can enjoy pristine beaches, beautiful weather and luxurious accommodations by renting a beachfront vacation home in Mexico. From private villas tucked away in lush jungles to full-service spas within walking distance of the hottest attractions, here are 15 of our top choices for this holiday season:
1.) A four-bedroom villa located in Ixtapa, La Casa del Sol combines stunning views and access to exciting night life with a luxurious space complete with a sand garden and pool.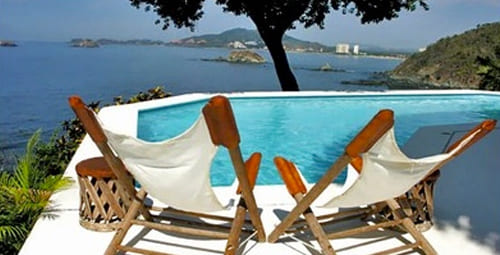 2.) The beach-front property of Casa Rubia rests between Acapulco and Huatulco, providing visitors with a private waitstaff and relaxing tropical atmosphere
3.) Villa La Cascada, spanning two beachfront lots in Palmilla Caleta, features amenities like a gymnasium, movie theater and wet bar to accompany its beautiful ocean view; visitors can also take advantage of a high-tech video, audio and lighting system to set just the right mood during their stay.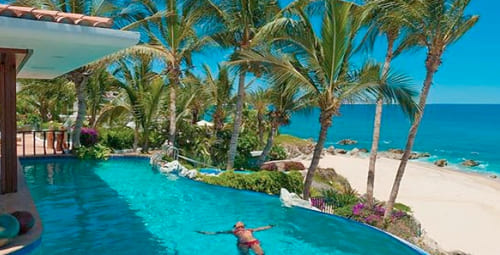 4.) Steps away from Médano Beach, Hacienda Condo 501 balances state-of-the-art technology with comfortable furnishings, including a private balcony with views of the stunning surroundings; residents are also treated to a full-service spa.

5.) Villa Estero, located on Puerto Los Cabos, presents a stunning combination of elegant architecture and luxury fixtures, from its expansive gourmet kitchen to the infinity-style jacuzzi.
6.) Villa Taz, sitting just 100 feet over the Sea of Cortez, offers breathtaking views of the water, a relaxing atmosphere and private beach access.
7.) Located near Cabo San Lucas, Villa Miguel is both stunning and comfortable; this luxurious villa is surrounded by both gorgeous desert landscapes and fresh ocean air.
8..) Nestled within a 100 acre nature preserve south of Cancun, Casa Vela provides the perfect getaway for couples and families; visitors can enjoy the amenities or venture outside to enjoy beaches, hiking trails, rivers and jungles.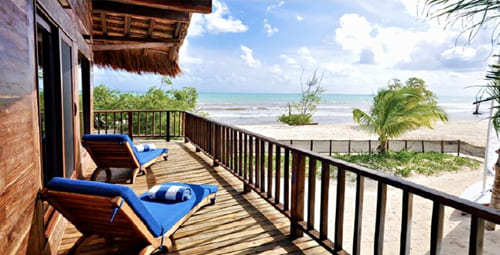 9.) On the shores of the Mexican Caribbean rests an activity-filled vacation destination for couples or families; Villa Albatros is both spacious and serene, providing visitors with ample opportunities for privacy and relaxation.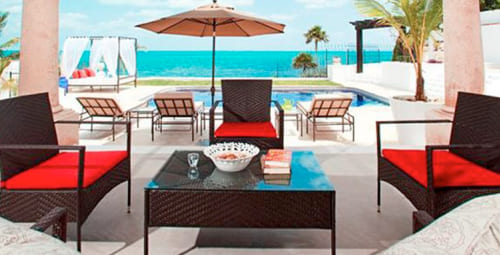 10.) Villa Del Mar provides five-star accommodations for visitors of Playa del Carmen; visitors who venture outside the luxurious villa can be treated to trendy shops, restaurants and clubs on famous Fifth Avenue.
11.) From family getaways to destination weddings, spacious Casa Salinas II offers the perfect mixture of privacy, stunning views and a full-service staff on the beaches of Puerto Vallar
12.) Casita de las Flores presents a stunning view of the Pacific Ocean and sits near the Playa Rosa beach club; true to its name, the village is filled with the perfume and bright hues of tropical flowers.
13.) Nestled in the exclusive Pontoquito area near Puerto Vallarta, La Caleta Villa offers access to nine nearby golf courses, several resorts and the La Cruz Yacht Club; the beachfront home itself offers the perfect mix of privacy and luxury.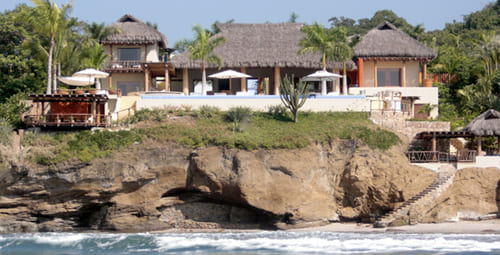 14.) Nestled within the community of Santa Carmela, Villa Hayden features a striking entryway framed with waterfalls, and the rest of the villa is simultaneously soothing and majestic.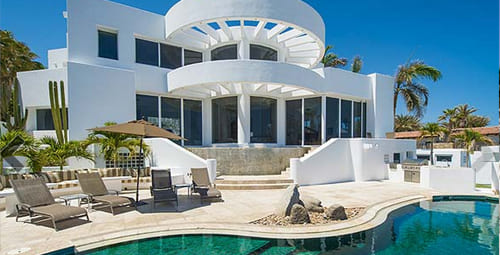 15.) Tranquil Las Villas Akumal offers spacious accommodations nestled in the tropics; visitors can enjoy the gardens and beach or stay indoors to take advantage of the comfortable furnishings and gourmet kitchen.