On February 1st, 2015, the entire state of Quintana Roo will be "jumping ahead" one hour as it is now designated to a new time zone.  This one hour time difference will only take affect in the winter season.
To clarify, for 7 months a year (from the first Sunday in April until the last Sunday in October), Quintana Roo will be on the same time as Central Mexico/Mexico City. For the remaining 5 months of the year (winter season), the state will be one hour ahead.
With this addition, Mexico will now have four different time zones from November through March:
Zone Noreste/ Pacific Time (Baja California)
Zona Pacifico/ Mountain Time (Baja California Sur, Sonora, Chihuahua, Sinaloa, Nayarit)
Zona Centro/ Central Time (Coahuila, Durango, Nuevo Leon, Tamaulipas, Queretaro, Hidalgo, Tlaxcala, Jalisco, Zacatecas, Aguascalientes, Guanajuato, Colima, Mexico, DF, Morelos, Michoacan, Guerrero, Puebla, Oaxaca, San Luis Potosi, Veracruz, Chiapas, Tabasco, Campeche, Yucatan)
Zona Quintana Roo / Eastern Time (Quintana Roo)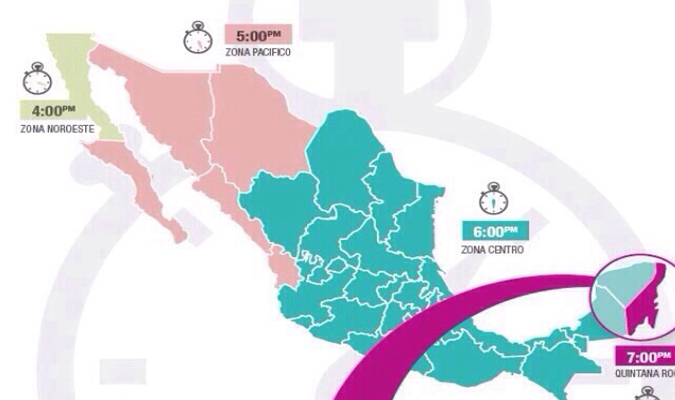 As a result of the additional hour, Quintana Roo is expected to see money saving benefits because hotels and residents will be using less electricity and tourists will be able to spend more time enjoying the beaches, theme parks, and other attractions. This change is hoping to strengthen the regions competitive advantage over other Caribbean vacation destinations such as the Bahamas and Jamaica.