This is a guest submission written by Joel Duncan of Adventure Jo during his travels to the San Marcos Fair in Aguascalientes, Mexico, which is held from the second week in April until the first week in May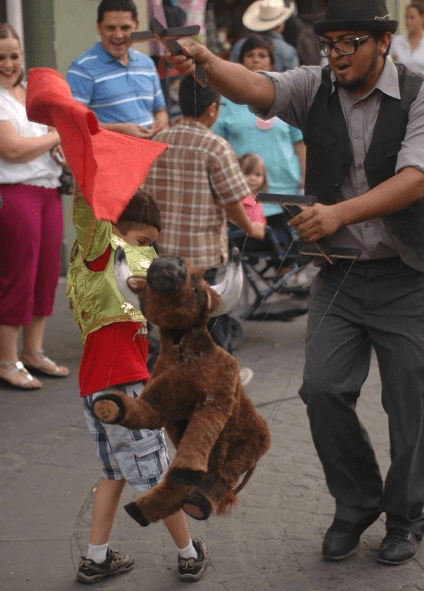 AGUASCALIENTES, MEXICO – "Hey bro where are you from? I'm from Chicago and I'm here with my wife and my buddy from college". "I'm from Canada", I replied to the sunburnt man dressed in a baseball cap, shorts, sneakers and an oversized t-shirt. His eyes gleamed with excitement as he confessed that I was only the second English speaker he had met in his three days at the San Marcos National Fair in the Colonial Heartland.  He furthered to say that the only reason he knew about the fair was because his wife was born in Aguascalientes. As I scanned the faces of the lively sea of people drinking, dancing and parading through the busy streets, I felt selfishly satisfied, that I had stumbled upon something truly Mexican.
Two days earlier, I checked into La Katharina Hostel, a relatively new hostel only steps away from the iconic Jardin de San Marcos (San Marcos Garden), the gateway to the heart of the fair.  I was the only foreigner in my 6-bed dorm room – no Aussies, Canadians, Israelis or Americans; as a matter of fact, I was the only foreigner in the entire hostel. When I pictured going off the beaten path, I envisioned traveling to an undiscovered village in the foothills of the Sierra Madre Mountains, not to Mexico's biggest and most important fair.
More than 100 years ago, The San Marcos National Fair (dubbed Dreamland by its organizers) started off as an event to promote livestock and other products from Aguascalientes.  Today, the fair is said to attract an estimated 7 million tourists over a 3-4 week period. Although livestock is still an important part of the fair, it isn't what continues to lure millions of predominantly Mexican tourists to the small industrial state. The fair's organizing committee has created a culturally rich program that is aimed at the entire family and showcases the music, theatre, art, dance, and literature of hundreds of Mexico's artists. Most of the organized events are free and are hosted in museums, galleries, and stages set up around the city, so a good pair of walking shoes and camera is all that's needed.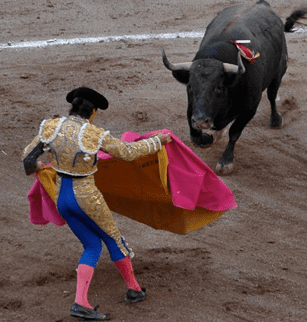 Some of the more popular attractions include the bullfights, cockfights, a casino, and of course – the parties. I skipped the cockfights and casino but decided to go to my first bullfight, in hopes of having a real cultural experience.  With a seating capacity of 15,000 people and an incredible construction time of only 48 days, the arena was nothing short of impressive. Passionate screams of 'Ole' and continuous whistling could be heard as the animated matadors teased and evaded the infuriated bulls. Although I enjoyed the energetic atmosphere of the arena, I only stayed for a half-hour, as my stomach and conscience could no longer handle the very one-sided and bloody battles.
When the sun went down, the party turned up, and although there are numerous posh nightclubs and bars, the biggest bash happened right in the streets. The sounds of tamboras (drums) and trumpets filled the air as Mariachis and Norteñas competed for the attention of those eager to dance the popular polka-infused banda. A cold cerveza was always in reach since during the festival, drinking in the streets is permitted (or should I say encouraged). Countless small stands lined the streets, serving up 1-litre cups of just about any alcoholic beverage the heart desired.  Second to the popular micelada (spiced up beer), my personal favorite was the appropriately named "Bomba" (bomb) – a tasty but undoubtedly potent concoction of several types of alcohol.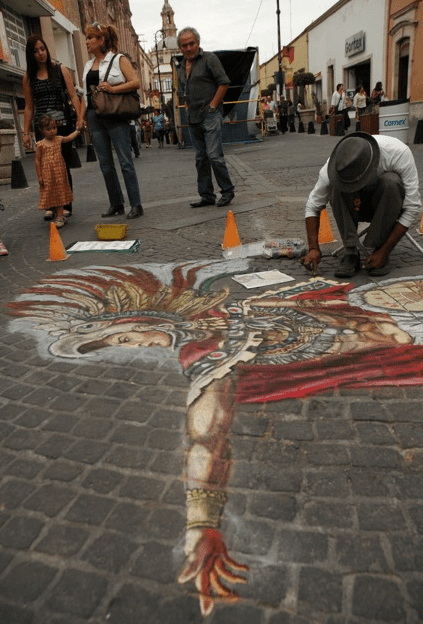 The organized events were spectacular but what I enjoyed more was the abundance of talented artists and performers, who brought the city streets to life. I never had to stray far from my hostel door to find someone preforming magic tricks, dancing, playing a musical instrument or entertaining crowds of onlookers with their own artistic talent. The owner of a small restaurant and 25-year resident of Aguascalientes explained why he loves the fair: "The fair brings families together. People who usually only come into town once a month come in several times – and they get all dressed up. The fair gives children more opportunity to spend quality time to with their fathers. I usually visit my family in other parts of Mexico, but when the fair comes, they make their way to little Aguascalientes."
Traveling as a foreigner in Aguascalientes was very easy and enjoyable since everyone seemed to be curious about where I was from and how I had heard about Aguascalientes. Although it wasn't necessary, knowing some Spanish certainly helped me to meet more people and get the inside scoop on what events were taking place. If you're planning a trip to Mexico with your family, friends or like me – solo, and you want a crash course in the country's culture, art, food, music and fiestas (parties), consider visiting Aguascalientes for next year's San Marcos National Fair – you won't be disappointed.