On March 14, 2014, the clear dawn of Queretaro set the scene for one of the most important moments of aviation in Mexico. After three months of planning, effort, and team work, TAR Airlines began their operations with flight 001 with destination to Monterrey, Nuevo León. Promptly at 6:40am, authorities including Queretaro's Secretary of Tourism, Secretary of Sustainable Development, and General Director of Queretaro International Airport were present as Executive President of TAR Aerolíneas, Luis Humberto Gómez Terrazas, delivered a brief speech sharing his enthusiasm and appreciation to the first passengers aboard the airline, " Today TAR launches a flight to offer a service with a fair price and to connect the cities of Queretaro, Monterrey, Guadalajara, Puerto Vallarta, Zihuatanejo, Acapulco, Durango, Los Mochis and Tampico." He also shared the good news that in the second half of this year, the airline will be flying from Toluca.
A few words by Mauricio Salomón, Secretario de Turismo de Querétaro, followed, " Today, the queretanos will have more opportunities to travel thanks to the connectivity that TAR offers"; and without further ado, passengers walked up the ramp toward the platforms to enter the first commercial flight of the airline.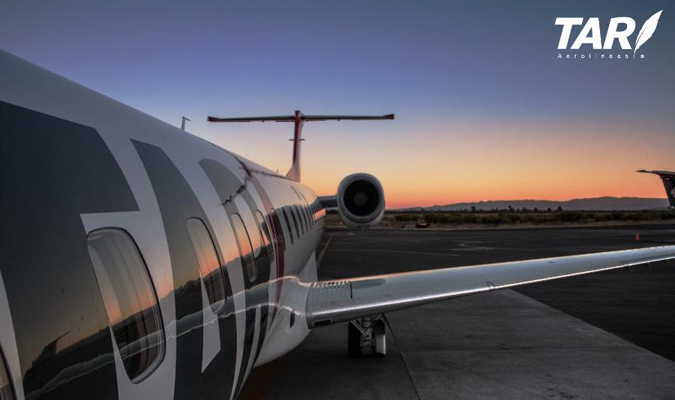 TAR Routes
Acapulco – Guadalajara
Acapulco – Monterrey
Acapulco – Queretaro
Acapulco – Ixtapa/Zihuatanejo
Aguascalientes – Monterrey
Aguascalientes – Puerto Vallarta
Durango – Guadalajara
Durango – Los Mochis
Durango – Monterrey
Durango – Puerto Vallarta
Durango – Toluca
Durango – Ixtapa/Zihuatanejo
Guadalajara – Acapulco
Guadalajara – Durango
Guadalajara – Los Mochis
Guadalajara – Monterrrey
Guadalajara – Puerto Vallarta
Guadalajara – Queretaro
Guadalajara – Tampico
Guadalajara – Toluca
Guadalajara – Tuxtla
Guadalajara – Ixtapa/Zihuatanejo
Los Mochis – Guadalajara
Los Mochis – Durango
Morelia – Monterrey
Morelia – Puerto Vallarta
Monterrey – Acapulco
Monterrey – Aguascalientes
Monterrey – Durango
Monterrey – Guadalajara
Monterrey – Morelia
Monterrey – Puerto Vallarta
Monterrey – Queretaro
Monterrey – Tampico
Monterrey – Ixtapa/Zihuatanejo
Puerto Vallarta – Aguascalientes
Puerto Vallarta – Durango
Puerto Vallarta – Guadalajara
Puerto Vallarta – Monterrey
Puerto Vallarta – Morelia
Puerto Vallarta – Queretaro
Puerto Vallarta – Tampico
Queretaro – Acapulco
Queretaro – Guadalajara
Queretaro – Monterrey
Queretaro – Puerto Vallarta
Queretaro – Ixtapa/Zihuatanejo
Queretaro – Tampico

Tampico – Guadalajara
Tampico – Monterrey
Tampico – Puerto Vallarta
Tampico – Queretaro
Tuxtla Gutierrez – Guadalajara
Tuxtla Gutierrez – Toluca
Toluca – Durango
Toluca – Guadalajara
Toluca – Tuxtla Gutierrez
Ixtapa/Zihuatanejo – Acapulco
Ixtapa/Zihuatanejo – Durango
Ixtapa/Zihuatanejo – Guadalajara
Ixtapa/Zihuatanejo – Monterrey
Ixtapa/Zihuatanejo – Queretaro
For more information and most up to date routes, visit www.tarmexico.com.
*Update April 16 2014: TAR Airlines no longer has regular departures to or from Los Mochis or Tampico.
*Updated October 30 2014: Routes have changed, as reflected above.