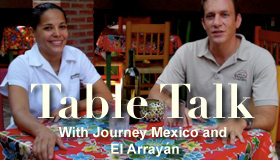 As Mexican Cuisine continues to earn international acclaim (and recently UNESCO World Heritage status), the award winning travel company, Journey Mexico, has teamed up with Puerto Vallarta's Best Mexican Restaurant – six years running, El Arrayán, to bring you the first webisode of Table Talk, a bi-weekly series bringing you a little more of the Mexico you thought you knew.
Table Talk showcases authentic Mexican cuisine by rediscovering and sharing traditional family recipes from the cocinas of Mexico with viewers around the world. In this inaugural webisode, hosts Zachary Rabinor (President, Journey Mexico), and Carmen Porras (owner, El Arrayán), discuss, prepare, and devour Mexican Fava Bean Soup – a simple yet deeply rooted Mexican dish.
Be sure to "like" the Journey Mexico Facebook Page and the El Arrayán Facebook Page to catch the next addition of Table Talk, which will air before the Holidays. Buen Provecho!