After breakfast, we traveled to the Tlacolula Valley for the weekly Sunday tianguis, which is one of Oaxaca's oldest and most important markets. Florencio guided us through the thousands of stalls selling everything from fruits and vegetables, to clothing, to livestock. I'm pretty sure you could find anything at that market if you looked hard enough.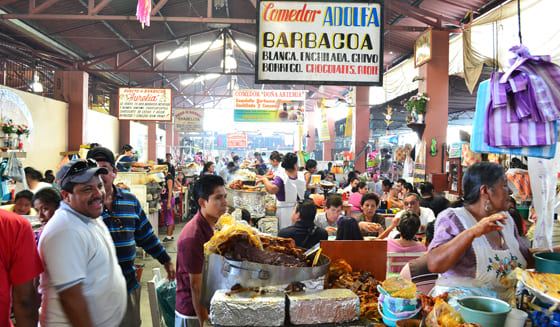 Oaxaca Market
There is a church at the center of the market, which is both beautiful and interesting. Florencio explained to us that the main part of the church is where the people from Oaxaca City take their mass (in Spanish) while at market but that the local people worship in a smaller chapel attached of the side of the church (in their native language of Zapoteca). We respectfully entered the chapel and Florencio took us to a corner where there is a very rare (and very lifelike) sculpture of Jesus Christ made of real bone, real human hair, and a sugar mold. It was so real looking and the agony on the figures face was so vivid, you couldn't help but be moved. Florencio explained to us how the local people pin little charms and photos to the figure's robe, asking for blessings or health.
Market church (Local chapel on the right side)
Leaving the hustle and bustle of the market, we had the immense privilege of visiting a local Zapotec family of artisans in Teotitlan del Valle. In accord with their traditions, we initially met the family in their alter room (something all families in the community have in their homes), where the eldest of the family offered peace and welcomed us into her home (all in her Zapotecan dialect translated to us by Florencio). As a group, we offered a candle of peace, which was lit and placed next to the single candle the family had burning. Turning our words into actions (which we learned is crucial in their customs), each one of us stepped forward and exchanged embraces with each family member. I think I speak for the group when I say that the tradition was both spiritual and moving.
After our greeting, we were officially friends of the family and were given two demonstrations of how their family makes their crafts. The first was a candle-making demonstration from start to finish, showing us how the granddaughter take pure bee's wax, melts it down adding color if needed, dips hand woven wicks into the liquid wax, hangs them to dry, and then repeats the process (which usually takes hundreds of dippings). She also showed us how she uses handmade molds to create shaped candles like those of little birds. Mairhi, from Abercombie & Kent Cheltenham, actually got to (carefully) make a bird herself!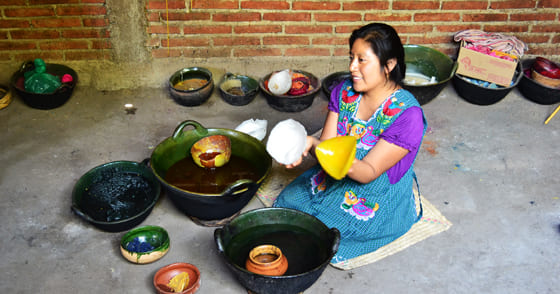 Making candles by hand
The second demonstration of how the family weaves rugs of intricate designs was fascinating as well. To make the dyes, the family actually collects these tiny insects that live on cactuses, which, when dried out and crushed, become a bright red powder. By mixing certain amounts of acid (like that found in lemons) and other flowers, they can alter the color to produce blues, greens, and other colors as well. We watched the grandfather work the brightly colored threads on a massive loom, and several of our group purchased some of the valuable rugs to take home.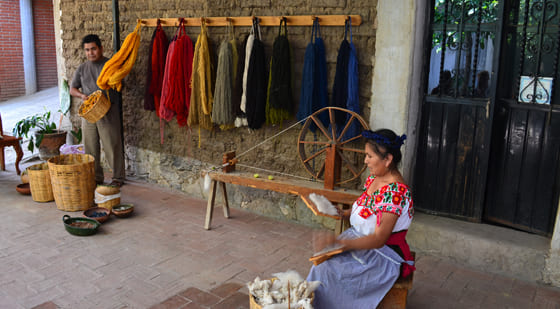 Our weaving demonstration
Before we left the family's home, they cooked us a huge three-course lunch, which we ate a very large table in the alter room. After being offered cold beers and warm mezcal, we were served homemade cheese and salsa; a hearty soup of vegetables, squash stems, and squash blossoms; and finally homemade tamales – Oaxacan style. On special occasions in the Journey Mexico office, we eat tamales but I have to say, the tamales we get in Puerto Vallarta are nothing compared to these. The tamales (which are made of eclair-shaped cornmeal stuffed with different meats, then wrapped in corn husks and steamed) in Puerto Vallarta are usually quite fluffy and a little more than an inch in diameter. These Oaxacan style tamales were very flat with a consistency similar to a ravioli. They were covered in a savory red sauce and were just delicious – probably one of the best meals of my life.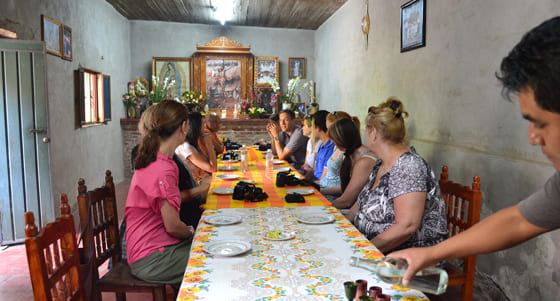 Lunch in a traditional Zapotec home
As we were leaving, the grandmother explained to us (through Florencio) that she was sad because she only speaks her native dialect of Zapotec and could not properly express the love she felt for each of us and the gratitude she felt for us having visited her home. She also explained that it was not random coincidence that life had brought us all together, and she personally blessed each of us as we exited. Again, it was a very touching, moving, and inspiring experience that I feel very fortunate to have been a part of.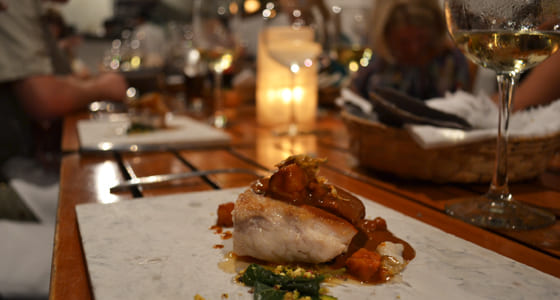 Pork and shrimp masterpiece by Alejandro Ruiz
When we returned to downtown Oaxaca, we went on three site-inspections of Casa Abu, Camino Real, and Casa del Sotano before freshening up for dinner. Again we were invited to the chef's table by famous signature chef Alejandro Ruiz of Casa Oaxaca. As we sat to dine on the rooftop terrace, the skies opened up giving the dinner, literally, an electrifying atmosphere. Fortunately, we were under cover and were able to enjoy the five courses of magic that Alejandro and his team made for us as we watched the lightening and downpour all around us. In the morning, we leave via two small private planes for Tuxtla Gutierrez!
Go to Days 5 & 6 >>