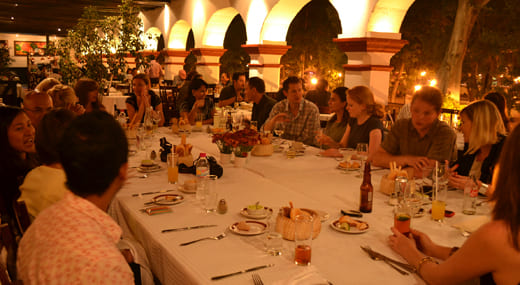 Dinner overlooking the zocalo in Oaxaca
Friday evening ended with a hearty, traditional Oaxacan dinner at Azador Don Vasco, overlooking the lively town square.  We were privileged enough to have been invited to dinner by two members of the Mexican Tourism Board Oaxaca – Nisa Lopez and Veronica Espinoza, the Oaxaca Secretary of Tourism.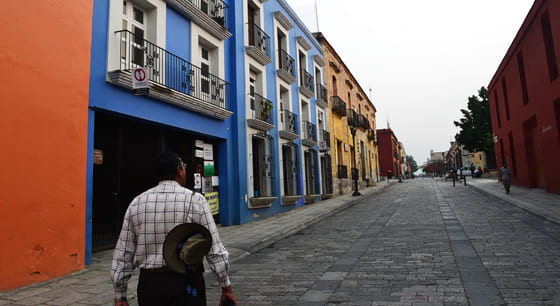 Morning walking tour of Oaxaca
After sleeping off the rich mole from dinner, we enjoyed a light breakfast and embarked on a morning walking tour of Oaxaca with Journey Mexico master guide, Florencio. We were quickly in awe of the gorgeous architecture of Oaxaca, a mix of Spanish and neo-classical styles. Florencio illuminated the scenic streets with insight into the history of each important building, of which there are many. We learned of a famous Oaxacan and Mexican artist, Francisco Toledo, who purchased and restored several buildings throughout the city, making each a unique museum of art, and then donated them to the people. Toledo was concerned that natives from outside the city were intimidated by museums thinking they were only for the rich, so he was proud to declare that all of his museums would be (and still are) free for everyone to enjoy.
Breakfast at the market
Leaving the city center, we climbed the nearby mountains in our coach until we reached the lofty archeological site of Monte Alban where the royalty and elite of the Zapotec (and later the Mixtec) people built their homes and temples, some 7,000+ feet above sea level. Florencio gave us a wonderful talk about the customs and traditions of the ancient Zapotecs as well as about the local flora that was so important to both the ancient people of Monte Alban as well as to Oaxacans today. After Florencio's moving illustrations, we were free to explore the homes, the ballcourt, and the temples of the site.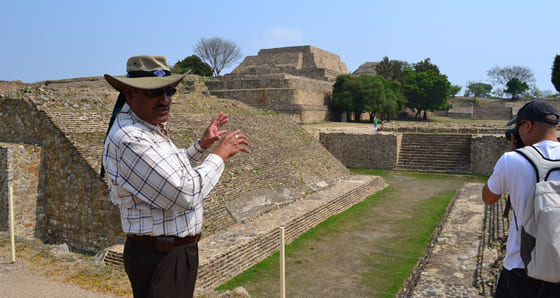 Florencio describing the ball court of Monte Alban
From Monte Alban, we drove to the outskirts of town to meet Zenny, a famous wood-carver who, with his family, makes intricately carved and vividly painted animal figurines of all sizes. We were mesmerized by Zenny's skill and by how each member of the family had been trained to be a master of a different stage in production. After demonstrations of carving and painting, we were treated to a homemade lunch of chicken and squash-blossom quesadillas, accompanied by shots of  Mezcal, the smokey sister of tequila.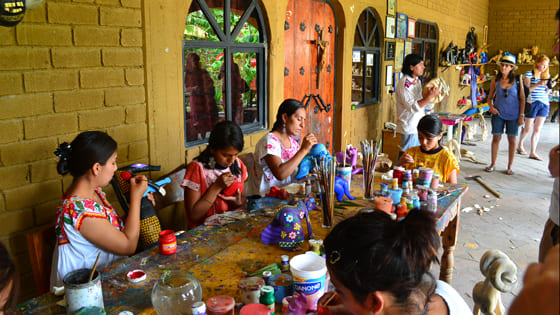 Zenny and family hard at work
After purchasing some of Zenny's crafts to take home, we traveled to the workshop of another famous artisan, Doña Sophia who, although she can't remember the actual number, is ninety-something in age. For nearly a century, she has been shaping pottery and ceramics by hand from a special mixture of local clay, which, when fired in a certain method, turns completely black. Doña Sophia is one of the few potters in Mexico who still uses only her hands and two plates to spin the clay as she works, as opposed to the now common mechanical methods of spinning the material. Doña Sophia has trained her family to continue her craft and we were privileged to see her shape a pot in front of us, which was then decorated with carved intricacies by her great-granddaughter. I don't think it's possible for me to express in words just how special both the demonstration and meeting Doña Sophia was.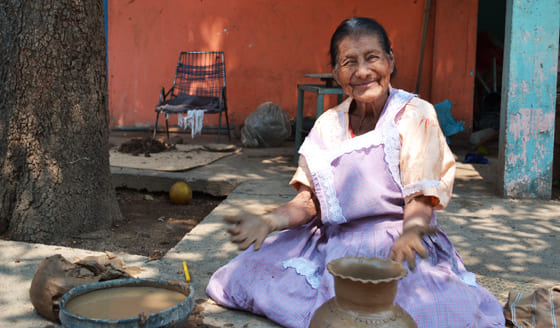 Doña Sofia at work
Having business to attend to, we reluctantly left the pottery shop and headed back into town for site-inspections of three beautiful hotels: Hostal La Noria, Casa Catrina, and Casa Oaxaca. Finishing our work for the day, we freshened up and met again at Casa Crespo, where we were invited to a special, six course dinner by owner, chef, and long time Journey Mexico friend, Oscar Corizoza. More to come tomorrow!
Go to Day 4 >>