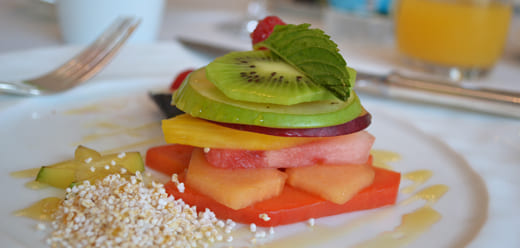 Day one was a whirlwind! Our first day in Mexico City began at 8am with an amazing fruit breakfast in our hotel (Las Alcobas), which is pictured above. Shortly after, we set out to do a series of hotel site-inspections, which took us to some of the most chic and beautiful hotels in the city including Hotel Habita, the Four Seasons, and the St. Regis (where Bono of U2 is currently staying although we weren't lucky enough to run into him today).
After a few hours of work, we got to enjoy an expertly guided tour of the historic center of Mexico City including the Zocalo (which is the second biggest public square in the world!), the National Palace, the Templo Mayor, and the Metropolitan Cathedral. Obviously they were all amazing, but I have to say that the National Palace is probably the most impressive thing I've ever seen in my life. Imagining the royal court that actually lived, met, and partied in the palace as you walked its endless halls was absolutely surreal.
The gigantic murals of the palace, painted by the famed Diego Rivera, were impressive but I didn't grasp the true significance of the paintings until until our Journey Mexico super-guide, Juan Carlos, gave us an in-depth description of what the murals actually meant and signified. How someone could conceptualize paintings so large and so complex with so many levels of meaning just baffled me.
Next came lunch at a local torta/juice cafe, which was both delicious and fun. They had a larger variety of tortas (Mexican sandwiches) than I've ever seen in one place. I went with "The Mexicana," which consisted of chorizo, bistec, jalepeños, and queso (Mexican sausage, steak, peppers, and cheese). Sooo good. The variety of juices was also impressive and they even let a few of us hop behind the counter to squeeze some fresh concoctions of our own.
After lunch, it was back to work with a site-inspection of the Mexico's Gran Hotel, which, to me, was breathtaking. The entire ceiling of the lobby, which is probably the size of a football field about four floors up, is one enormous work of stain-glass and cast iron. At each end of the lobby is an old, elegant elevator also made of cast iron – so old in fact, they are the first two elevators ever to arrive in all of Latin America, and they still work!).  We actually ran into another VIP Journey Mexico group at the hotel and I got to watch them ride up the elevators, which is a privilege not offered to most guests.
Continuing on by foot, we walked several scenic blocks to the home of Frida Kahlo and Diego Rivera for a private tour on which our JM guide let us in on a secret that many of the thousands of visitors to the museum each year are not told! I won't give it away, but here's a hint: In one of the rooms you visit, you are closer to Frida than you could ever imagine.
After learning about the fascinating lives of two of Mexico's most cherished artists, we stopped for a quick visit to the impressive Church of Coyoacan before heading out to two more site-inspections at Brick, one of Mexico's newest boutique hotels, and at Condesa DF, another hotel by Grupo Habita – the kings of cool in Mexico.
Like I said, long day, but it was certainly worth the tired legs. Now we're off to relax at enjoy a sure-to-be amazing dinner at Los Alcobas's Dulce Patria restaurant, one of the hottest restaurants in Mexico City, with the Michael Chiche, the General Manager of Las Alcobas, and Marta Ortiz, the famous chef of Dulce Patria. In the morning, we leave Mexico City for Puebla and Oaxaca – stay tuned!
*Morning Update* Dinner was fabulous! Several of us had duck in a rich mole while most of the group had a filet of sea bass that looked delicious as well. Two perfectly paired wines from Baja California were served throughout the evening, which elevated the culinary experience even further. After dinner, Michael surprised with a special champagne toast in the penthouse suite of Las Alcobas! Muchas gracias Marta y Michael! Now on to Puebla!
Go to Day 2 >>