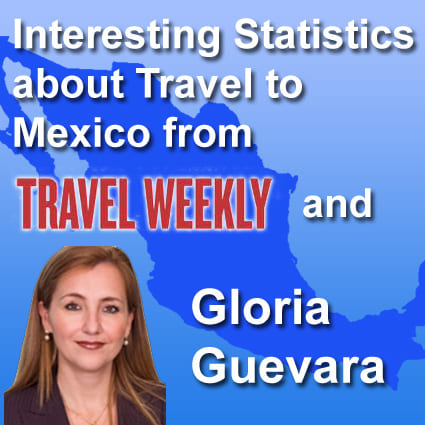 Travel Weekly held a webinar yesterday called "Mexico: Facts vs. Perception" in which Mexico's Minister of Tourism, Gloria Guevara, shed some interesting light on the safety of Mexico. The statements and statistics shown below were all taken from the webinar:
Volume – More than 21 million tourists visited Mexico last year, and more than 22 million tourists are projected to have visited Mexico by the end of 2010. This would be the equivalent of bringing the entire state of New York to Mexico, in terms of numbers.
Distance to Danger – The majority of the crime in Mexico being reported is taking place in a few northern border towns – mainly Ciudad Juarez. What most people don't realize is just how far the main tourist cities in Mexico are from these border towns.
The Copper Canyon is the same distance from Juarez as New York is from Baltimore.
Cancun is about 1000 miles from Juarez – the same distance as New York to Birmingham, AL and there is almost an entire sea in between the two. Would you cancel a trip to NY because of crime in Baltimore or Birmingham?
Murder Rates – Washing DC's murder rate is about 24 per 100,000. In 2009, Mexico's murder rate was was about 12 per 100,000.
The Professionals' Choice – The Virtuoso Luxury Travel Network holds an annual symposium in a different international city each year. This year's conference was in Mexico City and was the fastest selling-out symposium ever with the lowest cancellation rate in the history of the event.
Customer Satisfaction – Out of 26,000 vacationers in Mexico polled in 2009, 97% were return visitors.