Las Nubes Boutique Hotel on Isla Holbox, was considered in 2013 by TripAdvisor, as one of the most romantic hotels on the island.
Its strategic location in the Yumbalan Reserve surrounded by unspoiled beaches has allowed the hotel to become ideal for couples, tucked away from curious eyes. In addition, they have dedicated and reserved space on the property just for couples. The hotel has only 28 rooms, three pools (one with a view to the sea) and balconies that offer extraordinary panoramic views of the whole island.
Las Nubes not only seeks to create a unique space, but its greatest appeal is to create an experience that will last and endure.  The Orquídea Spa is a holistic space where it is possible to hear singing birds and the sound of the wind and sea, all while enjoying a massage with Mayan treatments that seek to bring physical and mental harmony to couples.
The hotel also offers a space for relaxation, a place to find oneself  and enjoy the incredible creations at Larena restaurant, considered as one of the 'must-visit' spots to enjoy the sunset of the Mexican-Caribbean.
The beaches located right in front of the hotel allow guests to explore several meters into the shallow waters, away from the coast, creating the experience of walking on water until arriving to a sandbar where it is possible to sit and chat with flamingos and pelicans that pass by!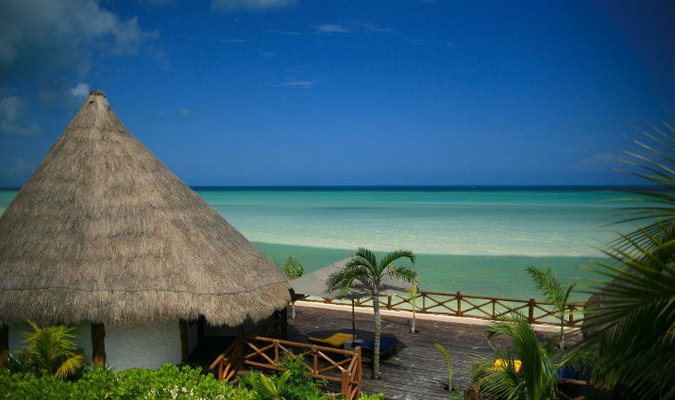 For the weekend of Valentine's Day, Las Nubes de Holbox is offering a special Romance Experience package: 3 days/2 nights with continental breakfast included for two people, 30% off en bottles at dinner in Larena restuarant, 20 minute private vapor steam in Orquídea Spa, 2 relaxing massages, and a romantic dinner on the beach.
Want to know more about Isla Holbox? Read Rain or Shine – Holbox is always worth a visit! which documents our latest visit to the island.