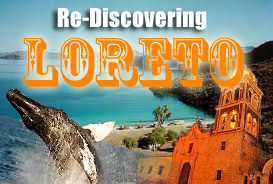 Travel Weekly published a great article on Wed. the 1st titled: Loreto Returns to the Spotlight with U.S. Ad Campaign, which reports that the Baja town of Loreto has launched a six-month, $1.1 Million dollar ad campaign in the North American market aimed at helping US travelers "re-discover" the charming seaside village.
Loreto has been a long time paradise for fishermen and kayakers and serves as a scenic starting point for whale watching experiences in the Sea of Cortez. Loreto has been a long-time standout of several Journey Mexico trips to Baja, California as well as an optional jumping point for trips to the Copper Canyon.
Other highlights of Loreto include snorkeling the Sea of Cortez, hiking the Sierra de la Giganta mountain range, visiting the Interior Missions of Loreto and the Loreto Bay Marine Park, and staying at the gorgeous Posada de las Flores hotel. For more information about visiting Loreto, contact Journey Mexico today!