Since its creation in 1969, the Oceanic Society has been inspiring people to take part in building a healthy future for the world's oceans and to address the root cause of its decline in health—human behavior. As a non-profit, their mission to conserve marine wildlife and habitats by deepening the connections between people and nature have prompted the Oceanic Society to create several long-term research projects, ongoing conservationist efforts, and sustainable community development – much of it benefiting Mexico. In addition to being able to make a charitable donation, or adopting a species, the Oceanic Society also runs regularly scheduled, small group expedition trips for those looking to get involved and support Oceanic Society's mission and values. Their idea behind these trips are to facilitate meaningful, life-changing experiences for travelers—ones that will inspire them to become more intimately involved in conservation long after the expedition is over.
Kathi Koontz,Oceanic Society's Programs Manager, recently traveled on one of the small group trips and shares her experience of Close Encounters With Baja's Gray Whales:
…The sun was shining brightly upon our group's arrival in beautiful Loreto, the starting point for our Baja: San Ignacio Lagoon and Sea of Cortez expedition. We spent our first two days in the spectacular Sea of Cortez, surrounded by granitic mountains, blue skies, and rich, blue waters. After the sighting of a humpback whale, hundreds of common dolphins escorted us towards four blue whales. We spent consecutive days watching the largest animals on Earth feed on krill.

From our tented camp,we went out twice a day to the whale watching zone of San Ignacio Lagoon (most of the lagoon is protected for the whales and therefore off-limits to boats). In the mornings, we found ourselves, and our panga (skiff), visited by curious and friendly whales, mostly calves, and sometimes at the nudging of the cow (mom).

Eye contact with the whales, stroking (petting) their heads, and cleaning the spray from their blow off of our cameras and sunglasses were common occurrences.In the afternoon, the whales (around 300 total) spyhopped, breached, and traveled past the boats—sometimes rotating their heads to get a good look. The whale watching experience was phenomenal. And there was much more wildlife, including seabirds, shorebirds, dolphins, and sea turtles. Fascinating people visited us too. At camp one evening, Dr. Steve Swartz shared insight into his 40+ years of research with the gray whales in San Ignacio Lagoon and graciously signed copies of his book, Lagoon Time.

While I was in awe of the trust in these whales to approach people and boats (less than 100 years ago people were in the lagoons killing them) and amazed to be so close that we could see the hair on the rostrum (head region), I was equally impressed with the actions and respect of our panga captains. Twice we were having incredible interactions with multiple friendly whales when the captains noticed our approach to the border of the off limits whale watching zone. They turned our pangas around and headed back into the safe zone. As a marine conservationist, I'm thrilled that the captains are following and respecting the conservation plan. As Mahatma Gandhi said, "The future depends on what we do in the present." And, we all can make a difference.
As you can see from Kathi's personal story, by participating in an Oceanic Society expedition you are more than just another traveler – you are an active participant in their global effort to build a healthy future for the oceans. If you're interested in making a difference and joining an Oceanic Society Voluntourism Trip, we recommend the following Mexico trips below.
Note: Journey Mexico's, Zachary Rabinor, currently sits as the Board Chair of the Oceanic Society and we invite you to please join our efforts in supporting the organization
Mexico Voluntourism/Ecotourism Conservation Trips with Ocean Society Expeditions
Baja: San Ignacio Lagoon and Sea of Cortez – Experience magical, close encounters with the friendly gray whale mothers and calfs of San Ignacio Lagoon, a UNESCO World Heritage Site. We also visit the beautiful Sea of Cortez for snorkeling and whale watching on this week-long Baja adventure.
Baja: Whale Shark Diving, Snorkeling, and Research – Bring your snorkel and fins to help study whale sharks while sailing the Sea of Cortez aboard an award-winning catamaran. Varied daily activities include snorkeling, diving, hiking, and kayaking.
Whales of Guerrero Research Project – Volunteer to study humpback whales and several dolphin species in a little studied area of Mexico.
SEE Turtles Baja Whale Watching & Turtle Research – Join a unique whale watching and turtle research excursion to Magdalena Bay on Baja California's Pacific Coast. Get up close and personal with gray whales and participate in hands-on green sea turtle research with local conservationists while camping in a beautiful location and exploring the bay.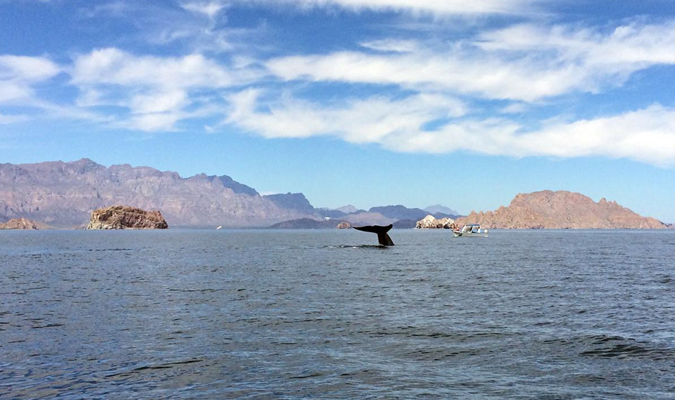 photos  © Kathi Koontz