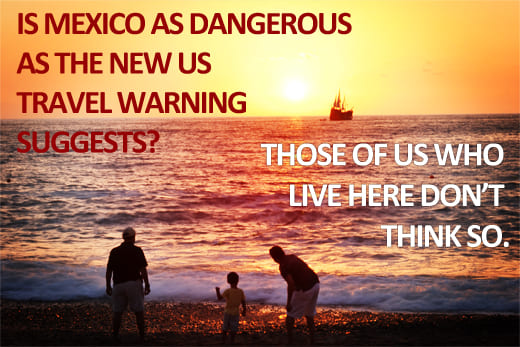 As many are aware of by now, the US State Department updated its travel warning for Mexico on April 22nd of 2011, broadening it to include several more areas than the previous warning. While we at Journey Mexico agree that safety is always the number one priority when it comes to travel in any foreign country, we also agree with those who feel that the language of the new travel warning is confusing, vague, and fairly irresponsible.
As Travel Weekly has pointed out in an article from April 28th and in a newer article from May 5th, the new travel warning cites the entire states of Nayarit and Jalisco as areas to be avoided instead of focusing specifically on the troubled pockets of the major cities in these states where crime has occurred. Puerto Vallarta, Jalisco (recently voted by the AARP as the number one place in the world for Americans to retire) and Punta Mita, Nayarit (arguably Mexico's hottest new beach region) have shown no signs of recent danger to tourists and are clearly misrepresented by the US State Department's new warning.
Lumping Puerto Vallarta and Punta Mita in with the dangerous pockets of Guadalajara (Jalisco) and Tepic (Nayarit) is hindering tourism to these areas, costing thousands of jobs for the honest, hard working people of Mexico and depriving travelers of what would, undoubtedly, be one of the most memorable travel experiences of their lives. It's troubling to see the US State Department make such careless exaggerations, especially when a closer examination of the dangerous regions of the US reveals a country littered with violence and murder. Yet if you asked a member of the US State Department if travelers should avoid visiting Buffalo, New York because there is violence crime in Queens, New York, I very much doubt he/she would say yes. It also seems contradictory for the US to paint such an inaccurate portrait of the safety of Mexico when so many of the country's own investors are pouring millions of dollars into Mexican resorts and hotels as we pointed out in an article from April.
Again, we always encourage travelers to use common sense and exercise caution when traveling to new areas, but we also encourage those interested in traveling to Mexico to do some research into the true state of affairs in this vast country. We are confident that through accurate reports and through the testimonials of those who have been here, you will find Mexico to be as (if not more) safe, affordable, and rewarding as any other major tourist destination in the world.
Rodolfo Lopez Negrete, chief operating officer of the Mexico Tourism Board, does a nice job commenting on the current state of affairs in Mexico in this recent interview. You can also learn more about the current state of affairs in the Safety of Mexico section of our blog.