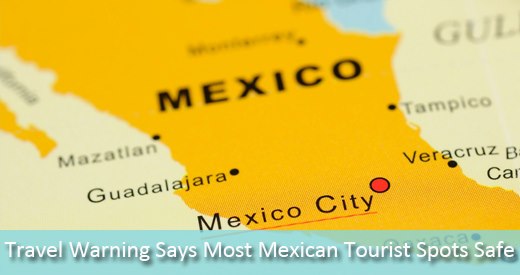 The U.S. State Department has recently issued a new travel warning report to make sure U.S. citizens are aware of any international security concerns and to be more specific in pinpointing areas. This report has been updated from the last dated, February 8, 2012.
The state-by-state summary opens with an important statement that "millions of U.S. citizens safely visit Mexico each year for study, tourism, and business, including more than 150,000 who cross the border every day. The Mexican government makes a considerable effort to protect U.S. citizens and other visitors to major tourist destinations, and there is no evidence that Transnational Criminal Organizations (TCOs) have targeted U.S. visitors and residents based on their nationality. Resort areas and tourist destinations in Mexico generally do not see the levels of drug-related violence and crime reported in the border region and in areas along major trafficking routes."
The following tourist areas have been cleared for travel: 
Northern Mexico: Los Cabos, La Paz, Mazatlan*
Southern Mexico: Manzanillo, Chiapas (San Cristobal de las Casas), Acapulco*, Zihuatanejo/Ixtapa, Guadalajara, Puerto Vallarta, Riviera Nayarit, Oaxaca (Huatulco, Puerto Escondido)
Central Mexico: Mexico City, Morelia, Guanajuato (San Miguel Allende, Leon), Puebla, Queretaro
Yucatan Peninsula: Quintana Roo (Cancun, Cozumel, Playa del Carmen, Riviera Maya and Tulum),  Campeche, State of Yucatan (Merida, Chichen Itza)
As with any travel, you should exercise caution and be aware of your surroundings. *Take into consideration caution is suggested at certain places or times outside the tourist zones of Acapulco and Mazatlan.
Peter Velasco, a State Department press officer, told USA TODAY that the warning was updated because of the department's "no double standard policy." He went on to say, "Obviously, Mexico is a big country," he adds, and "we're trying to make the information as accurate and balanced" and updated as possible.
More information is available
Journey Mexico encourages everyone to review the latest Mexico Security Update released by the U.S. Embassy to learn more. The State Department's Country Specific Information for Mexico provides even more information about safety issues in this charming country.
For more resources on the Safety of Mexico, check out our regularly updated resources with over 60 articles, posts, tweets, infographs & more! Safety of Mexico Resource