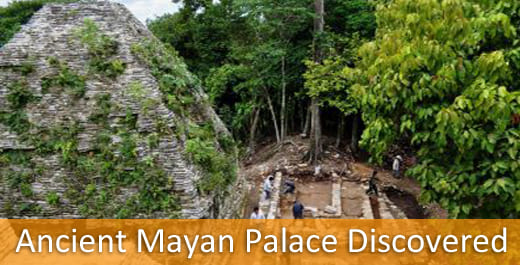 The archeological sites of Mexico having been offering up fresh findings at such a rapid rate, it's tough to keep up. Just a few days ago, archeologists discovered what is believed to be a 2,000 year old Mayan Palace in the state of Chiapas.
This new discovery is particularly significant as the palace has become the first piece of evidence suggesting that Mayans occupied the Upper Usumacinta basin region of the Lacandona jungle as early as the year 50 B.C. Before finding this Mayan palace, it was believed that the Mayans hadn't occupied the region until 250 A.D.
As is common of many ancient Mayan sites, this newly discovered palace had been covered by other structures that were built on top of it during the Classic Period (around 250-800 A.D.). Because the Mayans of the Classic Period often built atop previous temples and buildings, once uncovered, the structures underneath are usually very well preserved, offering archeological travel enthusiasts the unique opportunity to experience the re-writing of history as we know it – first hand.
The discovery of this ancient Mayan Palace comes just a month after a pristine carving of three jungle cats (deemed "The Triad of Felines" and believed to date back to sometime between 1500 to 400 B.C.) was discovered south of Mexico City. Just months before The Triad of Felines was discovered, archeologists found two Mayan sculptures at the ancient site of Toniná (also in Chiapas) that depict two captured enemy warriors, kept as trophies of strength and might.
For more information about visiting this and other newly discovered Mayan sites, contact Journey Mexico.