The award-winning hotel chain, Las Brisas Hotel Collection, has announced the launching of their new, luxury hotel in the Cancun/Riviera Maya– Nizuc Resort & Spa. Opening its doors in March 2013, Nizuc Resort & Spa combines discreet exclusivity with the allure of the Mayan culture.

The resort is located at the gateway of the Riviera Maya, at the southern point of Cancun's hotel zone on Blvd. Kukulkan, known as Punta Nizuc. The 29 acre property that faces the white sands of the Caribbean Sea is settled within a paradise of protected mangroves and lush local foliage. Beyond that, it borders a 22 acre ecological reserve that is open for guests to explore via accompanied walks into Mother Nature's serenity and silence.
While Nizuc's prime location makes it a convenient starting point for accessing all of the Yucatan's natural wonders, archaeological sites and attractions; the true wonder can be found at the resort itselfm with 274 exceptional suites, extraordinary amenities and outstanding culinary selections.
Highlights of Nizuc Resort & Spa include personalized attention and butler service, superb healing spa treatments, five swimming pools (two adult-only), three distinct accommodation areas each offering its own unique atmosphere, and  6 world-class restaurants of gastronomic delicacies head by Executive Chef, Vincet Wallez. The resort treats their guests with what they call "Endless Indulgence™ service culture" – 'delivering highly personalized service imbued with discretion and warmth, showing each one of their guests what it is like to have a Mexican Spirit and a Mayan Soul.'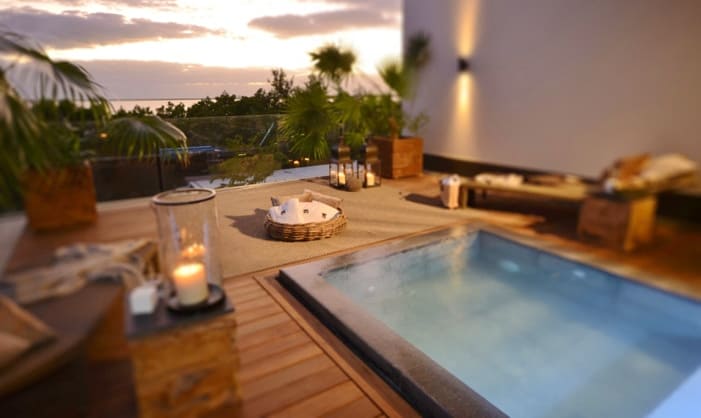 Louis Daniel, NIZUC Resort & Spa's General Manager, says "We are introducing a new level of refinement at NIZUC to be shared with only the most discerning guests. Diligent preparation for the hotel opening includes meticulous staff selection to provide culinary excellence and impeccable butler-class service. Our exceptional interior design and amenities exude luxury and creates the uniquely serene atmosphere and attitude which defines the culture of the resort."
For more information, contact a travel planner at Journey Mexico or see Nizuc's fact sheet.