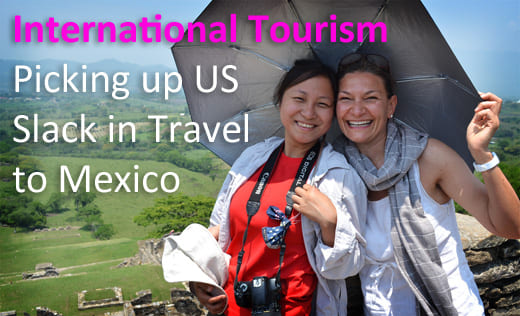 #MexicoToday: Two recent articles (one from the Washington Post and one from Sand Diego Red) are indications of an interesting scenario: The negative/slanted media coverage of Mexico pouring out of the US is hurting the Mexican Tourism industry, which has caused the industry to lower prices and offer enticing deals. These deals are being eaten up by international travelers from outside the US, causing an overall rise in tourism to Mexico.
Proof of this can be found in the continual increase in international flights to Mexico. The prestigious Virgin-Atlantic has recently reported that as of June, 2012, they will be adding a twice-weekly flight from London's Gatwick Airport to Cancun. Virgin sees demand for Mexico rising and expects to carry 94,000 passengers during the first 12 months of service.
In addition to the new Virgin flight from London, airlines such as Aeromexico, Air Europa, TAM, and LAN have added new flights from Lima, Peru to Cancun; Sao Paulo, Brazil to Mexico City; and Madrid, Spain to Mexico City – many beginning in the next few months. Earlier this year, the Mexican Tourism Board said they anticipate 2011 to see up to a 15% rise in tourism (coming off 2010 which saw a 12% increase), but I doubt they imagined so much of it coming from outside the US.
So if the San Diego Red is right and it's bargains that are driving this year-over-year increase in tourism, one must ask for how long is this bargain model sustainable? Now more than ever we're seeing public backlash against the "daily deal" model as business owners continue to say that large discounts offered by companies like Groupon are not sustainable and do more damage to the business than good. If all these new tourists come to know Mexico as a land of cheap deals, how can the industry ever raise their rates back to normal?
Pretty easily, actually. According to the Mexican Tourism Board, Mexico boasts a 97% retention rate, meaning that 97 percent of travelers to Mexico say they plan on returning. Being almost two million square kilometres in size and home to more UNESCO World Heritage Sites than any other country in the Americas (including the US), it's not surprise that Mexico leaves visitors wanting more. As tourism continues to increase, Mexico should be able to gradually raise rates to normal as demand rises.
In May of this year, Mexican President Felipe Calderón stated that he wants Mexico (currently number 10) to be one of the top five tourism destinations in the world by 2020. If current trends continue, international tourism continues to rise, and the US starts to realize that 99% of Mexico is perfectly safe for travel, Mexico should have a real shot at hitting the top five.