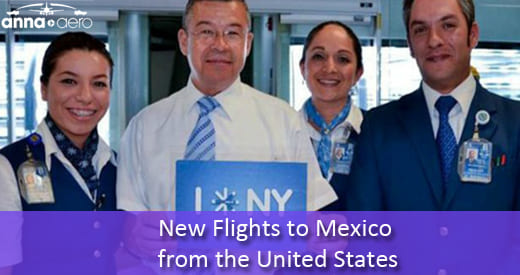 Chicago to León:
The Mexican airline Volaris announced the launch of its new route to León, Guanajuato (BJX)  from Chicago Midway (MDW) airport in Illinois, United States. Leon is a city located in the Bajío (lowlands) region of Central Mexico. This route will start to operate October 3, 2012 and will have weekly service, flying on Wednesdays in the afternoon. Volaris already has four direct flights serving Chicago to Mexico including: Morelia, Mexico City, Zacatecas and Guadalajara.
Denver to Mexico City:
Volaris airlines announced the next opening of its new direct route connecting Mexico City (MEX) to Denver, Colorado (DIA). The flight schedule will start December 8, 2012 and will run twice-weekly through April and once-weekly from May through November.  For Volaris, Denver will count as their ninth  city in the United States serving flights to Mexico.
Forth Worth to Puebla:
American Eagle, the regional affiliate of American Airlines, will begin daily round-trip jet service this fall between Dallas/Fort Worth International Airport (DFW) and Hermanos Serdan International Airport (PBC) in Puebla, Mexico.  American Eagle will operate one flight per day between the two cities starting November 15, 2012.
New York to Mexico City:
On 2 August, Interjet became the first low-cost airline on the important route between Mexico's capital and the biggest city in the US. The Mexican carrier now operates daily between Mexico City (MEX) and New York JFK, NY (JFK), competing with Aeromexico's 27 flights a week and Delta's 14 weekly operations. Further, indirect competition comes from United's 14 flights a week from Newark. This is Interjet's third route to the US after its flights to Miami, FL and San Antonio, TX
Los Angeles to Mexico:
The Mexican low-cost airline Volaris launched its sixth route to Los Angeles, CA (LAX) on 4 August. The airline already serves Los Angeles from Guadalajara, Mexico City, Morelia, Zacatecas and Aguascalientes. The airline now flies once a week across the border to the US airport from Culiacán (CUL) in northwestern Mexico with its 174-seat A320 aircraft. This is the airline's first international service from Culiacán, which the airline since previously serves from Tijuana, Mexico City and Guadalajara.
Orlando, FL to Mexico City:
On 14 July, the Mexican low-cost airline Volaris launched twice-weekly services from Mexico City (MEX) to Orlando, FL (MCO) – its sixth US destination from the Mexican capital. The A320-operated route is offered with twice-weekly frequencies until the first week of September when frequencies will be reduced to weekly operations. The airline's Director Sales and Marketing, José Calderoni, said: "Volaris makes another step in the US, and we could not think of a better way to do so then with services to the magical Orlando." Competition on the route comes from another Mexican carrier, AeroMéxico, which offers 15 weekly flights on the route.
Domestic Routes:
On 20 July, Mexico's vivaaerobus inaugurated operations in Cuernavaca (CVJ) in south-central Mexico with two new routes. The city, which was nicknamed as "The City of Eternal Spring" by the German traveller Alexander von Humboldt, is now connected with Cancun (CUN) on the country's Caribbean coast andMonterrey (MTY) in Mexican north, each with twice-weekly flights operated with the airline's fleet of 737-300s.
The information above includes re-posts from Airline Network News and Analysis and translations from the Volaris Press Room