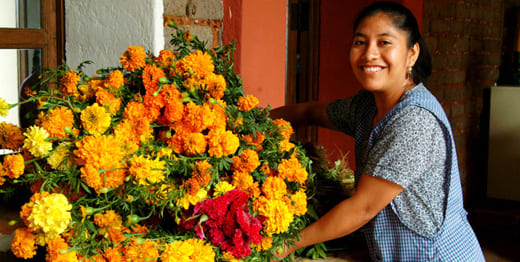 Unlike in the US where Mother's Day is celebrated on the second Sunday in May, Mexicans honor the mothers of their country each year on May 10th. Much like in the US, sons and daughters thank their mothers on Día de las Madres for all they do by bringing them flowers, cards, and gifts. For some families, attending special church services together and going out to dinner is also part of the Mother's Day ritual.
There are, however, two traditions of Mother's Day unique to Mexico that I find especially endearing. The first takes place on May 9th, on the eve of Mother's day in Mexico, when children travel to their mother's home to spend family time together. The second happens the next morning when children awaken their mothers by serenading them with special Mother's Day songs and occasionally with little skits they rehearsed beforehand. Affluent families often hire mariachis to accompany the children as they sing. Travelers in Mexico are often pleasantly surprised when awoken by the beautiful sound of children singing to their mothers from the street.
For US travelers, vacationing in Mexico in May, where you can celebrate Mother's Day on both Sunday and the 9th, offers the opportunity to really create a special experience around the holiday with your family. And if you really want to impress your mother while you're here in Mexico, start practicing Las Mañanitas so you can serenade her like the children in the video below!